Oscars 2016: Jenny Beavan addresses outfit after Stephen Fry 'bag lady' controversy
'I don't do frocks and absolutely don't do heels'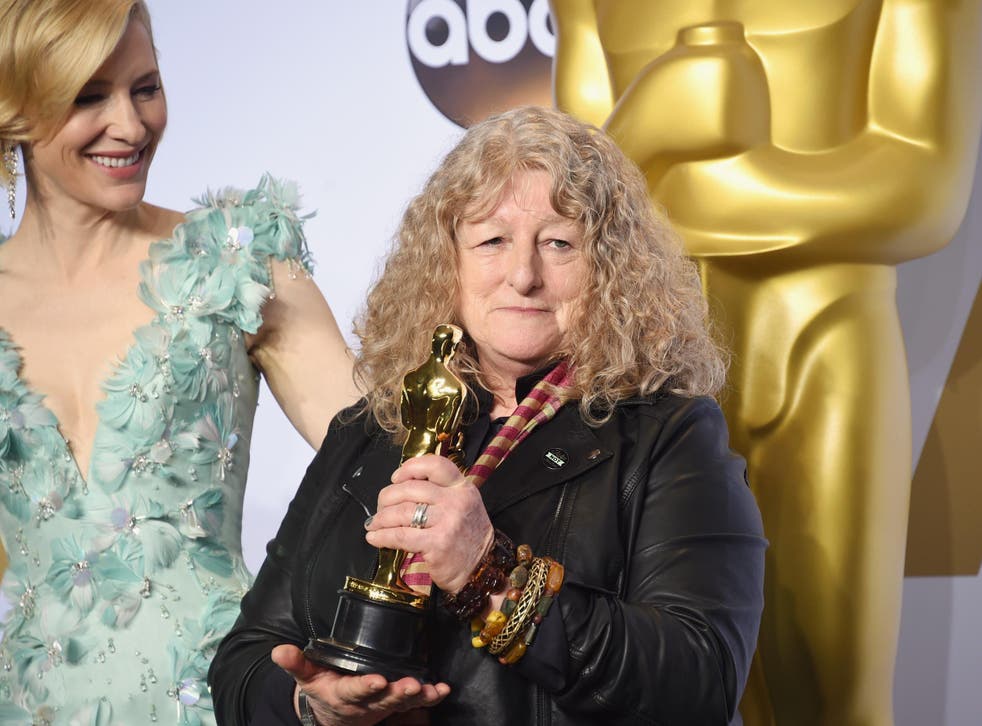 Jenny Beaven wanted to make one thing clear at the Oscars: she doesn't do dresses, heels or gowns.
The costume designer Stephen Fry jokingly described as a bag lady defied sartorial tradition by attending the 88th Academy Awards ceremony in a custom designed leather jacket with fire on the back, in tribute to Mad Max: Fury Road.
Fry was criticised on social media for joking about his friend after presenting her award for Best Costume Design for Mad Max at the Screen Actors Guild awards.
Stephen Fry calls award winner a 'bag lady'
"Only one of the great cinematic costume designers would come to an awards ceremony dressed as a bag lady," he said as she left the stage.
Beavan addressed her outfit after the furore that saw Fry deactivate his Twitter account after accepting the award for Costume Design for her work on Mad Max.
Oscars 2016: the red carpet in pictures

Show all 29
"I am very happy to talk about it," she said backstage. "I don't do frocks and absolutely don't do heels, I have a bad back. I look ridiculous in a beautiful gown. This was a homage to Mad Max and I obviously didn't get it quite right at the Baftas, the scarf was meant to be an oil rag."
Pointing to her fake leather jacket, she added: "This is Marks & Spencer with Swarovski at the back. I had a bit of a shoe malfunction and the glitter fell off. I just like feeling comfortable and as far as I'm concerned I'm really dressed up."
Some commented on a number of audience members not clapping as Beaven walked down the stairs to accept her award.
Both Beaven and Fry have insisted they are good friends after the backlash against Fry's joke on social media, with Beaven insisting she is "absolutely not upset".
Fry later condemned Twitter as "a stalking ground for the sanctimoniously self-righteous" after deactivating his account.
Join our new commenting forum
Join thought-provoking conversations, follow other Independent readers and see their replies