The Independent's journalism is supported by our readers. When you purchase through links on our site, we may earn commission.
Pamela Anderson rejects ice bucket challenge because of ALS experiments on animals: 'Mice had holes drilled into their skulls'
"Monkeys had chemicals injected into their brains and backs and were later killed and dissected," the Baywatch star posted via Facebook
Jenn Selby
Tuesday 26 August 2014 08:43 Comments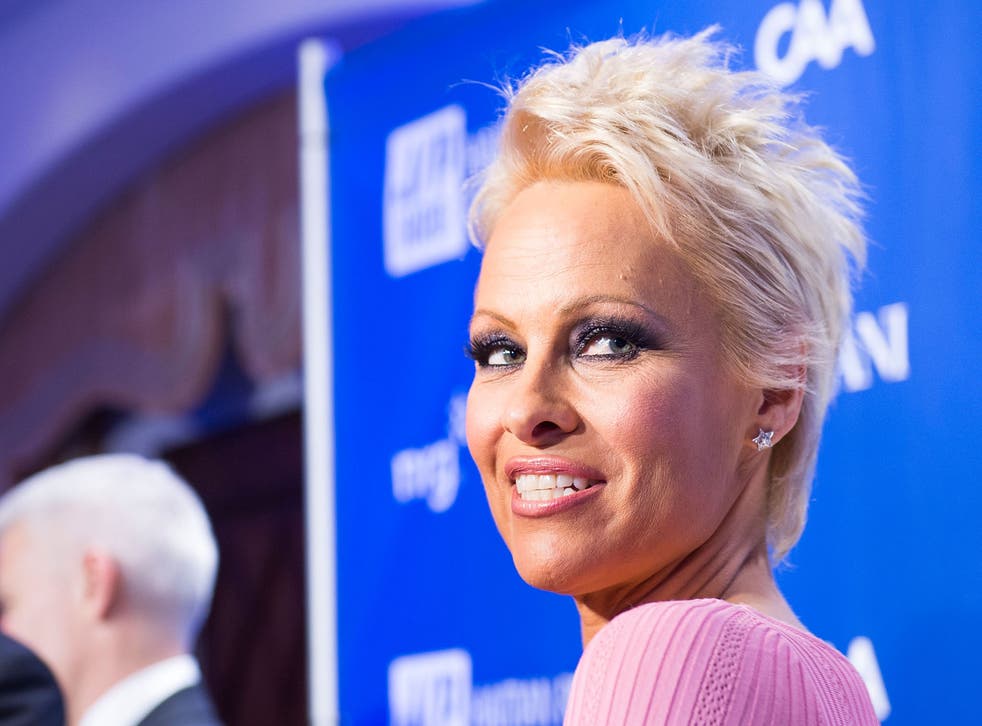 Pamela Anderson did not accept the ice bucket challenge.
But not because she isn't up for having a large quantity of iced water dumped over her platinum blonde head.
The former Baywatch star is a life-long animal rights activist and chose to oppose her nomination on ethical grounds.
"Sorry - I can't bring myself to do your Ice bucket challenge," she wrote via her Facebook page.
"I enjoy a good dare - It's always good to bring awareness - in fun, creative ways. I don't want to take away from that, but it had me thinking. Digging a bit deeper, I found that we may not be aligned - in our messages.
"So I thought Instead I'd challenge ALS to stop Animal testing. Recent experiments funded by the ALS Association, mice had holes drilled into their skulls, were inflicted with crippling illnesses, and were forced to run on an inclined treadmill until they collapsed from exhaustion. Monkeys had chemicals injected into their brains and backs and were later killed and dissected.
"What is the result of these experiments (other than a lot of suffering)?"
She continues: "In the past decade, only about a dozen experimental ALS treatments have moved on to human trials after being shown to alleviate the disease in animals. All but one of these treatments failed in humans—and the one that "passed" offers only marginal benefits to humans who suffer from ALS.
"This massive failure rate is typical for animal experiments, because even though animals feel pain and suffer like we do, their bodies often react completely differently to drugs and diseases. According to the FDA, 92 out of every 100 drugs that pass animal trials fail during the human clinical trial phase."
Anderson went on to explain that non-animal testing methods, like vitro and advanced computer-modelling techniques as well as studies with human volunteers, had provided the medical world with life-saving HIV drugs and artificial skin for burns victims.
"Trying to cure human diseases by relying on outdated and ineffective animal experiments isn't only cruel—it's a grave disservice to people who desperately need cures."
She concluded with the following plea: "Please, help scientists make real progress toward treating and curing human diseases by visiting HumaneSeal.org to find and support charities that never harm animals and which pour their time and resources into advanced, promising, human-relevant cures."
She posted the lengthy text alongside an image of her standing by a swimming pool, holding a sign that read "Stop animal testing".
The statement attracted over 52,700 likes from followers and over 19,000 shares.
The challenge raises money and awareness for amyotrophic lateral sclerosis (ALS) or Lou Gehrig's disease.
Amyotrophic lateral sclerosis affects the brain and the spinal cord. Motor neurons degenerate and die which makes it increasingly difficult for sufferers to move their muscles.
When their muscles aren't used enough, they stop working entirely and patients with ALS begin to feel weak, have difficulty speaking, swallowing and breathing. In the later stages of the illness, patients may become totally paralyzed.
Those involved the ice bucket challenge can either choose to have a bucket of ice and water dumped over their heads within 24 hours of them being nominated, as well as donating $10, or write out a cheque of $100 to an ALS charity of choice.
Numerous high-profile names have taken part, including Oprah, Justin Bieber, George W Bush, Anna Wintour, Victoria, David and Brooklyn Beckham, Piers Morgan, Russell Brand and Will Smith.
Register for free to continue reading
Registration is a free and easy way to support our truly independent journalism
By registering, you will also enjoy limited access to Premium articles, exclusive newsletters, commenting, and virtual events with our leading journalists
Already have an account? sign in
Join our new commenting forum
Join thought-provoking conversations, follow other Independent readers and see their replies