Patti Smith interview: The Godmother of Punk talks the bible, Noah and what really makes her angry
The music legend opens up about what makes her angry and what we have to be positive about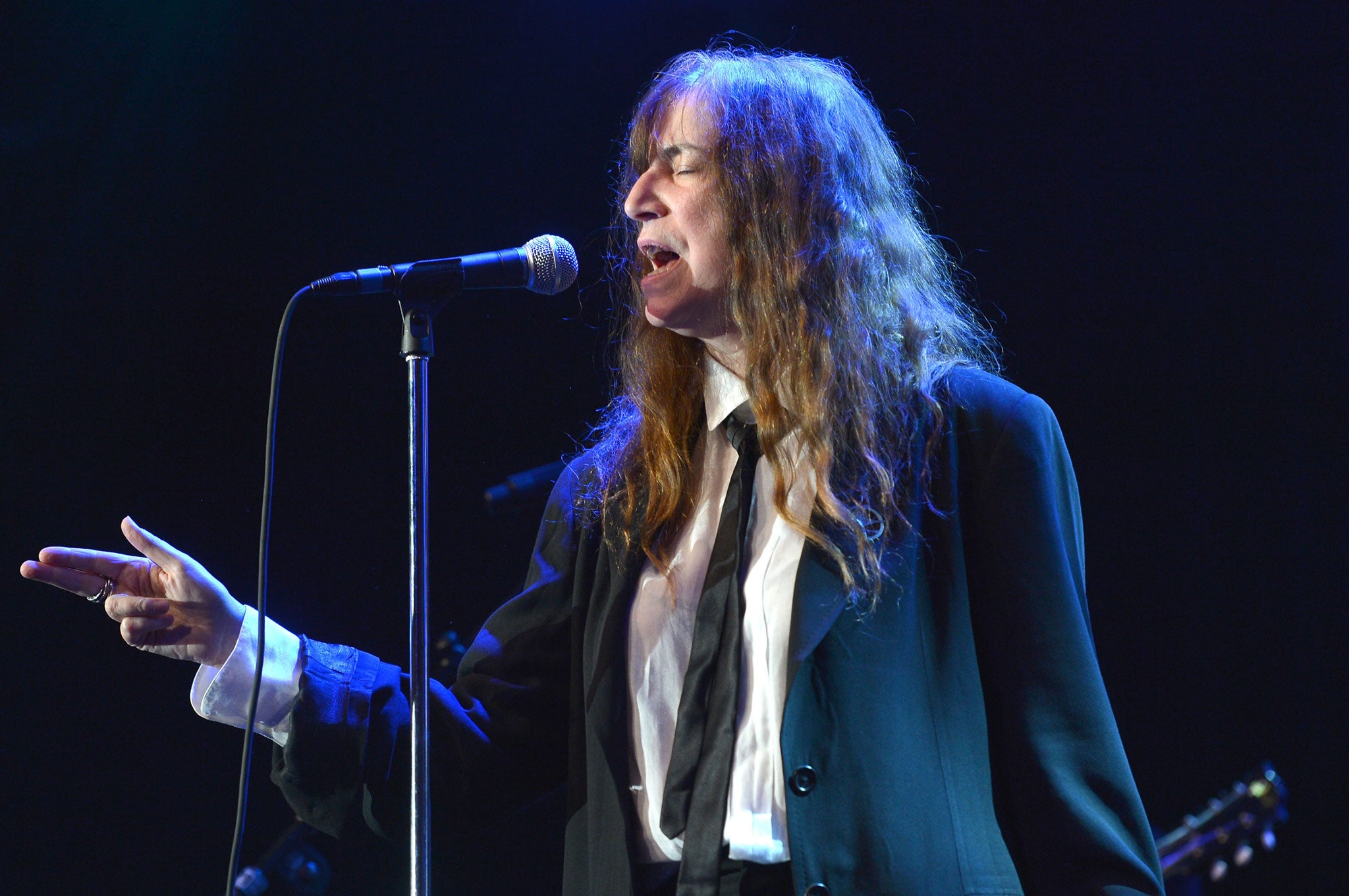 Rock 'n' roll poet and the godmother of punk, Patti Smith has never strayed from who she is. People have tried to mould her – from her appearance to her style of music - but she has always been unapologetically bloody-minded about being herself.
It's the reason that her music is still so relevant, why her style is still so widely copied and why she will forever be perennially cool. She does what she wants, regardless of popular opinion or what's fashionable – whether falling for Rihanna's latest single or recording the lullaby for Darren Aronofsky's controversial biblical remake of Noah.
Aside from having changed the face of women in music, Smith is genuinely interested in everything, and not just music, from art to literature to film, and - unlike other musical zeitgeists – is open to and appreciative of what's happening now. For her, the people have always been her focus; she seems bereft of any rock star ego. She has one of the most cerebral, creative and eclectic friendship groups in history – spanning Johnny Depp, William Burroughs and Bob Dylan.
Warm, wise and a true original, Smith is proof to be interesting you must be interested.
Independent: How and why did you get involved with Noah?
Patti Smith: "I read the story of Noah as a child in bible studies, but I got involved with the film through Darren. I saw him at the Venice Film Festival and he told me about it. I love biblical topics and I thought it would be very exciting for an artist like Darren to tackle it because so often they're done in a schmaltzy or cheesy way. I knew that he'd do something really strong and he told me he needed a lullaby for Noah to sing. I like writing lullabies, I've written a few before, so I asked him if I could write it and he said yes."
I: Is the bible still relevant today?
P: "The bible is very resonant. It has everything, creation, betrayal, lust, poetry, prophecy, sacrifice. All great things are in the bible and all great writers have drawn from it and more than people realise, whether Shakespeare, Herman Melville or Bob Dylan. Of course there are stories that are still relevant and inspiring; lessons that need to be taught over and over again. And they give people hope. It doesn't really matter what religion you are or if you have no religion, those stories are still relevant to what people go through in their lives and they're also beautifully written passages."
I: What's your view on the sexualisation of women in the music industry? Is it necessary for musicians to take their clothes off as often as they do?
P: "I can't judge how another person does their work. Everyone has a choice and the music industry is much more open that it was when I was younger. Certain things are gone, others have developed, but everyone makes their choices. Pop music has always been about the mainstream and what appeals to the public. I don't feel it's my place to judge. I just look at things as a fan, I like or or I don't like it. I love Rihanna's song, Stay. I didn't know much about it, but I found it so touching, so beautiful and it didn't bother me that in her music video she sung it naked in the bathtub. I thought it was beautiful. I have bigger concerns that what pop stars are doing. I'm more concerned about our environment, what industrialists are doing to it. But I would always say to anyone, you make choices that are important to you. Don't allow yourself to be exploited by something as fleeting as fame and fortune. If you're presenting yourself in a way that important to you in communicating your vision, then so be it. No one should allow themselves to be exploited ever."
I: Did anyone ever tell you what to do?
P: "Constantly, but now it's useless. I'm 67 years old; you're not going to tell me what to do. The only person who can boss me around now is my daughter. When I was young, I was offered my first recording contract in 1971 and was offered quite a bit of money if I would change my character and be a 70s version of Cher. Someone had a vision of how I could be moulded, and of course I couldn't do it. I tools quarter of the money in 1975 to do Horses because I had complete artistic freedom. So when people say, 'I had no choice, I had to do it,' well I'm sorry but unless you're raising the money to look after your sick mother or something, you can say no. If you don't need the money to help a loved one in trouble or to survive, then you have a choice. I've been offered many many things in my life that were much more glamorous than the decisions I made, but those things weren't right for me. As long as it's right for you, then that's fine. But people who say that had to do it, they had to take off their clothes, they had to sing songs they didn't like.... You didn't have to do anything. We are masters of our own fate and we make our own decisions. It's the same when artists tell me, 'I had to hike up ticket prices, I had to sell them for 150 dollars.' As much as I can, as much as I can afford, I keep ticket prices down. I don't believe in exploiting the people to come and see us play rock 'n' roll. Rock 'n' roll was developed as the people's voice, the people's art, it was grassroots. I don't believe that the people should be estranged from their rock stars. They're not kings and queens - all rock stars are are those who are able to give back a bit of culture to other people. It's people's heritage."
I: What makes you angry?
P: "Right now I don't want to see any injustice. I have a son and a daughter. People always talk to me about feminism and women's rights, but I have a son too - I believe in human rights. For me, the issue that's more important than any other on our planet right now is the environment because that's what will sustain our children, our grandchildren. When you look around you there is so much cancer, so much pollution and our children are suffering. And we're doing it to ourselves. As a people we need to unite, make sacrifices and tend to our planet. That was one of the reasons I was drawn to Noah; Darren has made some poetic justice with some of the plot, but the reason that the world was flooded is because people corrupted the world and Darren focused on that, on shifting it. Noah is trying to show his sons that there are no trees, they have to look hard for one tiny flower because there is so little left of the beauty there once was. It's important to have an environmental slant, it's not preachy, it's just there for people to see and be touched by."
I: I understand you're working on a detective novel. How is it progressing?
P: "It'll take a while. I'm working on three books. That's just how I work, I'm crazy. The detective story starts in London by St Giles' Church in Covent Garden. I can honestly say I was just sitting outside the church, there were a lot of homeless people about, daydreaming and this story just came into my head. It's made me so nostalgic for that area, I don't see me walking there when I think of that spot though, I think of my detective. I'll finish when I finish, I'm working on three books so it's like a horse race - whichever crosses the line first will get published. I love to write, it's my first vocation."
I: Is a film adaptation of Just Kids still planned?
P: "It's not happening yet, I need time but I have good people in place. John Logan has given me some very good ideas and when I'm ready I'll tackle it. I won't let go of it?"
I: Who do you see playing you and Robert?
P: "Unknowns, just like we were 20-year-old unknowns, but people who others respond to. She'd have to be awkward, fearless, fragile but also tough. You know 20 and all the things that being 20 encompasses, intense confidence, but still evolving. We were not fully evolved, we evolved together. They have to have a certain innocence."
I: Who has influenced you the most in your life?
P: "I always thought my father because he was so well read, I tried to model myself on him, but really as I go through life I realise it was my mother who gave me the most valuable instructions. I didn't understand or accept it at the time. She taught me to read and to pray - two things that have really stayed with me."
Noah is released in cinemas from April 4
Join our commenting forum
Join thought-provoking conversations, follow other Independent readers and see their replies