Pioneering transgender Banana actress Bethany Black talks fetish, feminists and revenge porn
The actress speaks about women's bodies and equal rights to The Independent ahead of her major episode on Channel 4's series
Helen Nianias
Thursday 12 February 2015 18:48 Comments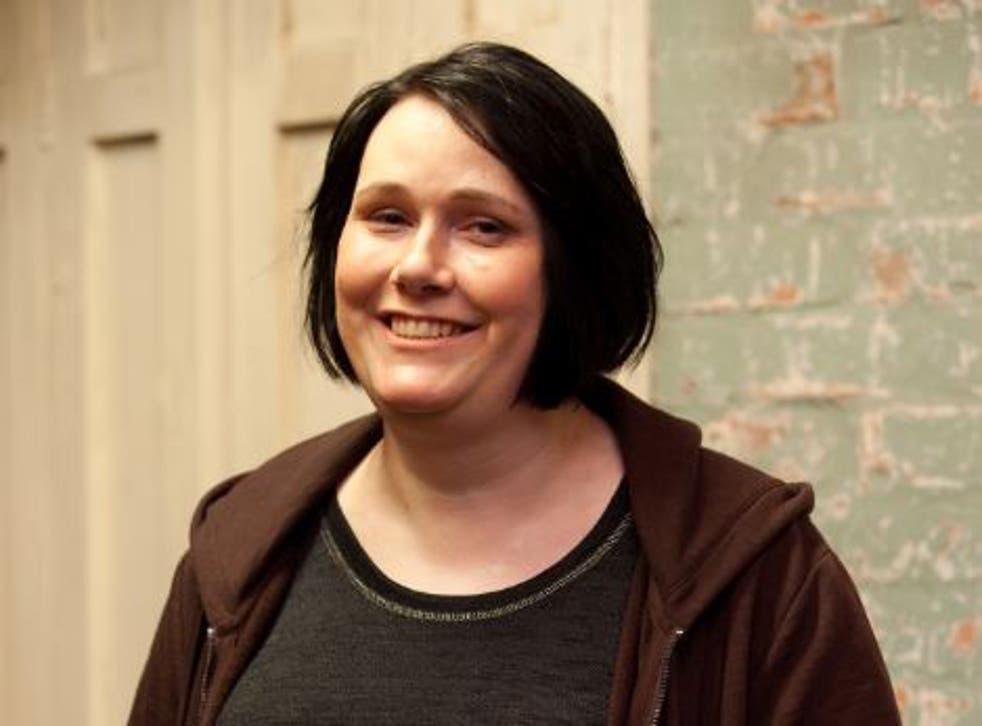 Bethany Black, the first transgender woman to play a trans character in a TV series, doesn't want you to think it's a big deal.
Black's star turn in Thursday night's episode of Banana is part of Russell T Davies' trio of crossover dramas (Tofu, Cucumber and Banana) which examine gay love and relationships. And Black, who transitioned and became a woman in her late teens, is determined that being transgender on screen isn't seen as a massive statement.
Instead, she believes the issues that the show portrays are "universal" and thinks it's important that we "move on" from gender.
Black's first full-length episode shows her character, Helen, acting like so many of us - slobbing about in tracksuit bottoms, being stroppy with her parents, procrastinating on social media, going on dates.
"The character happens to be trans," Black explains. "The themes that appear in the show are universal."
However, Black, 36, did feel the weight of representing the trans community: "There's a massive responsibility but you also know you can't really represent anybody – you can't even represent yourself," she says. "It is an absolute privilege and an honour to be representing trans people."
Some women, including feminists such as Germaine Greer, have said that transgender women aren't "real women". Greer recently argued that transgender women can't be in the club because they don't have "smelly vaginas"... "Well, I do," Black retorts.
"Transgender bodies are obsessed over in a way that cisgender ones aren't. With people like Germaine Greer and the things that they're saying..." Black pauses. "I came out about 15 years ago and I've seen how attitudes have changed over the years and those attitudes feel more and more like a relic of a bygone time."
Does she feel the world has become a better place for gay and transgender people? "I mean, Friends used to get laughs just off saying 'lesbian wedding' - change happens incrementally but the world moves on. People who like what Germaine Greer has been saying are very much a product of the past and it's becoming less and less relevant today.
"It's still causing offence, but they're people who have always felt like they're fighting against the power and they suddenly find themselves in a position where they're the old people in power. The people they're punching out at are people lower down the scale."
Banana addresses the headline-grabbing issue of revenge porn. While the phenomenon of revenge porn has become chiefly associated with teenagers in recent weeks, Black insists that there was no agenda with including a transgender person in the storyline.
The most important recent coming outs

Show all 17
"There's loads of stuff to draw on," Black says. "I've had dodgy exes, I've had people who've done horrible things to me. I've been through those things... But this story deals with it [her gender] and moves on from it."
However, there is a topic that even made straight-talking Black squirm - the idea that some only fancy transgender people because they're a novelty.
"The media tells you that if you're trans, nobody's going to fancy you unless it's a fetish, unless it's because you're 'damaged,'" she says. "I think fetishisation is a taboo that needs to be broken, that was the bit I felt most uncomfortable with in the script. It forced me to look at why it made me feel uncomfortable and examine it."
In Black's case, it was the knowledge that some people who show a sexual interest in her are doing it precisely because of her gender - and the novelty of her body. "I've had people come up to me, trying to chat me up and it's been made really clear really quickly that's the only thing that they're interested in, which is something that's seen as 'exotic' to them," she says. "They can't hide it for more than about five minutes. They're trying to be subtle, but it comes out."
This isn't just an issue for trans women - it's a cry for all people to look at their responses to women's bodies.
"It's about the objectification of women, and as a trans woman you find you're objectified on top of that anyway," Black says. "Now is the time to start talking about these things and really examining them."
Bethany Black takes the lead role in Banana on E4, Thursday 12 February, at 10pm
Register for free to continue reading
Registration is a free and easy way to support our truly independent journalism
By registering, you will also enjoy limited access to Premium articles, exclusive newsletters, commenting, and virtual events with our leading journalists
Already have an account? sign in
Join our new commenting forum
Join thought-provoking conversations, follow other Independent readers and see their replies