The Independent's journalism is supported by our readers. When you purchase through links on our site, we may earn commission.
Controversial quotes from the people tipped for Donald Trump's cabinet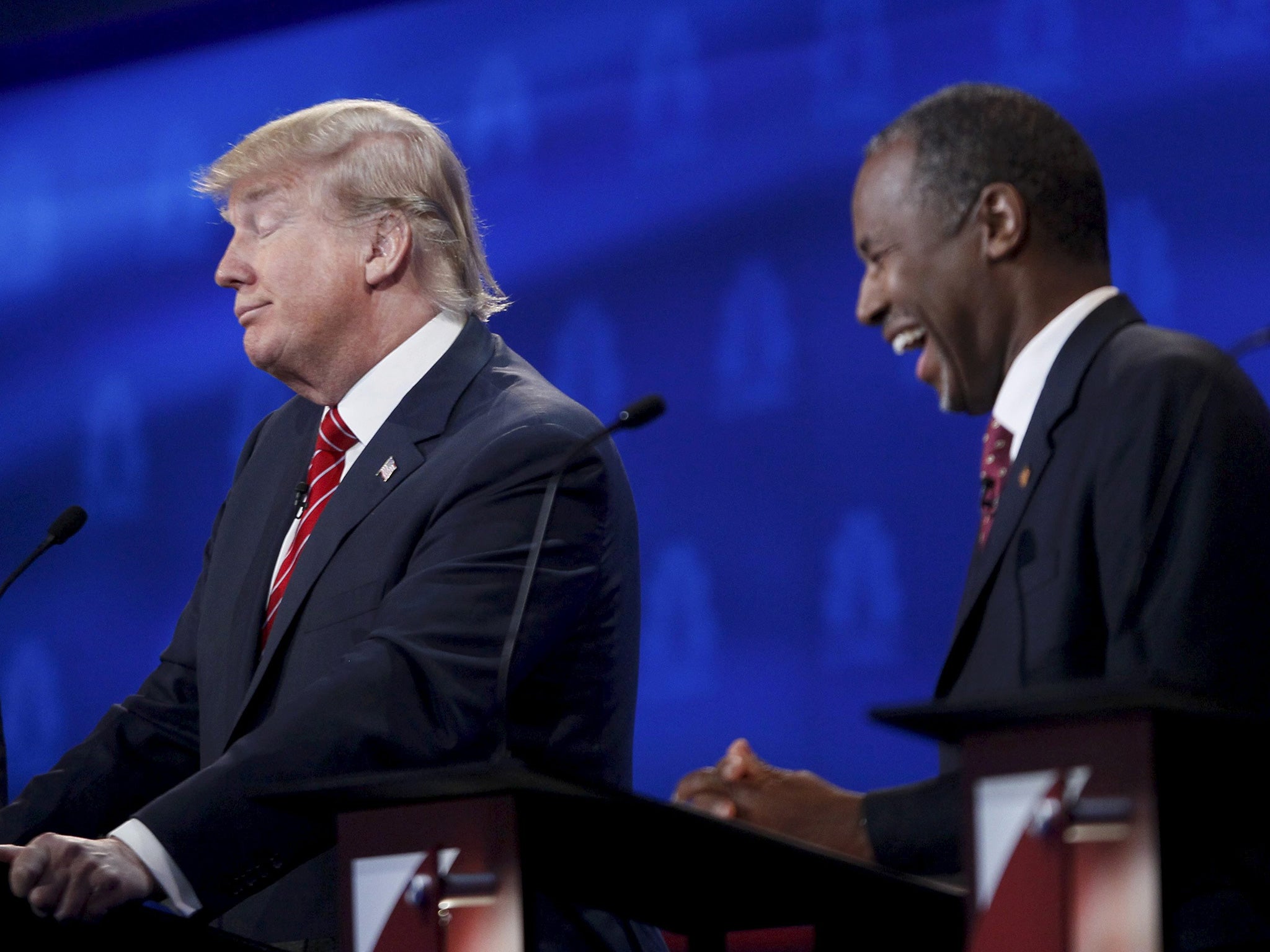 Donald Trump's election victory may have shocked swathes of America, but his team made sure they were prepared.
Staff charged with ensuring a smooth transition into the White House have spent months carefully compiling a list of people who would form Mr Trump's administration and deliver his controversial vision of America.
Buzzfeed has obtained a list of 41 overwhelmingly white, male and middle-aged people lined up for positions in his cabinet. In a surprise to few, many are pro-life and against same-sex marriage. Some names will already be familiar because of their US election campaigns. Most have made statements likely to raise eyebrows, some more unsettling than others. In its current form, this line-up could produce a Secretary of Education who once claimed the Holocaust could have been prevented if Jewish people living in Germany had been armed and an attorney general who has fought against same-sex marriage, and then asked taxpayers to pick up the near $500,000 cost of her fight in the Supreme Court. Another has suggested forcing health insurance companies to provide birth control to women is an "insult" to them because it suggests they can't "control their libidos". The same candidate also wishes some of Beyonce's "foreplay" dance moves would be left in the bedroom.
Anti-Donald Trump protests erupt across US as cities declare billionaire 'Not My President'
Mr Trump is expected to announce who made the final cut over the next few weeks. In the meantime, here are some of their quotes. Please note: not all 41 names are listed below.
Attorney General:
Gov. Chris Christie
Chris Christie will perhaps be best remembered for the pleading message he sent with his haunted eyes at the press conference where he was stood behind Mr Trump after dropping out of the race, silently screaming for someone to airlift him out.
Attorney General Pam Bondi
Ms Bondi is Florida's AG who fought to keep a voter-approved ban on same-sex marriage, lost, and then asked taxpayers to pick up the bill.
In 2014, her office released a statement saying same-sex marriages would "impose significant harm" on the public.
Sen. Jeff Sessions
On the appointment of a gay Supreme Court Justice: "I do not think that a person who acknowledges that they have gay tendencies is disqualified, per se, for the job."
Former Mayor Rudy Guiliani
On terrorism in administrations before President Obama came into office: "Under those eight years, before Obama came along, we didn't have any successful radical Islamic terrorist attack in the United States."
World reaction to President Trump: In pictures
Show all 29
Secretary of Commerce:
Former Nucor CEO Dan DiMicco
On free trade: "We have been involved in a trade war with China for two decades. We have just not shown up to fight."
Former Gov. Mike Huckabee
On insurers providing birth control: "If the Democrats want to insult the women of America by making them believe that they are helpless without Uncle Sugar coming in and providing for them a prescription each month for birth control because they cannot control their libido or their reproductive system without the help of the government, then so be it. Let's take that discussion all across America."
Sen. David Perdue
On Obama: "I think we are called to pray. I think we're called to pray for our country, for our leaders, and, yes, even for our president. [In] his role as president I think we should pray for Barack Obama, but I think we need to be very specific about how we pray. We should pray like Psalm 109:8 says. It says let his days be few and let another have his office."
Agriculture Secretary:
Texas Agricultural Commissioner Sid Miller
On a tweet sent from his account calling Hillary Clinton a c***: "I would never talk that way. By the way, those weren't my words. It was a retweet."
Secretary of Education:
Ben Carson
On the Holocaust: "I think the likelihood of Hitler being able to accomplish his goals would have been greatly diminished if the people had been armed. I'm telling you, there is a reason these dictatorial people take the guns first."
Secretary of Energy:
Newt Gingrich
On his first wife (according to a former aide): "She's not young enough or pretty enough to be the wife of the President. And besides, she has cancer."
Secretary of Homeland Security:
Sheriff David Clarke
On riots in Milwaukee sparked by the killing of a black man at the hands of police: "This black cultural dysfunction should be shunned and condemned by every law abiding person and no less black people."
Secretary of the Interior:
Gov. Jan Brewer
On the Latino community: "Nah. They don't get out and vote. They don't vote."
Oklahoma oil and gas mogul Harold Hamm
On fracking: "Every time we can't drill a well in America, terrorism is being funded."
Former Gov. Sarah Palin
On Isis: "Where they're fighting each other and yelling 'Allah Akbar' calling Jihad on each other's heads for ever and ever. Like I've said before, let them duke it out and let Allah sort it out."
Secretary of Defence:
Former Gen. Mike Flynn
On Hillary Clinton: "This is a person who does not know the difference between a lie and the truth. . . . She is somebody who will leave Americans behind on the battlefield."
Secretary of State:
Lawyer, diplomat and Fox News commentator John Bolton
On Obama: "Snark in a President is not an admirable trait."
Treasury Secretary:
Businessman Carl Icahn
On leaving the Trump victory party to buy $1 billion in stocks:
"Well, I tried to put a lot more to work, but I couldn't put more than about a billion dollars to work. And then the market got away. But I'm still happy about it. I'm still real happy about it.
"I personally don't believe Donald Trump is bad for the market."
Join our commenting forum
Join thought-provoking conversations, follow other Independent readers and see their replies