Prince Andrew breaks cover in Davos to publicly deny 'sex slave' allegations
There was an unusually high turnout for the royal's annual appearance at the World Economic Forum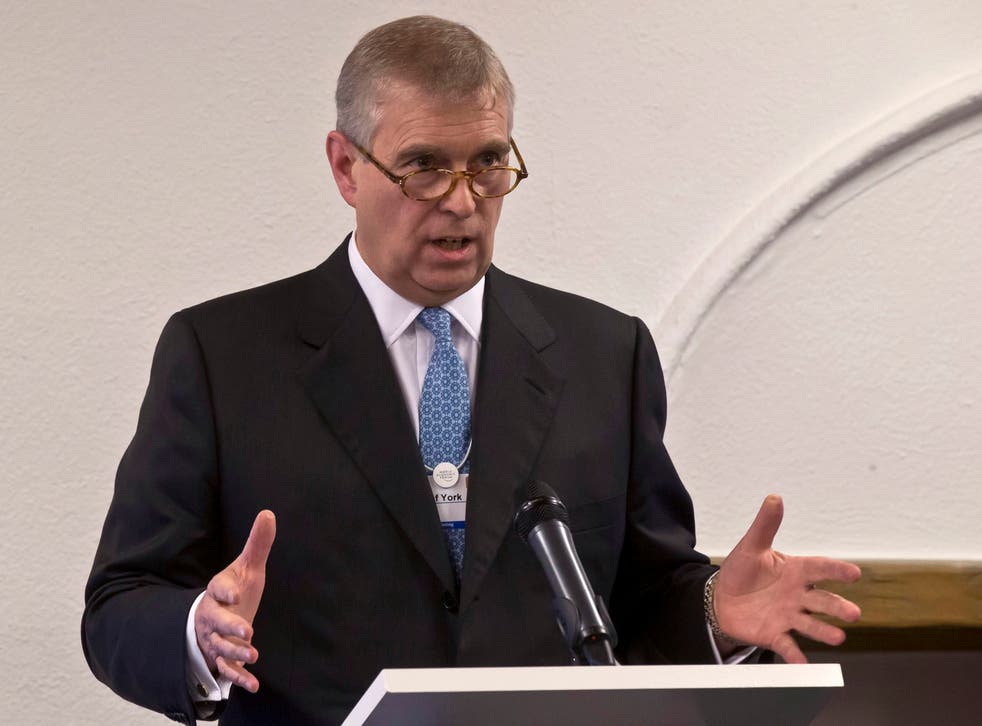 Before British business leaders at the World Economic Forum (WEF) in Davos, Switzerland, Prince Andrew said: "For the record I refer to events that have taken place in the last few weeks. I just wish to reiterate and to reaffirm the statements which have already been made on my behalf by Buckingham Palace.
His voice noticeably shaky, he added: "My focus is on my work and this evening's reception allows me to tell you about just a couple of the initiatives I have founded and am passionate about."
After addressing the allegations in the introduction to his speech – an almost unprecedented step for a senior royal – the prince made no further mention of them as he went on to talk about his work promoting entrepreneurs.
Afterwards, Prince Andrew stayed for almost an hour-and-a-half at the reception.
As he left, a member of the press asked: "Will you be making a statement under oath?" The Duke refused to answer, walking past the journalists stony-faced.
The reception was attended by the cream of British business, including BT chief executive Gavin Patterson, Prudential chairman Paul Manduca and Diageo boss Ivan Menezes. Tony Blair and his wife Cherie looked in for five minutes. Lord Mandelson also appeared, as guests drank goblets of gin-and-tonic and chilled sancerre. The prince was greeted by many executives before he spoke and chatted to former Barclays boss Bob Diamond.
The prince, 54, had faced mounting pressure to speak personally about the allegations which have dogged him for weeks. He was determined to show he has not been too damaged by the affair by continuing with his work.
The prince hosted a Pitch@Palace event at the Steigenberger Grandhotel Belvédère, where three start-up firms presented business ideas. Those who attended were in broad support of his work promoting British business.
One boss said earlier he was surprised the prince had decided to attend. He said: "It is a bad call for him to be here. It is just a distraction. I would have understood if the event had been cancelled and it wouldn't have been seen as a signal of anything."
The Prince's decision to speak out came as the woman at the centre of the under-age sex allegations, Virginia Roberts, issued fresh documents repeating the allegations against him in US court papers. She claimed he had sex with her on three occasions when she was 17, which is under-age in Florida, where the court papers were filed.
Now 31, Roberts claims she was forced to have sex with the prince by his former friend, the billionaire convicted sex offender Jeffery Epstein, who paid her to "service" his friends.
Buckingham Palace has repeatedly strenuously rejected claims the Duke had any "sexual contact or relationship" with Miss Roberts.
Prince Andrew is not facing legal proceedings over the US claims. It is not known if he is covered by legal immunity as a royal but he could be entitled to diplomatic immunity against questioning because some claims relate to when he was a Whitehall-sanctioned envoy.
Prince Andrew: Life in pictures

Show all 15
The prince's party has long been a fixture in the Davos calendar. Invitations for the event, sponsored by consulting group KPMG and drinks giant Diageo, were sent out before Christmas.
The WEF event is a magnet for the world's rich and powerful. Bankers, chief executives and senior politicians mingle in the mountain resort for four days each January. George Osborne, Bank of England Governor Mark Carney, China's premier Li Keqiang and Francois Hollande of France have all put in appearances. Rapper Will.i.am has added so showbiz glitz.
The prince has come to town on one of the biggest nights of the gathering. The hottest ticket was to the Google party, held at the Davos InterContinental, also known locally as the Golden Egg because of its oval shape. Music was supplied by Paloma Faith and a menu devised by chef Yotam Ottolenghi.