Alan Rickman & Helen McCrory: 'With us it's mostly about laughter and the odd Martini'
The two actors met in 2008, on the set of Harry Potter and the Half-Blood Prince
Adam Jacques
Friday 03 April 2015 01:40 Comments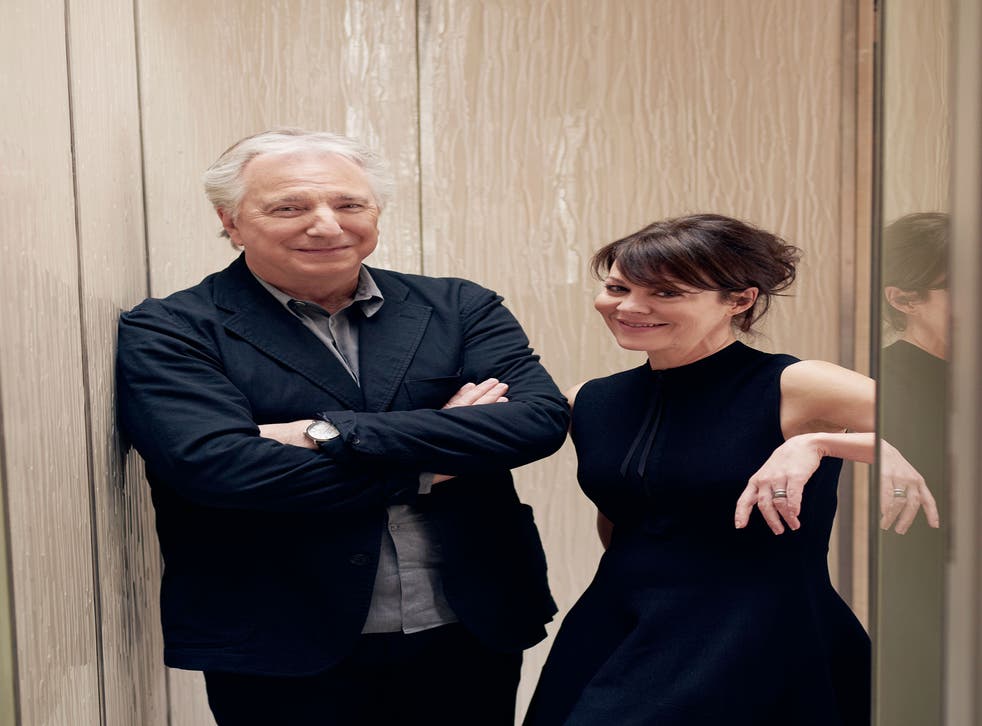 Helen McCrory, 46
An actress known for her work on stage ('Uncle Vanya', 'Twelfth Night', 'Medea'), TV ('Anna Karenina', 'Peaky Blinders', 'Penny Dreadful') and film ('The Queen', 'Skyfall', the final three 'Harry Potter' movies), McCrory lives in north London with her husband, the actor Damian Lewis, and their two children
There are a lot of myths about Alan. That he is prickly and unpleasant – because he often plays quite cold, dry people – and that he always wears black. But he couldn't be further from his screen personas if he tried. And I've seen him wear grey at least twice.
I first heard of Alan when I was at drama school. He was doing Les Liaisons Dangereuses in New York [in 1987], hailed in the papers and held up as an example by my teachers at the Drama Centre. We met in 2008, on the set of Harry Potter and the Half-Blood Prince, when Helena [Bonham Carter] and I were playing the Lestrange sisters, and Helena, Alan and I were making a spell "to the death" together.
Though he was brilliant in the part, he wasn't so method that he swished around in his large black robe in between takes. Instead we'd have a coffee and a giggle – he has a naughty sense of humour – and I'd say, "So, what's your power again?"
I was surprised how our friendship developed at first: it's lovely when a movie star phones you up and says, "I'm going to come see you in that play. Do you like to know if people are in?" So I said, "Actually do you mind coming around [backstage] after?" Otherwise I can get nervous and direct the whole performance to that one person. So he came, and asked me out to dinner; I wouldn't have assumed someone who'd reached such heights would do that.
He's a very subtle person: there's an art in the way he reads lines, and he has a similar aesthetic in his home – it's all clean lines and muted. So much of his personality is in A Little Chaos [a new film directed by Rickman, and starring McCrory and Kate Winslet]. It's quiet and meditative. He thinks about what he says, rather than plunging in. I think I'm less in control than him.
We're both Celts, and there's no hierarchy as there is with the English, so when he was directing me on set I would never be guarded with him. I don't think that disagreeing [artistically] is a bad thing. It's only by saying, "Christ, you didn't think the scene was about that, did you?" that you come to realise things.
While we both like a giggle and a good bottle of wine surrounded by [actor] friends, he avoids the industry world. Maybe he's shy, and walking into a room of people he doesn't know isn't relaxing. I don't feel that: I find evenings out such as Bafta parties good fun.
I started out in theatre so I think of Alan as a director at the [Royal] Court, and writing and directing films, rather than about films he was in. I've never seen Robin Hood: Prince of Thieves [for which he won a Bafta]. Maybe that's why we're friends: I don't sit quoting lines back to him after half a bottle of wine.
Alan Rickman, 69
An actor, Rickman made his name as Obadiah Slope in the BBC's 1982 serial 'The Barchester Chronicles'. He has since won awards for roles in films including 'Robin Hood: Prince of Thieves' and 'Truly Madly Deeply', and reached a new generation with his role as Severus Snape in the 'Harry Potter' films. He also directs at the Royal Court. He lives in London with his partner of 50 years, Rima Horton, an economics lecturer
We properly met on the set of Harry Potter and the Half-Blood Prince, in full costume. Helen with that white stripe in her hair, me with those black buttons and black contacts. Helena was there too. We had a scene with the three of us, nose to nose, having to look threateningly at each other. Helen has a huge sense of the ridiculous and with all that costume and make-up, there wasn't a hope: we were all trying to behave like grown-ups but laughing to an annoying degree; the producers and crew got a little impatient. It's run like an army camp there, so I was grateful for those moments of laughter.
Our friendship was incremental: first I'd go to see her in plays at the Donmar, and then afterwards, get drunk with her and the rest of the cast. There would be social gatherings and I got to know her better there, too. We both had Welsh mothers – it's a huge thing when you have Celtic blood running in your veins, and not English; there's an inherited energy, a kinship.
She has an amazing access to her emotional life as an actress. She is always truthful, too. She can be critical of a director, but she speaks her mind out of respect for the writer. The text prompts the questions; her aim is to convince you that she's living inside the text, not performing it.
I felt relaxed asking her to work for me in A Little Chaos. She plays a wife in a loveless marriage to André Le Nôtre, who designed the gardens at the Palace of Versailles. Helen has a kind of darkness of spirit to bring, and I loved watching the edifice crack in the role.
I like actors who don't "act". Her recent Medea at the National, on the Olivier stage [winning her Best Actress at the Critics' Circle Theatre Awards] was courageous: I could see right inside her soul. It's the toughest stage – it's huge and the acoustic isn't easy.
With us it's mostly about laughter and the odd Martini – the two tend to blur into each other. She has a much faster energy than me; she's on the front foot and I'm not always. But I love anybody who makes me laugh, and her ability is unusually high. She's witty in an 18th-century way; like Jane Austen, she can pick up a word, play with it and put it down again. She recently talked about lobster sauce sophistication. Where did she get that from?
'A Little Chaos' (PG), directed by Alan Rickman and starring Helen McCrory, is out on 17 April
Register for free to continue reading
Registration is a free and easy way to support our truly independent journalism
By registering, you will also enjoy limited access to Premium articles, exclusive newsletters, commenting, and virtual events with our leading journalists
Already have an account? sign in
Join our new commenting forum
Join thought-provoking conversations, follow other Independent readers and see their replies