Carl Morris: Hotshot brings pool to the people
Being born deaf didn't hold him back on the way to becoming world champion. Now his mission is to sprinkle glamour on a popular pub game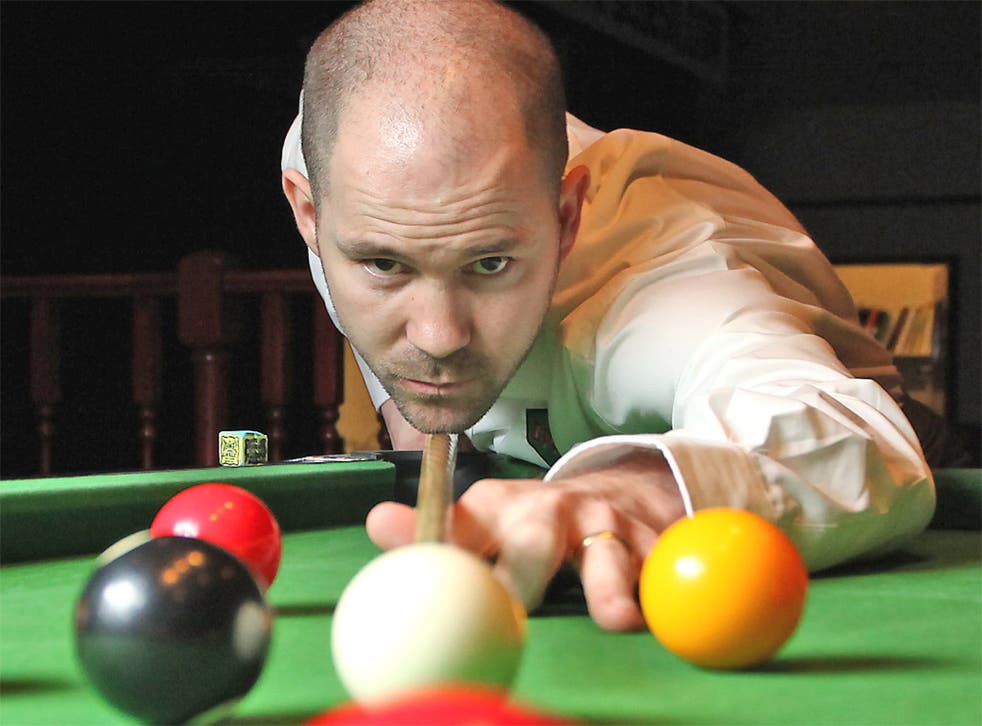 Carl Morris has been a beneficiary of the positive power of pool, and is now an agent of it. Born deaf, Morris became eight-ball pool world champion in 1998: a testament clearly to his own endeavour but also to the meritocratic openness of one of Britain's favourite games.
Now secretary of the International Professional Pool Players' Association (IPA), Morris is hoping to harness that inclusiveness and bring pool to the people. The Professional 8 Ball Pool Masters, one of the biggest events of the IPA calendar, will be shown on Sky Sports next month.
And Morris knows the importance of attention. "When they come to televise events, that's the pinnacle of everything," he told The Independent in a Shepherd's Bush pool hall. "It's the best place you'll ever be, because when you play at the tournament, the thrill and adrenaline that you get, it's indescribable. I can remember the feeling from when I won the world championship in 1998. To be called the world No 1, there was no better feeling in the world."
An impressive sporting achievement in itself, it is an even more stirring human one given Morris' disability, although he insists that not being able to hear allows him to cut out noises that might distract his rivals: "It's all about focus and concentration, and the less distractions you have the better. So I think being deaf has helped me improve because naturally I don't get those distractions when I play. I can just go on that table and the whole world just switches off."
The fact that pool gave Morris his chance shows the widely-cast net of the game. "When I got to 15 I had to pick pool or football. And while football is very dependent on a scout spotting you and signing you up, with pool you can go out there and make your own name. That's what I love about it. Anybody can enter tournaments and make their own name, rather than being dependent on someone else spotting you."
That social strength, Morris said, gives pool a potential which has been wasted. It is said to be the third most popular sport in the country, with an estimated five million regular players. "I really believe the reason pool never took off before is because we did not have the right people in charge," Morris said. "It comes down to the right leaders, the right people with the right vision, trying to look after top-level pool and grass-roots players."
The rise of televised darts demonstrates that, with the right presentation, a pub game can become something more glamorous. Why not pool? "We want to build the brand up and make it exciting, not just for pool players, but for people outside of pool."
That lack of engagement is the problem. "In the past, I think the image was totally wrong," he said. "We want to make it more exciting for people. So when people flick the television on, they're actually reading about the pool player as a person. In the past the characters of pool players have been very stifled, like watching robots."
Bold ambitions, but Morris is experienced at this work. Since his world championship he has done remarkable amounts for the National Deaf Children's Society (NDCS), Hearing Dogs for Deaf People and Against Breast Cancer.
"I've always tried to give something back," Morris explained, "I've always done pool exhibitions for charities. Last year I did [exhibitions in] 43 counties in 43 days, and that got a hell of a lot of coverage. We set out to raise £43,000, and we raised £60,000 in total. So far we've raised about £215,000."
Knowing the broad appeal of pool, Morris has created the National Charity Tournament, this to raise money for Against Breast Cancer. "This National Charity Tournament has never been done before," Morris said. "Instead of paying to enter, people do a good deed and raise money for charity. And then they will get free entry into this big tournament which will have about £30,000 prize money." The tournament has been put back to May 2013 due to high levels of interest.
Never satisfied, Morris has gone ever further in his work for Hearing Dogs for Deaf People: "I've done a lot of challenges. For example, I've cycled from the north to the south of Greenland, I've cycled around Cambodia, across the desert in Namibia, and I've raised probably half a million for all those."
Morris also became the first deaf person to walk to the North Pole. He spent a year training for that – dragging a 60kg tyre for a mile in less than 15 minutes. It took him more than one attempt, but he did it, in the mud and rain, more than once leaving him physically sick. It was worth it though, his walk to the Pole raising about £50,000.
Compared with all that, making pool more popular sounds relatively trivial. But Morris knows the value of his story, and hopes that his successes, in sport and charity, can inspire other disabled children to all manner of achievements. "I never really blow my own trumpet," he said, "but I will do that if it helps to make a small disabled kid believe that they can do what I've done.
"There are so many disabled people – not just deaf people – who have so many setbacks in life that they don't have any confidence left. And they start withdrawing into themselves, and become a hermit in some cases. I think that's a really sad thing. I want to go out there and say 'I can't hear a damn thing but look what I've gone and done. And if I've done it, so can you'."
Join our new commenting forum
Join thought-provoking conversations, follow other Independent readers and see their replies