David Peace: Why I took on Bill Shankly
Writing about a beloved football manager brought the author no end of trouble. That wasn't going to stop him taking on another one, he tells Paul Gallagher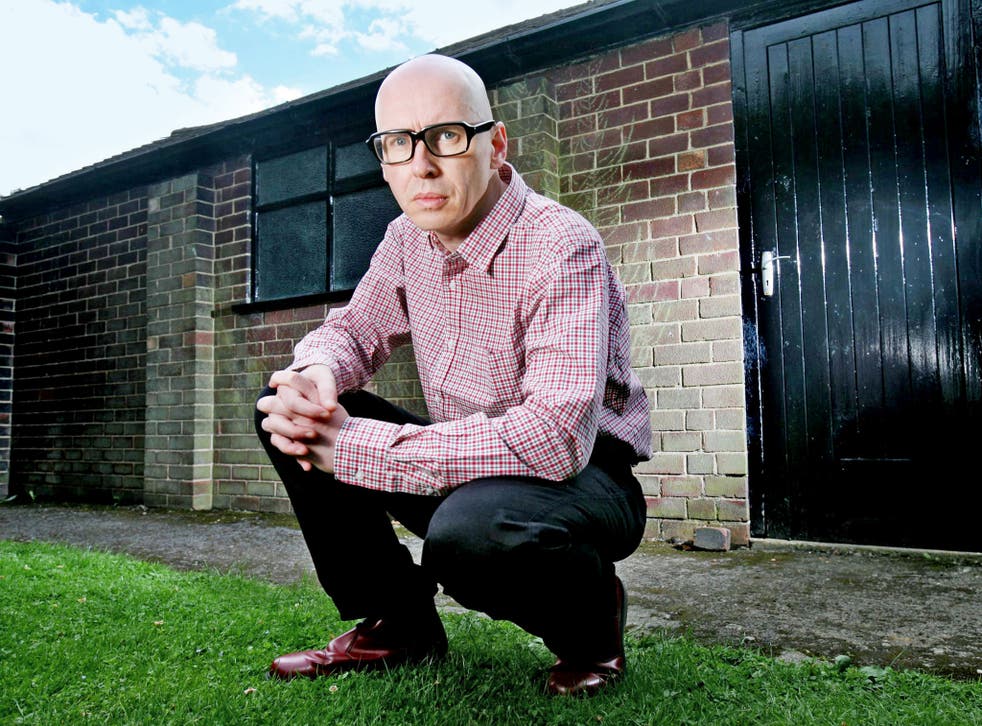 If David Peace is growing tired of the repetitive nature of his promotional schedule, there are no outward signs. Indeed, given the importance of repetition to his writing, he seems to embrace it. And in Bill Shankly, the Liverpool Football Club manager revered above all others and whose philosophy mirrors the author's in many ways, Peace has perhaps found the perfect subject for his latest novel.
Red or Dead is a book of two halves, the first beginning in 1959 when Shankly joined Liverpool from Huddersfield Town. It forensically describes how the ex-teenage miner from a remote village in east Ayrshire transformed Liverpool from a struggling, second division side to a trophy-laden team on the brink of European dominance, and ends with his sudden decision to step down 15 years later. The second chronicles Shankly's eight years of struggle between retirement and his death, aged 68, in September 1981. Together they form an obsessive book – almost all of Shankly's 783 games in charge of Liverpool are chronicled – about a man described in one biography as "the ultimate obsessive".
It is Peace's second "football novel" after The Damned Utd, a fictionalised account of Brian Clough's 44-day spell as manager of Leeds United. When it was published in 2006, Peace's reputation was in the ascendant following his critically acclaimed Red Riding quartet of novels set against the backdrop of the Yorkshire Ripper murders, and GB84, a fictional portrayal of the miners' strike of the mid-1980s.
Widespread praise for The Damned Utd led to a steady rise in sales and a film starring Michael Sheen that was released in 2009. But Clough's family took exception to what they believed was an overtly negative portrayal of the late manager. So, too, did the former Leeds and Republic of Ireland midfielder Johnny Giles, who threatened libel action after being portrayed as a key player in Clough's dismissal. Giles said he wanted to "set the record straight".
Speaking to The Independent in Leeds, Peace is also keen to clear a few things up. "In the case of John Giles, I was writing the voice of Brian Clough in the novel and I researched as much as I could, particularly using Clough's own autobiographies in which he clearly states he believed at the time that John Giles had undermined him. He didn't have any evidence, it was a kind of paranoia. In the novel, it is Clough thinking Giles had undermined him without saying it in black and white."
Peace said he offered to remove the contentious lines. "I just did it, not because of fear of legal action. It was about three sentences. I didn't want to upset Giles. This is one of the ironies of fact and fiction. Everyone seems to believe he took me to the High Court, but it never went that far."
Peace rails against the word "faction" to describe his work – a term he has never used.
"People in this country seem to struggle with this idea of what a novel is or what it should be. Red or Dead, The Damned Utd, these are portraits. You could argue that non-fiction is photography and fiction is painting. But photography and non-fiction are highly subjective, too.
"I find it frustrating, not to be negative at all about her, that Hilary Mantel can write about Thomas Cromwell and no one turns round to her and says 'that's faction'. She's won the Booker Prize. It is a different thing when many people are still alive. It is a novel, a work of fiction, but you are trying to get to the truth and to be true to the spirit of the man in question."
Shankly's granddaughter, Karen Gill has already said she had "no doubts" that Peace would produce a work that Shankly deserved. "I think that's a real Shankly quality," says Peace. "Shankly himself believed the best in people and that brings out the best in people. He was a witty man. Many people are obsessed with football, but this man was utterly obsessed and was consumed by it. His life was his work. His work was his life."
Gone is the first-person narrative of The Damned Utd; Red or Dead has two voices: "Bill", often in passages with his wife (and whom Peace describes as "a very subjective third person"), and "Bill Shankly", the manager of Liverpool Football Club.
At more than 700 pages and in Peace's unmistakable prose, Red or Dead will not be universally loved, as the author himself admits.
All nine of Peace's books have been written in Tokyo, where the Dewsbury-born author has lived since 1994 when he arrived to teach English following a two-year stint in Istanbul. Two decades later, Japan remains an enormous influence on his writing.
"There are always elements I've taken from Japanese culture, even in 1974 (part of the Red Riding series). The child murders in the novel didn't happen in West Yorkshire – they were inspired by the murder of four girls in Japan just before I arrived."
A Huddersfield Town fan, Peace has used football in many of his books, whether it is Leeds United in the background of the Red Riding quartet or the miners discussing their loyalty to either Sheffield Wednesday or Sheffield United in GB84.
Peace followed Red Riding, GB84 and The Damned Utd with two parts of his Tokyo Trilogy, dark novels set in the aftermath of the Second World War. He returned to Yorkshire in 2009 with his Japanese wife, Izumi, and their two children, George and Emi, but was drained and exhausted after intensively researching and writing eight books in 10 years, and found it impossible to write. The family decided to return to Tokyo but, a month before they left, a film producer called with an offer to write a script about the life of Bill Shankly.
"Before he even finished the sentence, I knew that was what I was looking for," says Peace. "Having supported Huddersfield Town, knowing Bill Shankly had been manager [and] he was friends with Harold Wilson who I still want to write about. I said I'd do it, but that first I'd have to write the novel. It was as simple as that."
A reinvigorated Peace had a few weeks to travel back and forth to Liverpool where he met John Roberts, the journalist and ghost-writer of Shankly's autobiography.
The pair spoke for hours at Roberts's home before Roberts popped upstairs and returned with the tapes and transcripts of his interviews with Shankly that he allowed Peace to take back with him to the Far East. The sound of Shankly on tape informed Red or Dead's dialogue while Peace also met Shankly's players, such as Ian Callaghan, and was immediately struck by how much the manager had transformed their lives. A year combing newspaper archives at Japan's parliamentary library, interspersed with online research, helped provide the forensic match details.
After returning to Tokyo, Peace quickly re-established his base at a small writing flat close to the Imperial Palace, where Peace found the isolation he craved to create a novel that has been described by one critic as his "masterpiece".
Peace, the son of a Catholic mother and Protestant father, prefaces Red or Dead with a quote from Revelation and believes religion, socialism and football formed a holy trinity that characterised everything Shankly did.
"His form of socialism, probably going to back to Robert Burns, a biography of whom was his favourite book, grew out of his understanding of Christianity.
"Shankly said that Jesus Christ was the first socialist. This form of socialism was something that informed everything he did – and almost everything he did was football."
Red or Dead extract
Liverpool win their second FA Cup after destroying Newcastle 3-0 in the 1974 final
And the referee put his whistle in his mouth. The referee raised
his hands above his head. And the referee blew his whistle. And
Liverpool Football Club had beaten Newcastle United three–nil.
Liverpool Football Club had won the FA Cup. Again.
And on the bench, the Wembley bench. His coat stuck to his
jacket. His jacket stuck to his shirt. His shirt stuck to his vest. His vest
stuck to his skin. Bill stood up again, Bill got to his feet again. And
Bill turned to the supporters of Liverpool Football Club again. And
Bill Shankly raised his arm again. His hand again –
His finger again. In salute again –
And in thanks. Again –
Bill walked onto the pitch. The Wembley pitch. And two
young supporters of Liverpool Football Club ran onto the pitch. The
Wembley pitch. And the two young supporters fell to their knees on
the pitch. The Wembley pitch. On their knees, at the feet of Bill
Shankly, kissing the feet of Bill Shankly. And Bill laughed. And Bill
said, Make a good job of them boots for me, will you, boys?
And Bill watched Emlyn Hughes lead the players of Liverpool
Football Club up the steps. The thirty-nine steps. Bill watched Emlyn Hughes receive the FA Cup from Princess Anne. Bill watched Emlyn
Hughes hold the Cup aloft. And Bill heard the supporters of Liverpool
Football Club roar, Li-ver-pool, Li-ver-pool –
LI-VER-POOL...
And on the pitch. The Wembley pitch. The gentlemen of the
press and radio and television crowded around Bill Shankly. And Bill
took off his coat. Bill handed his coat to a television producer. And
Bill said, Look after that for me, please. But if you don't, you'll have
to pay for it. And I got it in Rotterdam. And the fare to Rotterdam is
very expensive. So make sure you look after it. But Christ, after today,
you should be proud to be holding Bill Shankly's coat. Proud and
humble. Because a lot of you people in the press were making
predictions about the final. You were analysing our team when you
hadn't even seen us play. When you had no idea how we play. And
that annoyed me. It's like trying to analyse Jack Dempsey when you
haven't even seen him fight. Well, now you know how we fight. How
we fight for each other. And how we play. How we play for each other
And for the supporters of Liverpool Football Club. You have seen us
and you have heard them. And I'm happiest not for myself, the players
or the staff. But for the multitudes. Because I'm a people's man. A
socialist. And I'm only sorry I couldn't go amongst them. And speak
to them. But I'm happy that we worked religiously. That we didn't
cheat them and that we have something to take back to them tomorrow.
And so there's nothing more to say. So if you gentlemen will excuse
me, now I'm going to get a cup of tea and a couple of pies...
Join our new commenting forum
Join thought-provoking conversations, follow other Independent readers and see their replies