Derrick Burts: HIV in pornography: the naked truth
The erotic actor dreamed of easy money and easy sex when he got into adult films. But the reality was his worst nightmare, he tells Guy Adams
Thursday 23 December 2010 01:00 GMT
Comments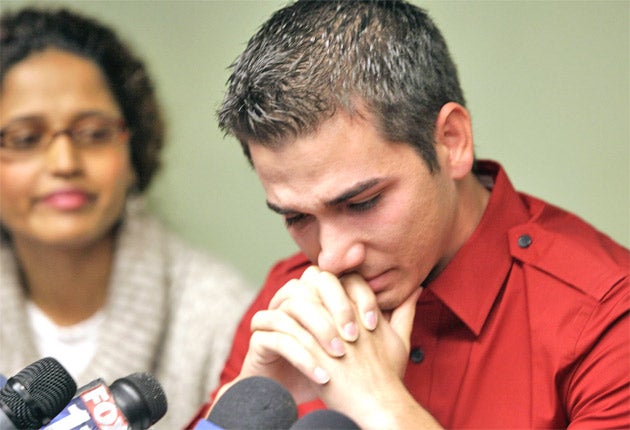 Derrick Burts got into hard-core pornography to make money fast and escape the drudgery of his day job in a hotel.
Then it all went wrong. A few months later he finds himself suffering from an incurable disease while spearheading a bitter PR battle that is sending shockwaves through the seedy reaches of the adult entertainment business.
Earlier this month the 24-year-old identified himself as "Patient Zeta," a hitherto-anonymous erotic actor who had been diagnosed HIV-positive in early October, sparking panic among his peers. Recalling the experience in a tearful press conference, he called for laws to be enforced that would make condom use mandatory in pornographic films.
Burts has since been widely lauded for speaking out on an issue that campaigners say has been brushed under the carpet for years by an industry that enjoys enormous profit margins (porn generates about $13bn [£8.5bn] a year, which is more than Hollywood films make worldwide), yet cares little for the wellbeing of the 2,000-odd performers.
His description of the care he received after being diagnosed prompted fierce criticism of the Adult Industry Medical (AIM) Healthcare Foundation, a clinic in the San Fernando Valley near Los Angeles, where porn film-makers require actors to be tested monthly for sexually-transmitted diseases (STDs). Last week regulators closed down the clinic, claiming it was in breach of its licence.
"The industry let me down. They put me in a situation where I got HIV, and after I'd been diagnosed they did nothing to help me," Burts said this week, at the apartment in Menifee, California, he shares with his girlfriend Crystal and two Chihuahuas. "That's why I have come forward. The industry must make performers safe when they have sex. Otherwise more people will end up like me."
A natural show-off, he grew up in Hemet, a working-class town east of Los Angeles, and left high school at 17 to pursue his ambition to be a magician. For five years he worked on cruise ships, travelling the world and earning a six-figure salary. But he tired of itinerant life and moved back to his hometown to be closer to his family, taking a front-office job at the Marriott hotel next to Disneyland.
Last December Burts met Crystal. Also 24 and naturally photogenic she was modelling lingerie. Then she moved on to nude modelling that paid more; Derrick was bored with hotel work and found he could earn well posing naked for gay titles.
From there it was a short step to the offices of an Orange County porn agency. In March the couple signed a two-year contract. Crystal would appear in straight films; Burts, who is bisexual, would do a mixture. Condom use, he was told, was usually mandatory in gay titles but not straight ones.
"They offered us big dollars," he recalled. "They said we'd make $15,000 a month. They fill your head with all these things, like you'll have a different lifestyle, that you'll go to these really nice red-carpet events, you'll have everything you want and work with really good looking models. It can be tempting. When he saw me, the agent said I had money written all over me in the gay business."
The couple often worked every day. Burts used the alias Cameron Reid in straight titles, for which he was paid between $200 and $1,000 a day, and Derek Chambers in gay ones, which paid about $2,000. Crystal earned between $700 and $3,000 a time.
"Sometimes you can feel exploited, depending on what's happening on set. But mostly not," he says. "I was getting paid to have sex with a really hot girl. What guy wouldn't like that? Part of me liked being on camera and liked being the star."
But the inherent risks of the business rapidly manifested themselves. When he went for his first STD test he found he had contracted chlamydia. The next month he was diagnosed with gonorrhea and syphilis. "I was performing with multiple partners several times a week," Burts says. "STDs came with the job."
Then he got a call from the AIM clinic asking him to come in. He was told he was HIV positive. He remembers feeling shock then fear. His career was over but his identity would be kept secret, the clinic said. Actors he had worked with since his last negative HIV test would be quarantined while they underwent tests.
The source of the infection was swiftly traced, the clinic said, to a "known positive" male actor he had worked with in Florida in a gay shoot in which condoms were not used for oral sex. Although straight porn performers must show negative HIV test results before filming, the gay sector does not have the same restrictions.
But after that Burts claims everything went quiet. He waited two months but was not referred to a specialist doctor. The clinic stopped returning his calls. He began to feel neglected. The clinic has subsequently claimed the infection derived from Burt's private sex life, an allegation he strongly refutes. "Their reaction has been to smear me and tell people I'm lying," he says.
In late November, he suffered a nervous breakdown. Shortly afterwards, at the recommendation of a friend, he went for treatment at the AIDS Healthcare Foundation. The care was so professional, he says, he agreed to speak out in support of its long-running campaign to make condom use mandatory in all porn films.
"As things stand if you were to tell a producer 'I want to wear a condom' they'd find another performer," he says.
Burts's campaign has already been hugely embarrassing for the adult film industry and the closure of the AIM clinic is a major headache. The clinic did not return calls this week.
History of HIV in porn trade
* Despite negative results in routine tests before a shoot in 2004, Darren James unknowingly spread HIV to three other performers. The incident shut down the LA porn industry for a month and turned James into an outspoken advocate of mandatory condom use. "I'm living your nightmare," he said.
* Lara Roxx had been in the porn industry for just two months when she was infected by James in 2004, becoming the first identified sufferer in four years. Media attention on her situation exposed the inadequacy of the industry's preventative measures – such as enforced HIV testing – and medical care.
* Marc Wallice was exposed as HIV positive in 1998 amid allegations that he had known and concealed, his status for as long as two years. He was accused of infecting several actresses. Wallice has since made a return to the porn industry as a writer and director.
Josephine Forster
Join our commenting forum
Join thought-provoking conversations, follow other Independent readers and see their replies