Emmanuel Jal & Paul Lindley: 'We talk mostly about food. He has terrible habits'
The entrepreneur and the hip-hop artist met at a One Young World event in Johannesburg and established The Key is E, a social-enterprise project to support African entrepreneurs whose businesses benefit children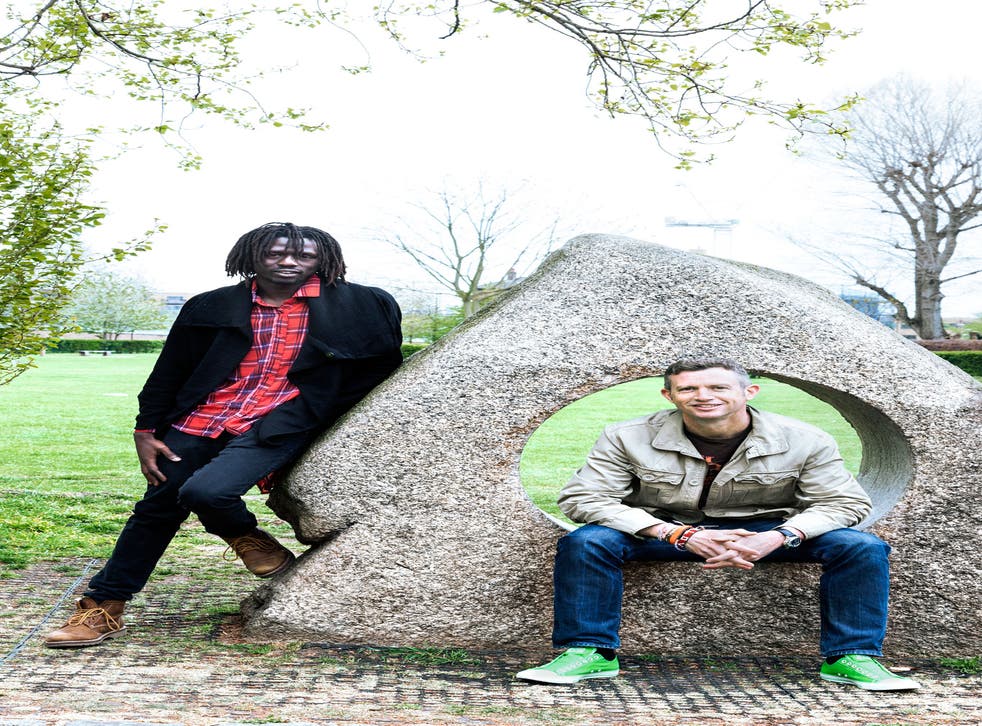 Paul Lindley, 48
An entrepreneur and the founder of organic baby-food brand Ella's Kitchen , Lindley (right in picture) has also launched a toddlers' toiletries company, Paddy's Bathroom, and, along with musician Emmanuel Jal, co-founded social-enterprise project The Key is E. He lives in Oxfordshire with his wife and two children
I didn't know Emmanuel's music before we met. In fact, I had a broad view that rap was kind of misogynist and glorified violence, and I wasn't expecting to like it.
We were both counsellors for One Young World, which gathers young leaders to discuss global concerns, when in 2013 we found ourselves sharing a minibus in Johannesburg.
I started talking to him about what I did – it turned out he'd used my [Ella's Kitchen] products as he has two small children. We got chatting about nutrition and healthy food; it turns out that he makes his own smoothies and sugar-free chocolate.
We hung out for the next four days. The first evening he played me a few of his tracks – including one that Kofi Annan and George Clooney appear in the video for – and I thought, I really like this, the rhythm and beat. And I liked the way his music could be political, in the way music was in the 1960s. Mainstream music now is for profit rather than social impact; anything that's meaningful, such as Emmanuel's work, is on the edges.
Yes, we come from different backgrounds – I had a lovely childhood growing up in Zambia, while he talks openly about his experience as a child soldier in South Sudan – but there is a common thread: we've both dedicated our work to improving the world, and we both feel that business profits can be used for social good.
So we left South Africa thinking we should do something together. Over the following months, we came up with The Key is E, a social-enterprise project to support African entrepreneurs whose businesses benefit children. We've ended up going to places such as Kenya to look for investors.
Music is a key element of the project. While hip-hop is not a normal method of teaching young people to eat well, I think we should use every tool we can. I'm an accountant but I am also creative; I executive-produced Emmanuel's fifth album, The Key [which advocates for the project]. We even co-wrote one of the songs, "Every Child's Plate".
Emmanuel is a survivor, having escaped war and hunger to find his way to America and make his name in music. Everyone warms to him, as he has a childlike enthusiasm and confidence that it will come good in the end. He has taught me to see things in a different way, through childlike eyes. Though he can be frustrating because he has no sense of time: he bounces from one thing to another.
What we've done together – the album and our social-enterprise business – has changed me as much as him: he's talking about setting up his own food-related business now and I think I've given him confidence. We've learnt to laugh about our differences: on one level, we can't understand how the other thinks, but there is a real empathy: two people who have a connection and ideas to change the world.
Emmanuel Jal, 36
A former child soldier in South Sudan, Jal is now a hip-hop artist and social activist. He has released five albums; his latest, 'The Key', was recently nominated for the 2015 Canadian Juno award for World Music Album of the Year. He lives in Toronto, Canada
I'm from Sudan and Paul is originally from Zambia, so Africa is in both of our blood. We met in Johannesburg, speaking at a concert for young people from around the globe, talking food, politics and children's issues.
My son had been eating his company's baby food and I remember saying, "How does this have no preservatives in it?" to my manager. And the person who owned the brand was behind me! So we got talking about food, and how children have a right to eat well. I told him about a conversation I'd had with a kid in South Sudan who lives on one meal a day: how I told this boy about a place, the West, where people die of fatness. And the kid said, "That's the coolest death ever!"
We got to know one another over the next few days. I meet so many people who say that they want to make changes but nothing happens, so when he talked about really getting stuff done, I was surprised. It led us to form The Key is E. It happened really fast: we met in October 2013, and by January we were on the move. I use my music to reach people, whereas Paul uses business, so we're using different avenues to create change.
Together, we've watched movies, gone to concerts, drunk and talked, mostly about food: he has terrible habits. He eats sweet stuff all the time, even mixing coffee with chocolate.
And we started working in the studio together to produce The Key. He introduced me to new influences, such as the speeches of Robert Kennedy, and I learnt more about speaking truth to power.
Of course, when it comes to recording music, he doesn't know much about anything, which is why he came to it humbly. There was a poeticism to what he wrote – though I rewrote some of it to suit my delivery. Paul has tried to sing, too, and he can spit it!
I used to just give out money – such as $500 contributions to people – but now with Paul, I'm more organised. When it came to awarding grants to businesses, Paul is like, "This is not charity, it's business and we need to give money to someone with a good idea, who can then sustain it." He's taught me how a business can operate honestly, and with a purpose: entrepreneurs can have a tremendous effect in society.
Jal's single 'We Want Peace', from his album 'The Key', is out now (thekeyise.com)
Register for free to continue reading
Registration is a free and easy way to support our truly independent journalism
By registering, you will also enjoy limited access to Premium articles, exclusive newsletters, commenting, and virtual events with our leading journalists
Already have an account? sign in
Register for free to continue reading
Registration is a free and easy way to support our truly independent journalism
By registering, you will also enjoy limited access to Premium articles, exclusive newsletters, commenting, and virtual events with our leading journalists
Already have an account? sign in
Join our new commenting forum
Join thought-provoking conversations, follow other Independent readers and see their replies