How We Met: Monty Norman & Barry Cryer
'He kept telling me funny jokes but I had to tell him to leave me in peace!'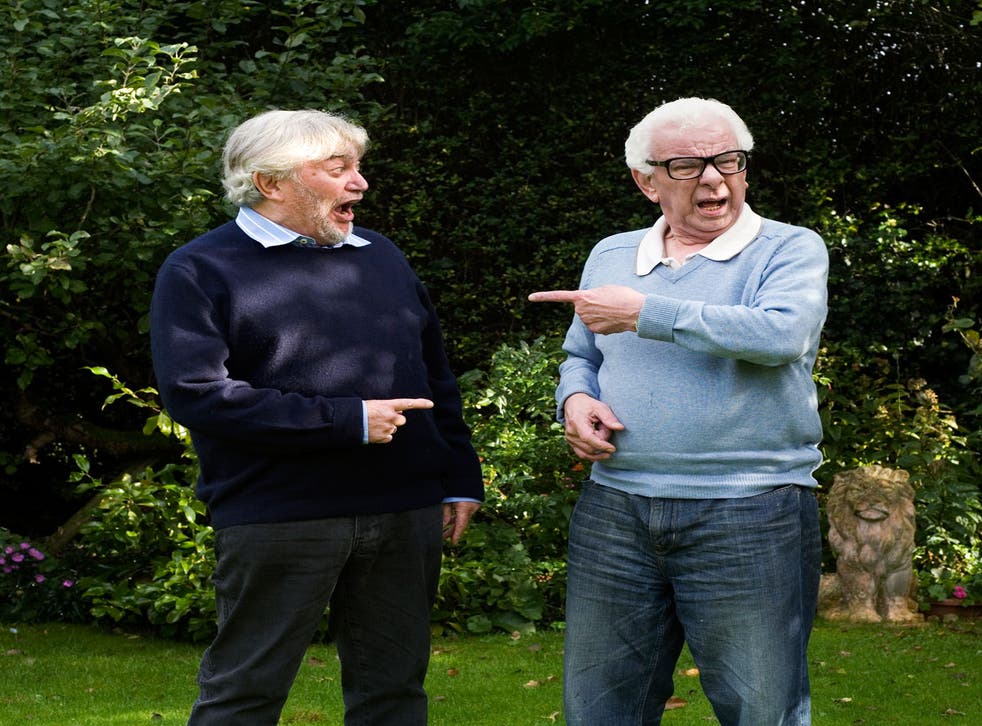 Monty Norman, 84
A composer of musicals including 'Expresso Bongo' and 'Irma La Douce', Norman (left in picture) is most famous for writing 'The James Bond Theme', which has been recorded more than 500 times. He was awarded the Gold Badge of Merit for Services to British Music in 1989
It was 1958, I think, and we were holding auditions for a stage show I had co-written, Expresso Bongo. I remember this strange gentleman coming on stage, and starting to sing a song that had the same title as our show: "Expresso Bongo". It was Barry, and he had clearly written it specially. I thought this rather bold of him, and it impressed us. He got the part.
Barry was just starting out back then, and it was obvious that comedy was his thing. During rehearsals, he would keep coming up to me and saying, "Monty, what do you think of this joke?" I laughed – they were funny jokes – but I had to tell him to go away and leave me in peace!
Expresso Bongo ran for over a year and did rather well for the both of us. I had been a singer for 10 years previously, singing with all the big bands of the day – Cyril Stapleton, Stanley Black, Ted Heath – 15-piece orchestras, three singers, and so on. I also sang in variety shows alongside all manner of comedians: Peter Sellers, Spike Milligan, Tony Hancock. All terrifically funny, obviously, but not particularly funny off stage, unless they were in character. But Barry was simply always himself, and consequently very funny all the time. Jokes just came naturally to him. You'd meet for a cup of tea, and he'd have half- a-dozen new ones to tell you. It is always joyful whenever we meet up.
I actually had the privilege of meeting his wife, Terry, before he did. I was doing a summer season in Blackpool and she was one of the very beautiful dancers. We've remained friendly ever since. I'd love to be able to say that it was me who introduced them, but unfortunately I didn't. They met later.
What we most admire in one another is our longevity. We both started in the 1950s, and here we are today, still around. Unfortunately, when we do meet now, it's mostly for friends' funerals.
But we have both been lucky with our careers, we have both done what we've wanted to do, and we both have lovely wives. And that is something to cherish.
Barry Cryer, 77
One of our most enduring comedy writers, Cryer has been in the business for more than 50 years. He has written for David Frost, Morecambe and Wise, and Danny La Rue, and has been a regular guest on Radio 4's 'I'm Sorry I Haven't a Clue'
Me turning up to audition for a play called Expresso Bongo with a song called "Expresso Bongo" was a mixture of ignorance and innocence. I didn't really know what to do for the audition, so I wrote this little ditty in my bedsit the night before, hired some bongos from a friend, went up on stage and did it. "Kid from the back street with the crazy beat," was its main lyric, I seem to recall.
It must've gone down well, because I got the part, and Monty was simply lovely, not remotely bossy. If anything, he was very accommodating to me, a naïve 23-year-old. I couldn't help but be in awe of him, this man who had written such a fantastic musical.
Once you have worked happily with someone in this industry, in many ways your friendship is cemented for ever. And when Monty did "The James Bond Theme", I used to walk around very smugly, saying, "I know him." The whole world knows it, don't they? It's timeless.
It's true he met my wife before I did. I met Terry a few years later, the same day I met Ronnie Corbett, in fact. I tossed a coin and married her. "Nothing personal," I told Ronnie. We've been married ever since, and people always ask our secret. I tell them we've never understood each other. We argue every day. I was in the car with her recently and said, "We disagree about everything, don't we?" She said, "No we don't!"
My wife often accuses me of being a shameless socialite, and I suppose that's true. I'm very "Hello, hello" when I enter a room. Terribly shy in real life, of course, but then attack is the best form of defence, and I don't find it difficult to talk to people. There are some people you have to work at; with Monty, that has never been the case. I've always felt very relaxed in his company; we have much the same temperament.
When you get to our ripe old age, you practically have a season ticket to the cemetery. It goes with the territory: another chum drops out of the tree. So Monty and I have been to a lot together. They are sad occasions, of course, but they are also a celebration of life. A lot of our friends achieved so much. They deserve a celebratory send-off.
Monty and I never did work together again after Expresso Bongo, but do you know what? Working together again would be a joy!
The new James Bond film, 'Skyfall', is out on Friday
Register for free to continue reading
Registration is a free and easy way to support our truly independent journalism
By registering, you will also enjoy limited access to Premium articles, exclusive newsletters, commenting, and virtual events with our leading journalists
Already have an account? sign in
Register for free to continue reading
Registration is a free and easy way to support our truly independent journalism
By registering, you will also enjoy limited access to Premium articles, exclusive newsletters, commenting, and virtual events with our leading journalists
Already have an account? sign in
Join our new commenting forum
Join thought-provoking conversations, follow other Independent readers and see their replies