How we met: Professor Robert Winston & Fern Britton
'I cycle side by side with her as little as possible, as I'm not certain she's totally stable, and I know I'm not'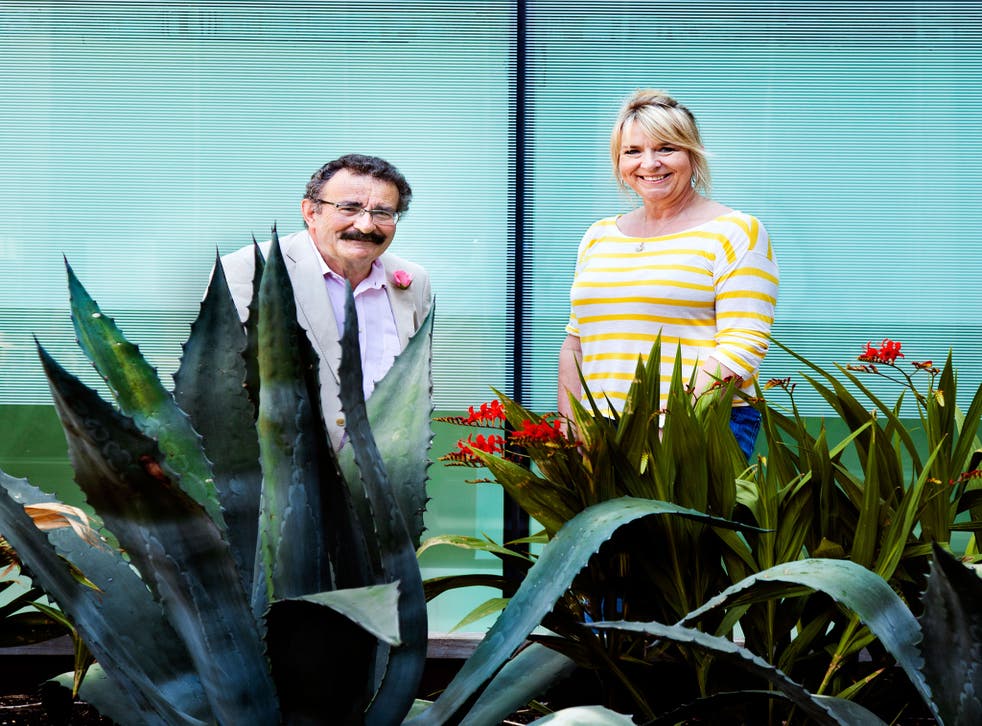 Fern Britton, 55
After starting her broadcasting career in regional TV, Britton co-hosted ITV daytime show 'This Morning' for 10 years, until 2009. She has since presented an array of shows including 'Fern Britton Meets…', and recently released her third novel, 'The Holiday Home'. She lives in London with her husband.
My sister has IVF twins and my two 19-year-old twins are through IVF, too, so I was aware of Robert as an IVF pioneer. I'd often interview him on This Morning when a new TV series, such as Superhuman [on BBC1 in 2001], came out. I remember this marvellous moustache and thinking he does look like Super Mario. He's so incredibly talented and his brain so extraordinary that it makes him more attractive. And he's so charming that I fell a bit in love with him.
One day 10 years ago I saw an ad for a bike ride for his charity Women-for-Women [an appeal set up by Winston's Genesis research trust], to cycle the Nile in Egypt. The advert was a picture of him as Lord Kitchener saying, "Lord Winston needs you." So I joined the ride and it has become my thing: I've done a ride every year since, and cycled many hundreds of miles all over the world with him.
He's a very cheeky man. Six years ago, he rang me up and said, "Fern I'd like you to be our patron." I said. "Let me think about it?" I joined him that day for a House of Lords reception for his charity, where he gave a great speech. At the end of it, he said, "…and I'm so glad to announce we have a new patron, Fern Britton". I hadn't even said yes. I said to him, "You are so naughty." But I was flattered.
He's got a wicked sense of humour. On one ride, he was loudly talking on the phone to someone in his office saying, "Fern has been an absolute nightmare as an ambassador; she's refusing to do anything." He looked at me, beaming, as he put me on to speak with this poor woman, who said, "I understand you're not happy, what can we do?"
We've cycled through Jordan, India and Egypt, usually with a team of 80 to 100 women. And when Robert turns up, they're bowled over by him. I remember standing with him in Tiananmen Square, on a rest from our cycling trek in China. He was being ridiculously cerebral and serious while wearing a panda hat.
He's given me a great sense of achievement and a bit more self-esteem: I didn't know I could cycle as well as I can now. And I didn't think that someone that amazing would think I would be a good trustee either.
Clearly his brain is the size of a universe and half the time we're chatting my mouth is open in awe. But he can be the absent-minded professor. Many times I've gone up to him and he's not known me at all. I'll say, "Robert, it's Fern." And he won't know who I am initially.
Professor Winston, 72
Following his pioneering work on in-vitro fertilisation work in the 1980s, Lord Winston has worked on myriad research programmes, including running Imperial College's current research programme on transplantation. He has presented BBC television series including 'Child of Our Time', and the Bafta award-winning 'The Human Body'. He was made a Labour life peer in 1995. He lives in north London.
I used to come on Fern's show, This Morning, whenever I had a new TV programme or book to talk about. She has a wonderful manner and always put me at ease. Then, remarkably, about 10 years ago, she decided she wanted to cycle long-distance for our charity, and we began riding together.
Fern is prepared to try anything. In Egypt we cycled more than 400km along the Nile in hot weather. One afternoon, during a break, we walked through a souk wearing the garbs that Arab sheikhs wear when riding across the desert on a camel. All the tradesmen were assuming I was her husband and were trying to get me to buy things for her.
I cycled side by side with her as little as possible, as I'm not certain she's totally stable, and I know I'm not. In fact, I hate bicycles and I don't like cycling, but I do it as it's for an important cause. Fern is fantastic as an ambassador, and she encourages everyone on the rides and makes them feel included.
We've had wonderful moments together, talking about private things and seeing sights such as Angkor Wat. But we've had some hard slogs, too. In Cuba, the route was quite hilly but she was extraordinarily committed to not getting off the bike – she didn't take a lift in the pick-up truck trailing us; though I did.
I was extremely angry at the press coverage over the gastric band she had fitted [Britton attracted criticism for claiming that she had lost weight naturally following a tabloid claim that she had had gastric-band surgery]. I think it was quite shocking that the tabloid papers could assume they have the right to view medical details about anybody. I thought it was reprehensible and irrelevant to what she does. Tabloids often build people up and then try to knock them down again.
I admire the way she conducts broadcast interviews. She gets things out of people, such as Tony Blair [during an episode of Fern Meets… the former prime minister revealed that he would have invaded Iraq even without evidence of weapons of mass destruction]. A lot of TV journalists make their subjects feel uncomfortable and try to get more out by being aggressive, but she's very warm. I think the press have underrated her.
Professor Winston is founder and chairman of women and baby's health charity the Genesis Research Trust, of which Fern Britton is a trustee. Britton's novel 'The Holiday Home' is published by HarperCollins, priced £12.99
Register for free to continue reading
Registration is a free and easy way to support our truly independent journalism
By registering, you will also enjoy limited access to Premium articles, exclusive newsletters, commenting, and virtual events with our leading journalists
Already have an account? sign in
Register for free to continue reading
Registration is a free and easy way to support our truly independent journalism
By registering, you will also enjoy limited access to Premium articles, exclusive newsletters, commenting, and virtual events with our leading journalists
Already have an account? sign in
Join our new commenting forum
Join thought-provoking conversations, follow other Independent readers and see their replies