How We Met: Rodrigo Sanchez & Gabriela Quintero
'This drunk guy approached us and said, "Hey, you two, shut up and play." It was like an angel coming to us'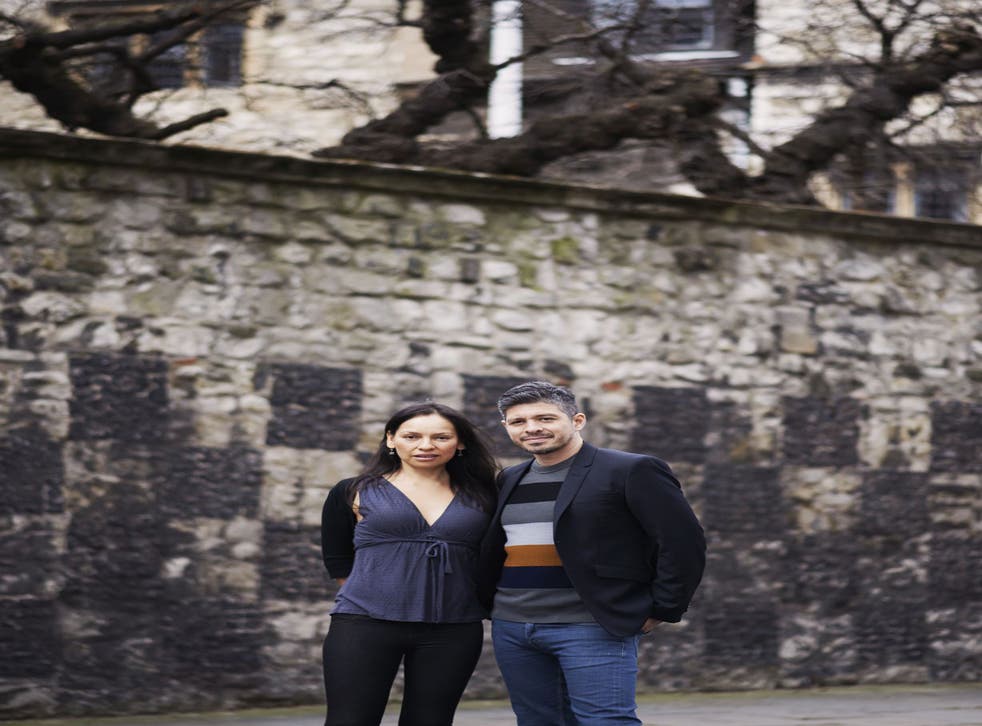 Rodrigo Sanchez, 40
After forming the heavy-metal band Tierra Acida with his brother in the early 1990s, Sanchez performed in Mexico City for several years, along with long-time girlfriend Gabriela Quintero, before both left the band in 1997. Moving to Dublin, the pair built a following as Rodrigo y Gabriela, a rhythmic acoustic guitar duo. He lives in Barcelona
My brother worked at an arts centre in Mexico City in the late 1980s, and told me about this cool group of girls taking drama lessons there; he mentioned this girl Gabriela having a laugh all the time, so I arranged to meet her.
The first thing we talked about was music. I told her I was taking guitar lessons and she was like, "I really want to come too." So for us it was always about music, really, even when, shortly after, we became a couple.
Once I knew Gabriela in a more personal way, I thought it would be fun to have her on board with the band, and she really opened up our style. But the band didn't have success, and after a while we both realised it didn't have a future. Nevertheless, she surprised me one day when she said, "Let's leave Mexico City." And I surprised her when I said, "If we're going, we're going now!" We moved to [Mexican coastal resort] Ixtapa and played in hotels until we decided to travel to Europe - a friend of hers had suggested Dublin.
To make money, we busked and sometimes that was hard. Then, one evening, late at night, when we were feeling cold and defeated, a group of young Irish inner-city kids passed by after finishing [their set]. The leader, Shane, suddenly threw all his case of money into ours and left without saying anything. It wasn't a lot of money, but it was an amazing act; we looked at one another and I thought, we're doing something right.
I wasn't surprised when [Irish musician] Damien Rice asked us to support him; though we met him busking on the street, by this point we were also playing trendy bars, and we'd got to be known around town.
As a couple, we were always super-honest with each other, and we knew one another's [dark] shadows very well. But we used to get mad at each other a lot, as we'd both overreact to things. Even after we got a record deal, and things got more financially comfortable, we used to get stressed and angry: I'd get upset with the lighting engineer and sound guy, too, which I didn't like about myself, but couldn't help it. Then, four years ago, I realised this was not getting me anywhere - and I stopped. Gabi will get cross with me for saying this, but she still loses her temper too easily.
Since we split up [as a couple] two years ago, in a way it's been easier playing together. Finally we don't have the bad manners of a couple and we respect each other more. And I think that really we were always attracted to something more powerful between us than [our relationship]: music.
Gabriela Quintero, 40
As one half of Rodrigo y Gabriela, Quintero has toured the world with Sanchez and their blend of furious, flamenco-tinged guitar music. She lives in Mexico
When I was 15, I used to hang around a cultural centre in Mexico City with my friends; Rod's older brother was the director. I remember meeting this 15-year-old boy there, dressed in a black [heavy] metal outfit with messy hair. Yet he was different to the other metalheads his age: he seemed very serious and didn't drink or smoke, while I was an alcoholic in the making. I started getting embarrassed about drinking in front of Rod, as I admired him.
When I heard that he played in a band, I was impressed; initially I just went to watch, but as they couldn't get a guitarist who would please Rodrigo, I joined his band. We played for four years, but it was hard to get gigs and we hated Mexico City at that time. So I said to him, "Look into my eyes, Rod, I'm not happy here. Why don't we go live on the beach and keep playing guitar?" Rod is the type of person who thinks too much about everything, but all he said was , "OK, let's go tomorrow!"
Initially we played at a pizza place in Ixtapa. They didn't pay us, but they gave us free food, and eventually we got work at swanky hotels, and made a living. But after nine months we got bored, and decided to go to Ireland.
Rod and I are similar in that we're both quite neurotic. And I think that coming to live in Europe meant we had a very intense, unconventional relationship: we didn't speak any English and the only thing we had in the first month in Dublin was one another.
Busking was tough. I remember one day, it was cold and we started arguing about why we were doing this, as the street was empty. All of a sudden, this drunk guy approached us and said, "Hey, you two, shut up and play." To me, it was like an angel saying, "Stop this bullshit," and that's exactly what we did.
After that we began playing pubs and weddings all over the country, but it was in the street where we met Damien Rice, and we became friends. He was like, "Don't you guys want to record an album?" His single ["The Blower's Daughter"] was all over the radio when he asked us to support him for a gig. Soon after that we got a record deal.
I'll never forget when we played for Barack Obama at the White House, in 2010. It was very strange: I remember Barack introducing us to the Mexican president and his wife, who didn't have a clue who we were, and Obama said, "You don't know them? They're from Mexico - I have their music in my iPod!"
Two years ago we realised as a couple, that it didn't work any more, but that we shouldn't get rid of all the good aspects. We're now better friends by far; we no longer behave like 15-year-olds and it's allowed us to grow up.
Rodrigo y Gabriela are performing at the Royal Albert Hall, London SW7 from 20-21 May. Their new album, '9 Dead Alive', is out now
Register for free to continue reading
Registration is a free and easy way to support our truly independent journalism
By registering, you will also enjoy limited access to Premium articles, exclusive newsletters, commenting, and virtual events with our leading journalists
Already have an account? sign in
Register for free to continue reading
Registration is a free and easy way to support our truly independent journalism
By registering, you will also enjoy limited access to Premium articles, exclusive newsletters, commenting, and virtual events with our leading journalists
Already have an account? sign in
Join our new commenting forum
Join thought-provoking conversations, follow other Independent readers and see their replies