Jimmy Carter profile: In 35 years since leaving the White House, the Nobel laureate has achieved remarkable things
Carter has utterly redefined what it means to be an ex-president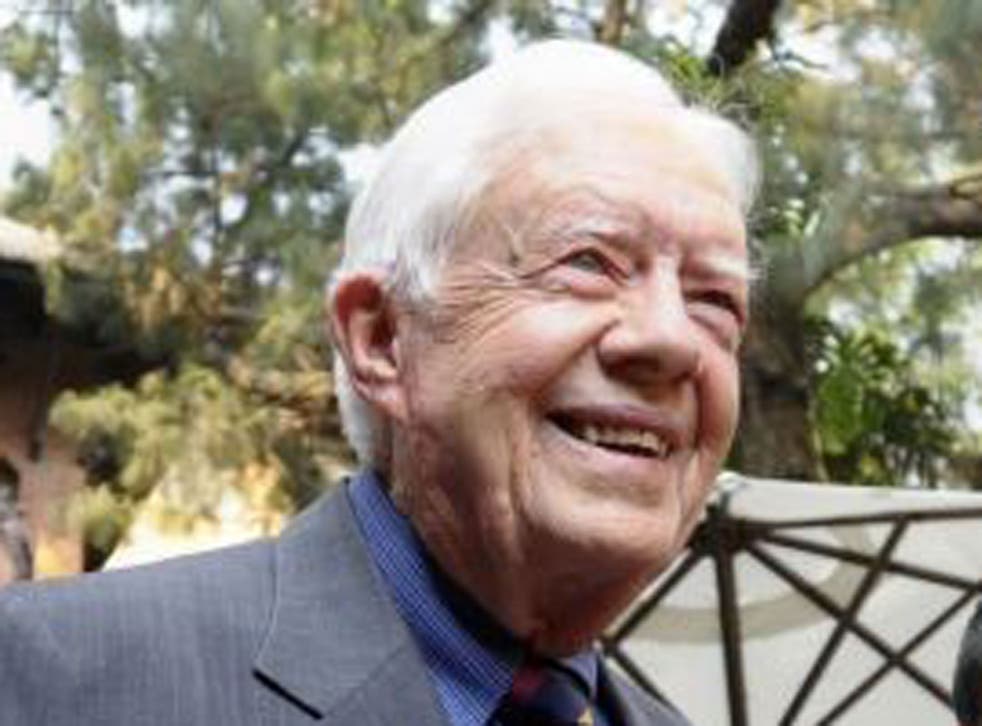 For Jimmy Carter, some things are immutable. Almost 35 years after he left the White House, and three days after informing the world he was about to start radiation treatment for brain cancer, he'll be teaching Bible class on Sunday at the Maranatha Baptist Church in the tiny Georgia town of Plains, population 600. He was born there 90 years ago, and it's been home ever since. One way and another, the 39th President of the United States has been involved with Sunday school for the best part of his life: long before he became a peanut farmer, or Governor of Georgia, or was elected to the highest office in the land – and the small matter of cancer wasn't going to change that.
His White House tenure was, of course, cut short after just four years, when Carter found himself on the wrong end of one of the biggest landslides in US political history. Humiliated by his defeat by Ronald Reagan, he sought refuge and comfort in Plains, as at every other watershed in his life. There, he and his wife Rosalynn wrote a book: Everything to Gain: Making the Most of the Rest of your Life.
As diplomatic troubleshooter, campaigner for democracy and human rights and driving force to eradicate diseases that have plagued humanity – and much else besides – Carter has utterly redefined what it means to be an ex-president. Not only has he made the most of the rest of his life. He has gained (or rather regained) his reputation. And then some.
No one has had a longer post-presidency. The previous record holder was Herbert Hoover, who after leaving office in 1933 lived until 1964, and the arc of whose public life – from triumph to crushing failure and finally rehabilitation – is not unlike Carter's own. Three years ago, Carter overtook Hoover. Today, around half of all Americans were not even born when he took the inaugural oath on 20 January, 1977.
In conventional career terms, the White House naturally was the pinnacle. But what has followed has been "personally more gratifying," which must have left every viewer of advancing years with an identical thought – if only they could be that lucid, humorous and optimistic, if and when they hit 90.
The vehicle for most of Carter's endeavours has been the Carter Centre, the philanthropic organisation he set up with Atlanta's Emory University in 1982. Today, with its motto of "Waging Peace, Fighting Disease and Building Hope", it's an independently funded cross between the State Department and the World Health Organisation, working in more than 80 countries, mostly in the poor and developing world. As the ex-President said: "If I had to choose between four more years in the White House and the Carter Centre, I'd choose the Centre." And not surprisingly. In throwing himself into the venture, he might have been acting from Christian sense of duty, or a need to redeem what was (and still is) generally considered a failed presidency. But as no president before or since, Carter both understood the potential clout available to anyone who had held the office, and possessed the energy and determination to exploit it.
Its achievements, or more accurately those of Carter, stand as testament: from Ethiopia to North Korea, where Carter brokered a nuclear deal in 1994, Sudan and central Africa, Bosnia, Haiti and Venezuela, and dozens more countries besides. The Centre has also observed some 90 national elections around the world – often with the former President's direct involvement.
None was more dramatic than the first, in Panama in 1989. The vote was predictably and shamelessly rigged by the then dictator Manuel Noriega. Outraged, Carter went to the counting centre and shouted at officials, "Are you honest men or are you thieves?" The next day, still in Panama, he denounced the result as a fraud. A few months later, the US invaded Panama and deposed Noriega, who was convicted for drug trafficking and human rights violations, and sent to prison where he remains to this day.
No less remarkable are the Centre's efforts on the global health front. Take Guinea worm, which used to cause excruciating pain for millions of sufferers, mainly in Africa. Now it is poised to become just the second disease, after smallpox, to be eradicated by human effort. The crowning moment came in October 2002, when Carter was awarded the Nobel Peace Prize, the only ex-president to be so honoured.
To be sure, he has ruffled feathers on his own side – not least when acting as envoy of a sitting president. On Korea, during the Clinton years, he plainly overstepped his authority in securing the nuclear agreement. "If you send Carter on a mission," Michael Duffy, co-author of a definitive study of ex-presidents, noted, "he'll do what you tell him to do. But he'll also do three things you tell him not to do."
That's one reason Carter has remained something of an outlier in the fraternal order of living former presidents, that most exclusive of clubs where unlikely cross-party friendships have developed – between Hoover and Harry Truman, between Clinton and both George Bushes, even between Carter and Gerald Ford, the man he defeated in 1976. Another is his readiness to breach a cardinal rule of the club, that you don't criticise your immediate successor. Carter tore into Reagan's foreign policy. For good measure he savaged George W Bush's invasion of Iraq, and has also gone after Israel, that US foreign policy untouchable, warning the country risked becoming an "apartheid" state with its pursuit of settlements on Palestinian territory, castigating Benjamin Netanyahu for his warmongering against Iran, and meeting representatives of Hamas.
His personal style can be irritating, as virtue occasionally spills over into preachiness and self-righteousness. "A blue-blazered reincarnation of Mahatma Gandhi," he has been dubbed, not entirely in admiration. Even with the gregarious Bill Clinton, his relations were long strained. "The first time they've called me in a long time," said Carter, grinning, but only half in jest, of Bill and Hillary's expressions of sympathy over the cancer news.
His work for Habitat for Humanity does nothing to lessen the sense of saintly humility. For each of the past 33 years, Jimmy and Rosalynn have devoted a week to helping the organisation build homes in poor countries around the world – generating images of the man who was once the most powerful in the world in a navvy's hard hat, lugging timber and hammering nails. The couple were planning their 2015 stint for Nepal in November, but his treatment schedule may dictate otherwise.
Astonishingly, Carter has also found time to write more than 20 books, on diplomacy, the Middle East, poetry and the Bible, as well as the novel Hornet's Nest, an account of the American War of Independence from a Southern perspective. Those four years in the White House now seem almost a sideline.
His presidency may have been a disappointment, but today's Jimmy Carter is the one scandal-shocked Americans voted for in that first post-Watergate election in 1976: a man of unquestioned integrity, deep faith and unflinching honesty. On Sunday, these qualities will be on display again, at Sunday school in Plains. And the gruelling cancer treatment? "Well, I'm looking forward to a new adventure," he says – and you believe him.
A life in brief
Born: 1 October 1924, Plains, Georgia.
Family: Married Rosalynn Smith in 1946. The couple have four children: John (known as Jack), Donnel, James and Amy. Jack Carter unsuccessfully ran for the US Senate in Nevada in 2006. June Carter Cash was a cousin.
Education: Graduated from the Naval Academy in Annapolis, Maryland in 1946.
Career: Naval officer. Peanut farmer. Georgia senator, 1963 to 1967. Governor of Georgia, 1971 to 1975. 39th US president, 20 January 1977 to 20 January 1981. Author.
Join our new commenting forum
Join thought-provoking conversations, follow other Independent readers and see their replies