Julian Speroni: We do care here a lot. No one likes to lose
After a traumatic week at Crystal Palace, the Argentine goalkeeper tells Sam Wallace the squad is not split and denies a lack of spirit was behind the departure of the club's manager Ian Holloway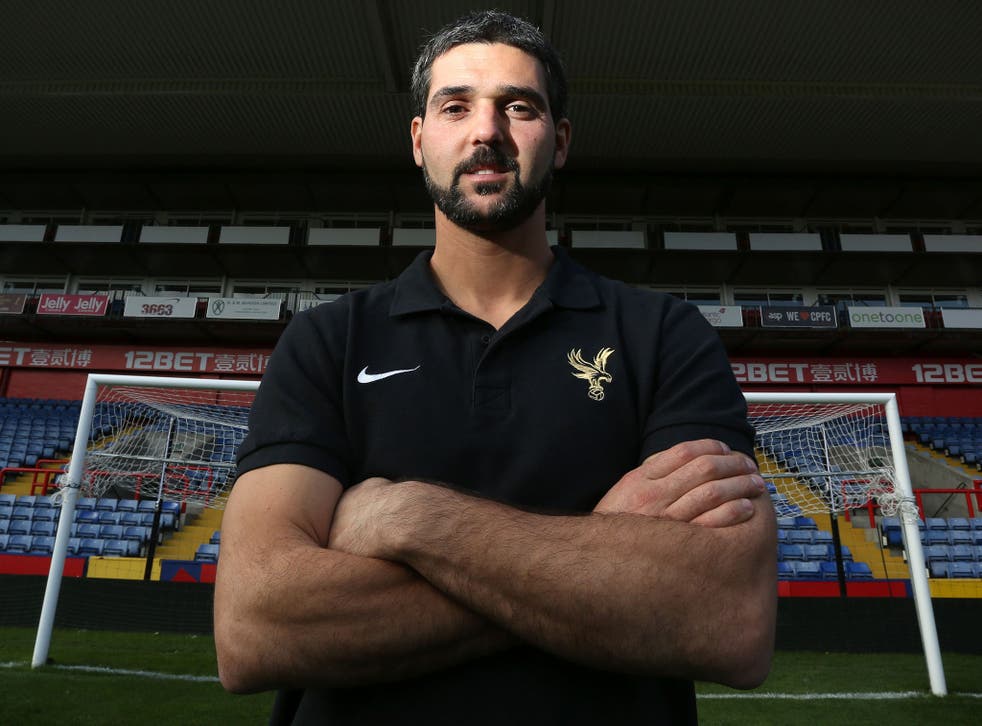 Asked to list the seven Crystal Palace managers he has worked under in the last nine years, Julian Speroni takes a deep breath and rattles them off without hesitation. Keith Millen is in temporary charge against Arsenal and No 8 will be through the door soon to try to rescue a club that is one place off the bottom of the Premier League.
For the record, Speroni, Palace's longest-serving current player, has worked under Iain Dowie, Peter Taylor, Neil Warnock, Paul Hart, George Burley, Dougie Freedman and the last man out the door, on Wednesday, Ian Holloway. "Abramovich-esque" was the assessment of Palace's managerial revolving door this week, and that was from their straight-talking co-chairman Steve Parish.
In a club that has been through a hell of a lot in the nine years since it was last promoted to the Premier League – relegation, administration, a change of ownership, the threat of relegation to League One – Speroni is one of the few constants. He even has a restaurant named after him at Selhurst Park, although given it is only open on matchday he rarely dines there. He recalls they did once do him a nice Argentine steak.
On Wednesday afternoon, when news of Holloway's resignation leaked out, Speroni was attending a parent-teacher meeting for his five-year-old son Thiago. "I had my phone on silent and it was in my pocket vibrating again and again with messages," he says. "My leg was burning! I thought 'What's going on here?' When I came out I picked up the messages. I went back home and turned on the TV to see what was going on."
Same old story, although this time with a different twist. In what amounted to an admission of failure, Holloway said that he simply no longer believed he could inspire his players. He said he was exhausted and wanted out of a job he had taken only 11 months earlier. Although in that message was the suggestion there were deeper problems. "Some of the new lads," he said, "the attitude I'm finding is slightly annoying."
The comparison I put to Speroni is that of Queen's Park Rangers last season, relegated having signed too many mercenaries who cared too little about the club. Palace brought in 16 players over the summer, six on deadline day, and one of them, the 27-year-old Florian Marange from Bordeaux, immediately demanded a transfer when, extraordinarily, he was left out of the club's 25-man Premier League squad.
"It's different circumstances but I know what people mean by that," Speroni says. "They [QPR] had a lot of new players. It took them a lot of time to adjust and get to know each other. We all know the outcome for them so we are hoping that will not be the outcome this time.
"No one likes to lose. No player says, 'I don't care'. Players here care, and they care a lot. Obviously when you are at the wrong end of the table, when things don't go your way, you will always feel bad about it. If you have a bad season and end up going down, everyone will remember that. We are doing all we can to avoid it. We want to stay here and do well.
"It is not the case that a footballer thinks just about his wages. We want success. Everybody has family and friends. We all want to do well. Nobody likes to lose. The players are not happy just picking up their money at the end of the month and that's it, 'I don't care if we win or lose'. No. The players want to win every single time."
There have been strong suggestions of divides in the dressing room and even Millen, in his press conference on Thursday, conceded that the key task facing Holloway's successor would be to "get the group united". The new signings are a disparate bunch including a British core with Premier League experience – Jerome Thomas, Jason Puncheon, Cameron Jerome and Barry Bannan.
Speroni denied that there were "problems", simply that some had just struggled to settle in, including the most intriguing signing, 20-year-old Spanish midfielder Jose Campana, who joined from Seville for £1.75m having represented his country at all junior levels.
"It is natural when you have so many new players," Speroni says. "You need time to get to know each other and those players need to settle. Not just football-wise, but they have to arrange a place to live and they have families. People sometimes see what happens on the pitch but there is a lot around those players as well. We have Jose Campana. He comes from Spain and he doesn't speak English. Everything is new for him. He came to this country and he didn't know where to start. I have tried to help him as a Spanish speaker. It's every single thing, like finding a house, finding a car. Everything around football. We are human beings and everything affects us. That is normal. It's natural when you have so many new players, it is going to take some time to adjust and settle in."
Holloway and Parish agreed that the "spirit" of the team that was promoted last season through the play-offs, albeit after a poor finish to the previous league season in the Championship, had been lost. They were honest enough to admit that after May's play-off final victory there has been very little they have got right.
"It's very difficult to compare the two: last season we were on top and winning games, trying to get promoted," Speroni says. "When you are in that situation, the confidence is high. Everyone is happy. On the other hand, when you are losing games, the way we did this season, losing nearly every game, it is natural that the spirit is going to be low.
"That happens to everybody. No one likes to lose. I agree probably the spirit isn't the same but it's very hard to compare because of those reasons. It was a winning team top of the table, now we are at the other end. It was very hard."
Unfortunately for Holloway, there have been very few wins since February-March time. He won just two out of his last 18 games in the Premier League and Championship, including the solitary victory this season over Sunderland in August. Before Millen took training on Thursday, Holloway came in to see the players to give a farewell speech.
"It was emotional," Speroni says. "He was very good. Very good. He was very encouraging. He was telling us how proud he was to have worked with us and that he knows we have enough in the squad to have a good season. He was encouraging everyone to be a team because we could do very well this season. I was very pleased to see him. It was very, very kind of him."
A strange week for Speroni concludes with Premier League leaders Arsenal at Selhurst Park. On Monday he conceded one of the goals of the season from Pajtim Kasami. "We were all in the right position," Speroni says, "and then all of a sudden he came with that smash and, wow! As soon as I saw the ball coming I thought: 'Please go over the bar, please go over the bar – oh no, it's in the back of the net'.
"What can you do? The second goal [from Steve Sidwell] wasn't much different. Another great strike, top corner. I couldn't believe my luck. We were on top in the first half. I hardly touched the ball and we were 2-1 down."
This is Speroni's 10th season at the club. He started in the Premier League before losing his place to Gábor Király and now he is back, he is hopeful that he might come to the attention of Alejandro Sabella, coach of the Argentina team in a World Cup season. In the meantime, he would prefer not to be fishing the ball out his net as much. "We know that responsibility and believe me we are doing the best we can. Whoever comes in we'll be behind them, 100 per cent."
My other life
I love rock music. I grew up with AC/DC, a bit of Rolling Stones. I like classic old-fashioned rock. I play the guitar and about a year ago I started playing the drums. I love playing. It helps you to switch off from football.
Join our new commenting forum
Join thought-provoking conversations, follow other Independent readers and see their replies