Kevin Nolan: Hitting the heights with West Ham
West Ham's captain knows what it feels like to win a play-off final with Bolton. He tells Martin Hardy about starting to feel at home in east London and taking his nan to Wembley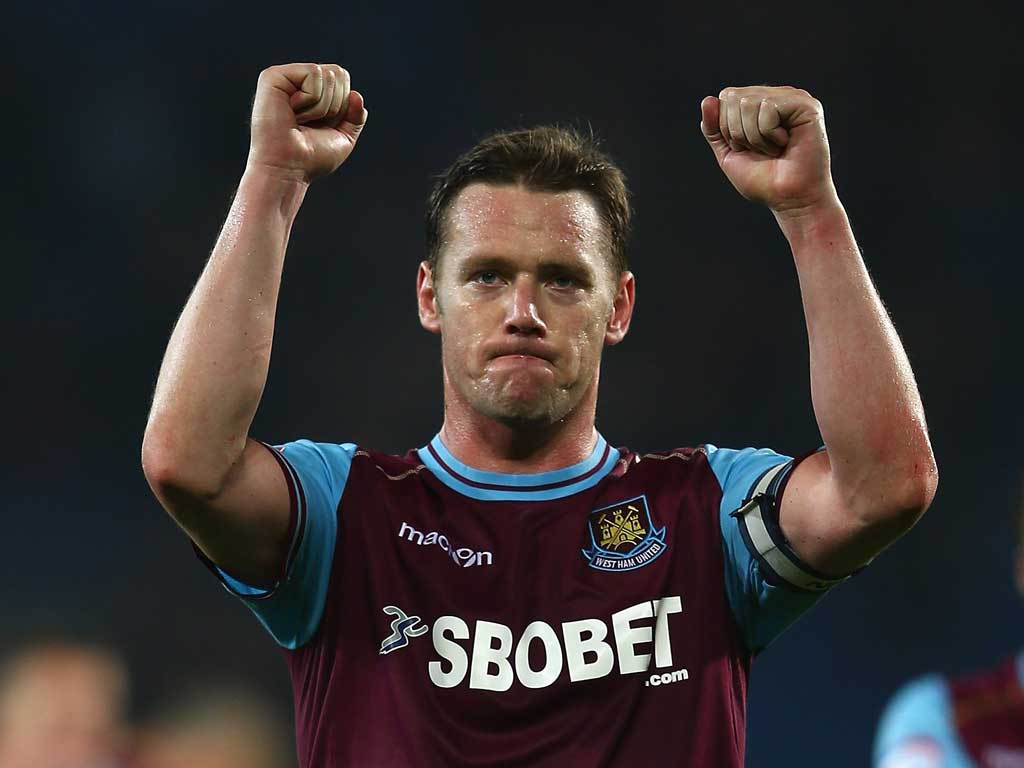 Kevin Nolan scrolls down his mobile phone. The names of every family member and close friend whizzes by. Times two (the amount of tickets they will get) next to some. Times four next to others.
These are the people who have shaped the captain of West Ham United. These are the people who matter, these are the people who will travel from Merseyside to the capital first thing tomorrow morning on a professional football team bus.
The West Ham bus. The Blackpool bus. And the Nolan bus.
He laughs at the suggestion of all three meandering through the crowds of claret and blue and tangerine en route to Wembley, ahead of the most financially lucrative game in football.
On the bus will be Nolan's nan, who has not seen a game since the play-off final of 2001, when Kevin was in the Bolton side that defeated Preston North End. His uncle will be there, his cousins, his grandad, who has travelled all around the country to follow his grandson for Bolton, Newcastle and now West Ham.
His brother James, friends from school, the works. His family, as he calls them all – the people who have instilled old-fashioned virtues of trust, loyalty and honesty, a set of beliefs he has put into the dressing rooms at his two former clubs and one that has helped lead his present side to Wembley.
"I'm a hard worker, I'm a grafter and obviously it's from my roots, it's where I'm from," he says. "I'm someone you can lean on and I will give you 110 per cent no matter what. I'm always someone who will say it to your face and not behind your back. I'm just an honest person. That's why I've had, in my eyes, a very, very good career.
"My mam brought me up with good manners, a good surrounding, she has always been there for me, and my dad as well. They wanted me to be grounded. There's not many people in my life I hate. There might be people who stab me in the back along the way or have done something to upset me but I don't really carry grudges.
"Everyone who knows me and who knows who I am, when they've got me, when they've got my friendship, they've got me 110 per cent in whatever I do. I just genuinely feel wherever I go I have to put everything into it. That's what I do. I try to give it everything I can because I want people to say he was a very good player in the Premier League, he was a very good player for us, and when people see me they shake my hand and say thanks, you were a proper sportsman for our club."
It is 15 years now since Nolan, then 14, made his first start for the City of Liverpool Boys team. Only Francis Jeffers from that side played in the Premier League, and he has not done so since February 2007. For Nolan, the date is far more recent – Saturday 7 May 2011, when Newcastle beat Birmingham at St James' Park.
Just under two years prior to then he famously stood up in the tight confines of the away dressing room at Leyton Orient following a 6-1 defeat in a pre-season friendly for Newcastle. "Right, this can't go on," he said. "I have never been so embarrassed on a football pitch. You're either in or you're out. We need everyone to pull together to turn this club around and if you don't want to do that, and you want to leave, then put your hand up and we'll help find you somewhere else."
Four players raised their arms. As it turned out, five from that room left. Newcastle had found team spirit and incredibly, from that starting point, on the back of a draining relegation campaign, came the Championship title, then came a strong return season in the top flight. Nolan scored 12 goals and talks for a new, extended deal started. And then stalled.
Loyalty and trust had diminished.
"The most disappointing thing was thinking I was going to be at the club for a long, long time and that I would be part of something at the club, signing off to make sure we were ready for next season and a couple of days later, hang on a minute, what was on the table is now off the table.
"I have respect for what Mike [Ashley] and Derek [Llambias] are doing up there because that's how they want to do it. I hold no grudges. I thank them for letting me get away and join another fantastic club.
"My only regret is not being able to see everything through that we started and that's probably what I'm more disappointed about. I went to Newcastle and we got relegated and then you become part of this great story. It was just great to be a big part of that. If I see Mike or if I see Derek, I'd shake their hands and I'm happy Newcastle are doing well. It's a club I have really fond memories of. As I said, I don't hold grudges."
West Ham and Sam Allardyce called, and Nolan left. "It was just, West Ham? Yeah, get me there, it's another challenge," he adds. "Being able to link up with Sam and having David Gold and Mr Sullivan, the way they were about getting me here and the lengths they went to, I thought I owe them.
"I owe them 110 per cent from the moment I walk in the door to the moment I leave. That really drives me on because people have put so much faith and trust in me. I want the people who put trust in me to go, 'Yeah, that lad gave us everything.'
"I walked in the first couple of days and no matter what, I was a Sam Allardyce signing because I had worked with him before and I had nine great years at Bolton. For the first few weeks, it was a case of, 'Do the lads trust me?' They only knew me on the pitch and they probably didn't like me because I'm not a friendly guy on the pitch! I'm a moaner but I think the lads have taken to me. I think they know they can trust me 100 per cent because I am here for them and I'm not Sam's spy.
"I want them to be the best they can be for West Ham and, as weeks and months go by, I think we've got stronger as a group and come together more. I just hope to be sharing such a great moment with them all."
It was tough to start with. He has lived, in the main, away from his wife and two young children, but they have a new house in the south to move into shortly, and Nolan is relaxed and engaging company, as always, as we sit in a hotel foyer in Canary Wharf. Scoring 13 goals and settling in at a new club, rarely an easy experience to begin with, has helped. He has taken, to his own surprise, to the big city.
"When I was down, and I don't want sympathy here, I would go home [to Liverpool], and you're with people who love you and they don't see you as Kevin Nolan the West Ham footballer. They see you as their son, their brother, as their cousin, as their best mate, as their husband and as their dad and that sort of helped me and you say to yourself, 'Just do your stuff and bit by bit, you will prove them wrong and make this work.'
"Newcastle is similar to the way I was brought up and I related to that and if I could have chosen one club in London that would be perfect for me as a lad, it would be West Ham. It reminds me so much of Liverpool and Everton, a working man's club.
"People have been here for 25 years, like at Newcastle. You've got Pete the kitman and then you've got Shirley, who's in the kitchen, and I think she's been here for 38 years. To hear her excitement, knowing she's going to Wembley this week, is what it's all about."
And so Shirley, Pete, his nan, the Nolan bus and 38,000 West Ham fans will watch a captain of their side lead the club out at Wembley for the first time since before he was born, back in 1980.
Nolan has done this once before, leading Bolton to a play-off final against Preston (at the Millennium Stadium) when he was just 18. "I was only a young pup then," he adds. "I remember the last two minutes of that game. We were 3-0 up and it was so surreal. You're just waiting for the final whistle so you can go and celebrate. Then I just remember running around like an absolute idiot after it. I had scarves around my head and around my waist. I still have a lot of the memorabilia. It was such a magic day.
"It will be amazing to lead the team out in front of 38,000 West Ham fans but it won't be remembered unless we win. That is the main thing for me. This is a massive game.
"You have to turn up and you have to produce your best to get to where you want to be."
Something Nolan knows well.
My other life
"I've enjoyed being able to go for a walk around Canary Wharf and have a cup of tea. It's been really nice.
"You can sit and have a cup of tea and watch the hustle and bustle and watch the world go by. It's great. I always thought when I used to come down here that two days would be enough but I've moulded in and became one of those people that goes hustling and bustling past everyone else!
"My wife likes X Factor and she went with a couple of her friends to watch the results. She hasn't roped me into doing anything like that!"
Join our commenting forum
Join thought-provoking conversations, follow other Independent readers and see their replies