Lang Lang: The people's pianist
Aged just 25, Lang Lang's talent at the keyboard has taken him from humble Manchurian origins to global stardom. Michael Church meets classical music's coolest poster boy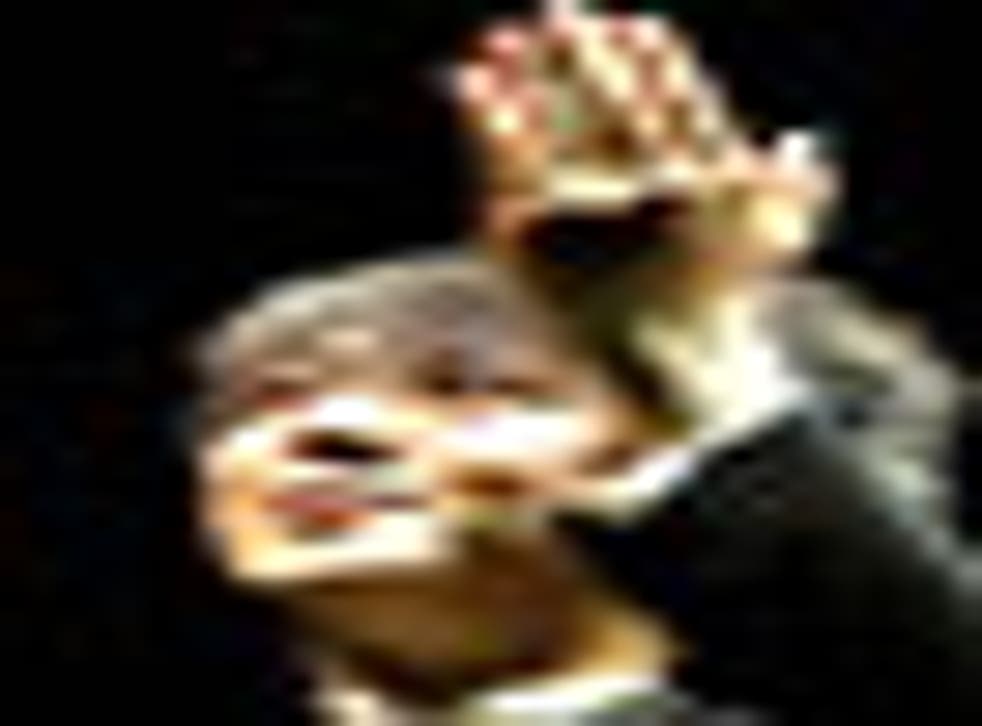 With his cool-dude clothes and fashionably spiky hair, Lang Lang looks in his element on posters: as China's prize cultural export, he projects the turbulence of an exhilarating ride in a high wind. His rise from humble Manchurian origins to global fame mirrors his country's explosive emergence: the way this 19-year-old unknown from an alien culture could dazzle London critics with his masterly Haydn and Rachmaninov was every bit as astonishing as the economic miracle of China.
At 25, Lang Lang's star is still vertiginously in the ascendant, though in contexts far removed from the austere Wigmore Hall. Two weeks ago, he was duetting with Andrea Bocelli in a stadium in Italy, and his next UK engagement will be in a Norfolk church on Thursday, at the express invitation of the Prince of Wales.
How did this come about? Last summer he played a benefit concert in this Norfolk church – he won't name it, for fear of "disturbing the Prince" with a press avalanche this time round – at which His Royal Highness sat in the front row.
"He said afterwards that my fingers moved faster than his eye could follow, and that he was really touched by my music-making," says the pianist. "He also said that he would like to commission a piece for me to play. Two months later, I got a letter asking me to play a piano concerto by the television composer Nigel Hess, which is dedicated to the Prince's grandmother."
Meanwhile, Lang Lang is reinforcing his status as a Steinway artist by helping to launch a children's piano now being marketed in China. The "Lang Lang" Steinway comes with a front panel that converts into a whiteboard, and, with 20 million Chinese now studying the instrument, sales will be huge. The prototype was auctioned in Beijing to benefit Unicef's programme to help children with Aids in Yunnan: Lang Lang has taken like a duck to water to his work as a Unicef ambassador.
"I'm good with kids, because I'm really just a big kid myself," he says with a laugh, recalling his visit to a music school in Tanzania. What did he play for the students? "Hungarian Rhapsody No 2, and 'Flight of the Bumble Bee'. But I also went out to villages where the kids have HIV." What did he play for them? "There was no piano, so I danced with them, and told them about my Beijing childhood."
As the son of the concert-master of Shenyang city orchestra, he grew up in a dormitory full of musicians, with a different sound coming out of every window. "I didn't really understand Peking Opera, and I still don't," he admits. "I liked music that touched my heart and inspired me, and though Chinese folk instruments did that sometimes, Mozart did it always." His parents bought him a cheap Chinese piano, and he began replicating on it all the music he heard on television, his favourite being the soundtrack to a cartoon called TheMonkey King.
At five, he won a competition with a piece by Liszt, plus that Mozart sonata: "Even then I wanted to be a world-class pianist. The piano felt very connected to me, and giving recitals, I felt totally relaxed, no nerves at all. I loved being on stage." The video of that competition says it all: in order to reach the pedals, he had to play standing up, but his delivery is emphatic and notably secure. A video made one year later reflects his phenomenally rapid development into an assured little virtuoso. "I always wanted to do challenging things," he comments, "and I learnt fast." The demonstrative keyboard manner we see in him as an adult – convulsed with excitement in Prokofiev, swooning over Schumann – was there almost from the start.
As a quintessential "little emperor", he became his parents' project: his father sacrificed his job to take him to study in Beijing, while his mother stayed home in Manchuria to earn the family's bread as a telephone engineer. At nine he was practising six hours a day; he learnt the Tchaikovsky concerto at 10, and Rachmaninov's Third at 11, as well as dozens of Mozart and Beethoven sonatas. At 13 he played the complete Chopin Etudes, and won the Tchaikovsky junior competition in Japan, which launched his Asian career.
Then he was put in the pianistic fast-lane by admission to the Curtis Institute of Music in Philadelphia, and his big break came when he auditioned for the conductor Christoph Eschenbach, after which, knowing he'd done a good job, he went back home to bed. "Early next morning, the phone rang. 'Wake up! If you want to be famous, wake up!' So I woke up, and was told to fly to Chicago immediately to play the Tchaikovsky concerto under Isaac Stern." Since then, his phone has never stopped ringing.
In September, Deutsche Grammophon will release a new CD that Lang Lang has recorded with Eschenbach and the Orchestre de Paris, consisting of Beethoven's First and Fourth Piano Concertos. Together with his discs of Rachmaninov, plus sundry other composers, this serves as a barometer of his artistic achievement to date. His Schubert is authentic in mood and style, as is his Chopin; his Schumann has a passionate luminosity, while his Rachmaninov reflects a dazzling technique allied to a musical wisdom remarkable in one so young. But with Beethoven, he's not quite got there yet: he brings to it a Mozartian lightness of touch, rather than digging into the keys as this music requires. One senses that Beethoven's embattled heroism finds no echo in Lang Lang's optimistically sunny soul.
Yet, when Lang Lang talks about the mysteries enshrined in Beethoven's Fourth Concerto, his words make powerful sense: as well they might, given his ongoing tutelage with that most intellectual of pianists, Daniel Barenboim. Every two months, they spend five days together, five hours each day: Barenboim is inducting him into the world of German music. When I ask Lang Lang whether he regards his style as in need of improvement, he says he doesn't know. So is he perfect already? "Not at all. But if I could say what I need, I wouldn't need a tutor." What does Barenboim focus on? "You should ask him. He taught me how to think about music. When you are young, you can play with love and enjoyment, and you must keep those feelings. But as you grow older, you also need to use your intellectual power. He is the perfect teacher for me."
Last year, DG released Dragon Songs, a DVD that reflects the other side of Lang Lang's professional life. Here we see him going back to his home town, giving master classes at the local academy, and being feted on a heroic scale: four orchestras plus 100 female pianists hammer their Steinways in time with his for an epic performance of The Yellow River Concerto. Yet Lang Lang has stayed true to his roots in a completely unpretentious way: he still plays chamber music with his father, whose instrument is the Chinese "erhu" (bowed like a cello, and more piercingly sweet than the violin), and he makes a point of including contemporary Chinese works in his recitals. Asked about the future for Chinese indigenous music, he replies, quite simply: "It's very bright."
As is his. He won't be drawn on the precise plans, but he's going to play a large part in the Olympic celebrations next year: when the official countdown begins next week, he will be playing in the first classical concert to be staged in Tiananmen Square. He loves big audiences, and he loves his relationship with his young Chinese fans: "I am happy to be their idol." Was ever a musician so perfectly attuned to his world?
'The Art of Lang Lang' is released by Deutsche Grammophon
Join our new commenting forum
Join thought-provoking conversations, follow other Independent readers and see their replies