Marin Alsop: First Lady of the Last Night of the Proms
For the first time in 118 years, the conductor on the Royal Albert Hall podium will be a woman. It's a chance she is keen to take to promote equality. Paul Bignell meets Marin Alsop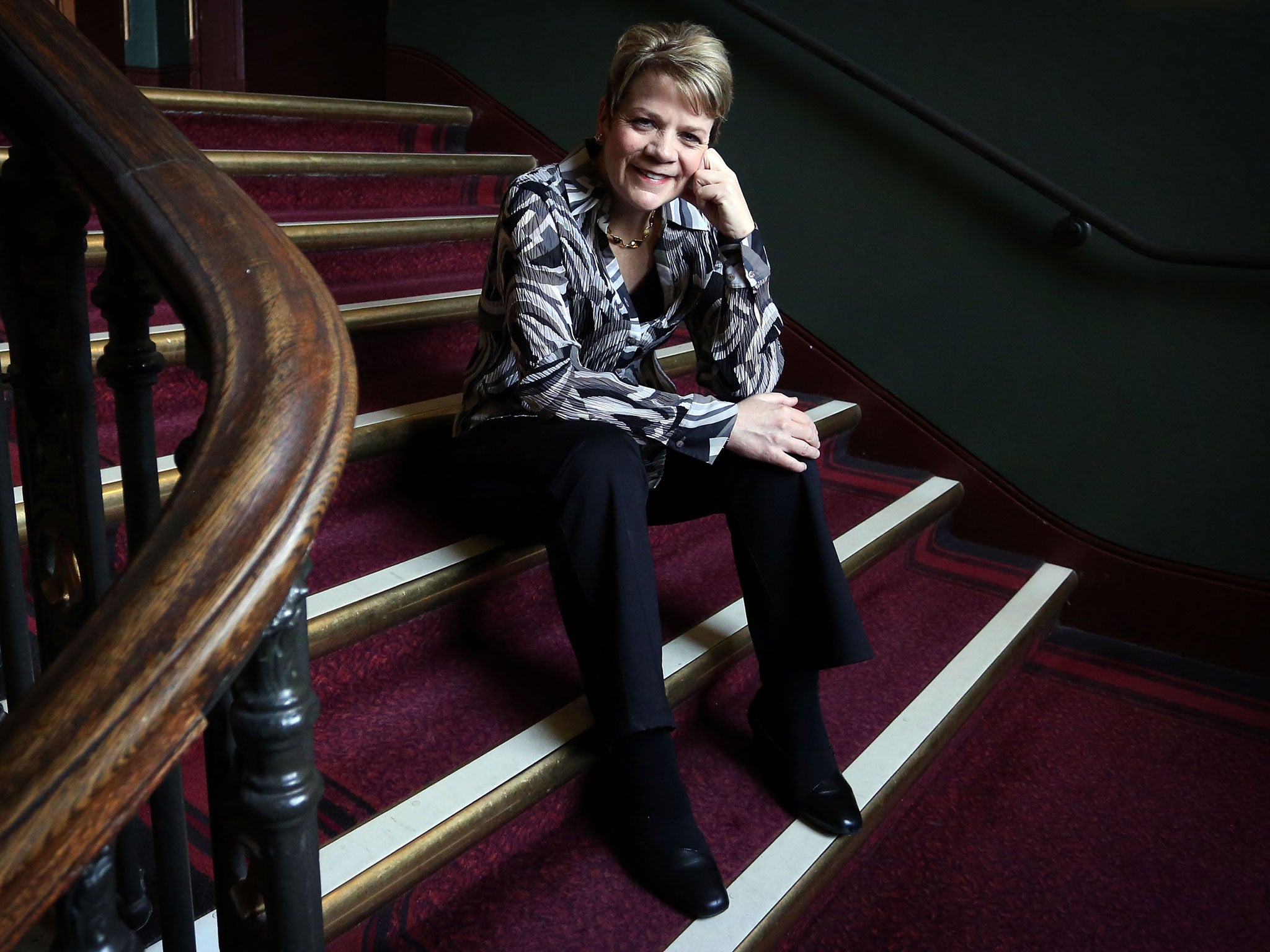 Marin Alsop is a first. The baggage that accompanies this fact is such that she has had to adapt her answer to questions about it over the years. Initially a source of irritation and defiance, then, later, simply acceptance. Now she sees being asked about being one of the world's most high-profile women conductors as an opportunity.
She was the first woman to hold a position within a major American orchestra; the first conductor to receive the prestigious MacArthur Fellowship (dubbed the "genius grant") and next month, Alsop will add another first by taking to the podium in London's prestigious Royal Albert Hall, where she will conduct The Last Night of the Proms and history will be made again.
It has taken just 118 years for a woman to follow in the footsteps of the renowned conductors Sir Henry Wood, Sir Malcolm Sargent and Sir Colin Davis, performing the likes of Jerusalem and Land of Hope and Glory. "You need a woman every 100 years or so, right?" Alsop says wryly. "But," she adds seriously, "I was surprised there hadn't been a woman conducting it before."
According to Roger Wright, the BBC Proms director and Radio 3's controller, the reason for this is what he calls "the weight of history".
Before the gala Last Night on 7 September, Alsop was also preparing when we met for last night's performance of Brahms's A German Requiem with the Orchestra of the Age of Enlightenment, the latest of many Proms appearances since her debut in 2003. Yet, she admits to still struggling when she compares herself to the stereotypical conductor. "My archetypal image of a maestro doesn't look like me," she says. "Maybe it's changing, but I think we still picture an older, white man – kind of salt and pepper hair with a bow tie and an accent. So the deck is almost certainly stacked against women."
She adds that the first woman didn't play in a major US professional orchestra until 1966. Evelyn Rothwell was one of the first women to play in the London Symphony Orchestra, though she was regarded as an outsider by her male colleagues. It wasn't until 1975 that Renata Scheffel-Stein was elected a member of the LSO.
Alsop readily admits her success has brought conflicting emotions. By being the Last Night's first female conductor and talking about it at every opportunity, she could be seen as a flag-bearer, which could overshadow her work. Yet, not discuss it at all and she risks accusations of not doing enough to further gender equality.
"In the case of the Proms, it's not me bringing it up, it's just the facts, so it is actually a great opportunity for me to talk about the issue without the usual balancing act of 'should I address this, shouldn't I address this'," she says.
"You do feel awkward about it, especially as gender is something I have nothing to do with, it's just who you are – a matter of fate. But I do think this kind of spotlight appearance, where everyone wants to discuss being the 'first woman', opens up an opportunity to have a broad discussion about equality."
The 56-year-old New Yorker, after a chance encounter with Leonard Bernstein, decided upon this most niche of careers there and then – aged nine.
"I had a poster of the Beatles on my bedroom wall, but a bigger poster of Bernstein," she says. The composer of West Side Story and Candide would later become her mentor just three years before his death. Her parents, professional musicians, allowed her to thrive in a world of possibility. After a violin teacher told her that girls did not become conductors, her father gave her a box of batons. "It was his way of saying, you can do anything you want – we'll support you."
It's this benevolence – and a determination never to accept No for an answer – that has resulted in her conducting some of the world's most prestigious orchestras.
Unable to practise alone, Alsop corralled friends into performing so she could conduct them: "Once I had a saxophone player and a guitar – a ridiculous combination of things."
After briefly studying maths at Yale (against her parents' wishes, which, she says, was her way of rebelling) she transferred to the celebrated Juilliard conservatory where she earned a master's degree in violin. In 1981, she founded the ensemble String Fever and in 1989 at the Tanglewood Music Centre she met her hero and mentor, Bernstein. "There's a new book out about him called Dinner with Lenny and in it the author asked Bernstein who was going to be a great conductor and he spoke only about me, which was really touching," she says.
"You're never sure with someone of that stature about where you stand, but I always felt he had this belief in me and this encouragement which was mostly to be myself."
After working her way up through orchestras in California and Oregon, as well as the Bournemouth Symphony Orchestra, her first major success came in 2007 when she was named as director of the Baltimore Symphony Orchestra. It was saddled with $16m debt, a crisis of confidence, poor ticket sales and no recordings for a decade, and her appointment was greeted with howls of complaints. What should have been a moment to cherish turned into front-page news, for all the wrong reasons. "The orchestra was in a terrible shape … I think they needed to 'scream' and this gave them the chance."
But Alsop wasn't cowed by the negativity: addressing the musicians, she told them to give her a chance. Concert attendance is at around 80 per cent, sometimes selling out completely, and they've made around eight recordings so far. Her directorship has been renewed until 2021.
In 2002, she started a fellowship for female conductors, which this year nominated its eighth recipient. "I thought there'd be a lot more women doing what I do. Then I look around 20 years later and there's the same number of us and 30 years later … the same number. So I felt very strongly that as a woman in this position I have a chance to affect the future. Conducting becomes a microcosm of a bigger world – why aren't there more women leaders?" Three of her protégées have gone on to become music directors.
In 2007, she set up the OrchKids scheme in Baltimore's deprived areas. By giving children instruments at an early age and signing them up to after-school lessons, Alsop believes classroom attendance and grades will improve. She acknowledges few will follow her on to the world's top podiums, but says the scheme is already reaping rewards. Having started with 25 children, almost 700 have joined the programme. "My ambition is 85,000 kids – the total in the city's public schools," Alsop adds.
She is also keen not to allow her sexuality to detract from her success (she has a son with her partner Kristin Jurkscheit, a horn player). For her, sexuality is simply another matter of fate. "It just seems like another unrelated label. America just likes to put everybody in a box, and that's a disservice to all of us."
Deftly expressed, and it raises the intriguing issue of whether in the traditional, often political, conductor's speech to the Last Night audience, she may touch on the matter of gay rights in Russia. Watch this space.
Curriculum vitae
1956 Born in New York, to musicians Ruth and LaMar Alsop. Starts piano aged two, moving, aged five, to the violin. At seven she joins the pre-college division of the Juilliard School of performing arts.
1978 Graduates from Juilliard with a master's in violin performance.
1989 First and only woman to be awarded the Koussevitzky Prize for conducting. Wins the Leonard Bernstein Conducting Fellowship.
2003 Principal conductor of the Bournemouth Symphony Orchestra. Wins Gramophone magazine's Artist of the Year award and the Royal Philharmonic Society's Conductor Award – the first to win both in one year.
2007 Named Baltimore Symphony Orchestra's music director. Conducts London Philharmonic Orchestra at the reopening of the Royal Festival Hall.
2012 Principal Conductor of the São Paulo Symphony Orchestra.
2013 Becomes first woman to conduct The Last Night of the Proms.
Kashmira Gander
Join our commenting forum
Join thought-provoking conversations, follow other Independent readers and see their replies