Michael Pollan: 'Cooking is a political act'
The back-to-basics food campaigner, in a new book, urges us to wrest control from the ready-meal corporations who fed us horsemeat. Simon Usborne meets Michael Pollan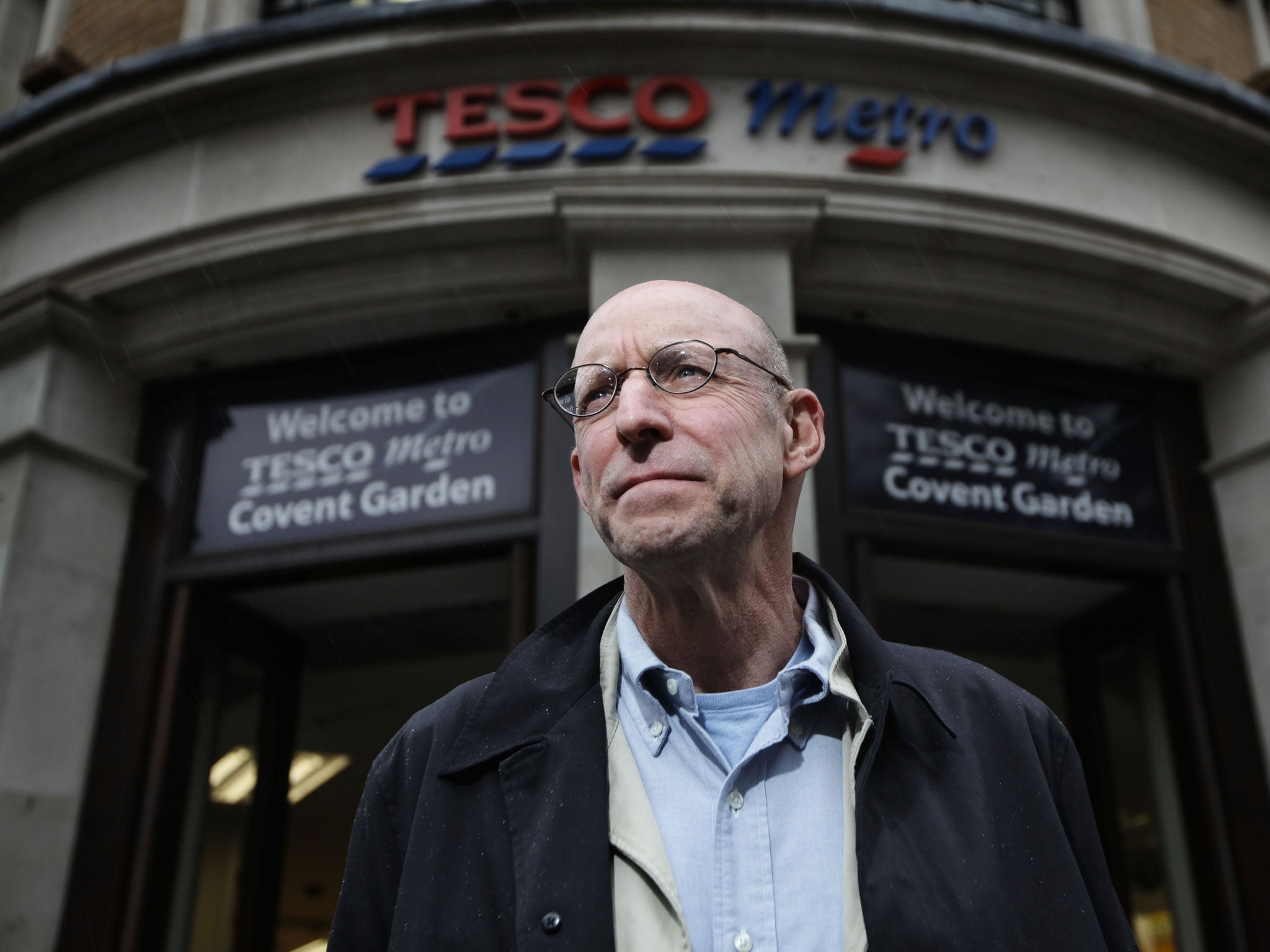 Michael Pollan has spotted something unsavoury between the spaghetti carbonara and the crab and rocket linguine. The best-selling American food writer and campaigner has agreed to talk about his new book, Cooked, inside a central London branch of Tesco. At the ready meals aisle, a shopper has discarded a Rustlers flame-grilled quarter pounder among the dishes for one. Pollan pulls it out, inspecting the sealed plastic box ("0 to tasty in seconds... must microwave").
In 2009, the author cemented his status as one of the world's most influential thinkers about food with his best-selling book Food Rules, a manual for healthy, ethical eating. A year later, he made Time magazine's list of the 100 people who "most affect our world". Rule six said: "Avoid food products that contain more than five ingredients." The Rustlers burger – bun, beef, cheese, sachet of sauce – has almost 60.
"Oh, this is of a different class," Pollan says, scanning the small print. "Dextrose. That's a sugar. Stabilisers, triphosphate, egg powder, smoke flavour, hydrolysed vegetable protein – that's a euphemism for MSG..." he goes on, adding after a breath: "Must microwave. I love that. I wonder what happens if you don't."
To Pollan, the burger, which he classes as an "edible food-like substance", is a symbol of all that is wrong in an industry ruled by corporations that invade our land, high streets and – ultimately – guts at the expense of our physical and social well-being. His latest book is his attempt to restore order by advocating the only means for the individual to wrest back control: to cook.
To suggest that making dinner is a good thing is obvious, he admits, but in his new book, Cooked: A Natural History of Transformation, he takes his case further. "Cooking is a political act," he says, moving towards the freezer cabinets, where the Tesco Everyday Value beefburgers no longer contain horsemeat. "When we let corporations cook for us we lose control. There's an enormous leap of faith to think they are going to have integrity, and that their beef is beef."
Surveying the rest of the freezer cabinet – cooked chicken breast strips, mince, a box of 26 samosas and onion bhajis – he adds: "There's something sad about this to me. These are beautiful foods being reduced to images of themselves."
Pollan, 58, does not confine his criticism to frozen food. Back in the chilled ready meals section, a category he says is only just taking hold in America, he sees another way corporations have changed the way we eat. "This is restaurant food," he says. Signs on shelves show images of chefs in whites inspecting their creations. "Some of the language is hilarious. 'Wood-fired' [Tesco Finest rostello ham, spinach and ricotta pizza, 47 ingredients]. This is a notional wood-fired pizza.
"This food is not like home-cooked food. At its best it's like restaurant food but that's not everyday food. It's full of much more salt, fat and sugar than you would ever use at home. This is a business model that involves using these ingredients to make the cheapest raw materials as appealing as possible. Corporations are more interested in exciting your cravings and getting you to eat more than they are in satisfying or nourishing you."
In Cooked, Pollan explores the modern "food paradox" that is our insatiable appetite for cookery shows and recipe books, and our aversion to cooking. To show how a simple stew can make families healthier and richer, and shorten a food chain that throttles natural resources, he goes back to basics. Cooking, he writes, is "baked into our biology". He spent months learning how to bake bread, brew beer and roast a pig.
When Pollan talks about food, people listen. Born in Long Island, he fell into his field late in his career as a journalist (his first two books were about gardening and his own shed). In 2002, he wrote a feature for the New York Times Magazine charting the sorry life of a cow, from teat to table. "Power Steer" turned many readers to veganism and led Pollan to explore our warped relationship with agriculture and food in his books The Omnivore's Dilemma and In Defense of Food.
He is now the figurehead for a movement, regularly appearing on Oprah's sofa, best-seller lists and speaking platforms, which have been picketed by the representatives of an industry that would prefer he shut up. When he published Food Rules, summarised by the single aphorism "Eat food, not too much, mostly plants", Häagen-Dazs responded to rule six by launching a new range of ice-creams called "five".
On the morning Pollan has come to Tesco, a reviewer at The Irish Times has called him the "Martin Luther King of food". Pollan says he is embarrassed by the "ridiculous" comparison – if not enough to resist sharing the review with his 300,000 Twitter followers.
But the writer has faced criticism, too, for preaching to an elite choir of like-minded liberal intellectuals who are as likely to buy his 450-page book as they are, say, an organic chicken. In a review for The Times, Giles Coren was more personal, calling Pollan a "pseudo-intellectual poseur" who "writes like a soil pipe. Like the fat trap at your local Nando's".
"I was more mystified than stung," says Pollan, who did not tweet Coren's review. He goes on to counter the perception that good home cooking is the preserve of a wealthy elite. "You can cook cheaper than Tesco or McDonald's if you're strategic, which is to say – buy in bulk and don't waste."
Supermarkets, he says, reinforce another perception – that we don't have time to cook: "Marketing messages constantly tell us we're busy. They increase our sense of time panic, and then relieve it with a product."
Between books, he is a professor of journalism at the University of California, Berkeley, where he lives with his wife, Judith.
Pollan believes that for as long as "the imperatives of capitalism and biology are at odds with each other" in a corporatised food system, consumers and governments must repair our relationship with food. Individuals must cook, where possible reducing risk and the links in the food chain by buying from a burgeoning alternative food economy. Governments are starting to support change, he adds, if only "as the connection becomes clear between the cost of healthcare and the percentage of that that's driven by bad diet."
The irony of writing about cooking is that book tours prevent much of it happening. Pollan has been in Britain for a week, speaking yesterday at the Hay Festival. Away from the threat he finds in Tesco, which he leaves empty-handed, he says British food has been transformed since he studied here in the 1970s. "There was nothing to eat back then – I've never been so thin."
Before his return to London, Pollan's schedule allowed a few days at home with Judith after a month's tour of 18 US cities. What was the first thing he cooked? "I got some salmon at a farmer's market and grilled it. I took greens from the garden – spinach, kale, herbs – and blended them with a little yoghurt and served it on top with a little lemon juice. You just know a restaurant couldn't have resisted putting butter in that sauce. It didn't need it."
Curriculum vitae
1955 Pollan is born in New York, growing up on Long Island with his three younger sisters. His mother, Corinne "Corky" Stellar, was a New York magazine editor, his father, Stephen, a financial consultant and also a best-selling writer. His younger sister Tracy, an actress, is married to Michael J Fox.
1976 Graduates from Bennington College, Vermont, with a BA in English, having spent a year studying in Oxford. He teaches briefly at a prep school.
1981 Earns an MA in English literature from Columbia University.
1983 Is hired by Harper's Magazine, eventually becoming executive editor. The magazine wins six National Magazine Awards during his tenure.
1987 Marries the artist Judith Belzer, a landscape painter.
1993 The couple's son, Isaac, is born.
2003 Is appointed a professor of journalism at Berkeley.
2006 Publishes The Omnivore's Dilemma; A Natural History of Four Meals. The New York Times hails it as one of the 10 best books of the year.
2008 His book In Defence of Food is published. Coins the phrase "Eat food. Not too much. Mostly plants."
2009 Newsweek lists him as one of the top 10 "New Thought Leaders".
2010 Is named in Time magazine's list of the world's 100 most influential people.
2013 His book Cooked: A Natural History of Transformation is published.
Kashmira Gander
Join our commenting forum
Join thought-provoking conversations, follow other Independent readers and see their replies