Neil Lawson Baker interview: 'I've gained so much from art. It's only right to give something back'.
The Chris Blackhurst Interview: Sculptor, painter, saxophonist... Neil Lawson Baker has had many incarnations after illness forced him to take a break from his Belgravia dental practice, and now he is encouraging others to fulfil their potential by entering a competition
Chris Blackhurst
Monday 01 September 2014 02:05 Comments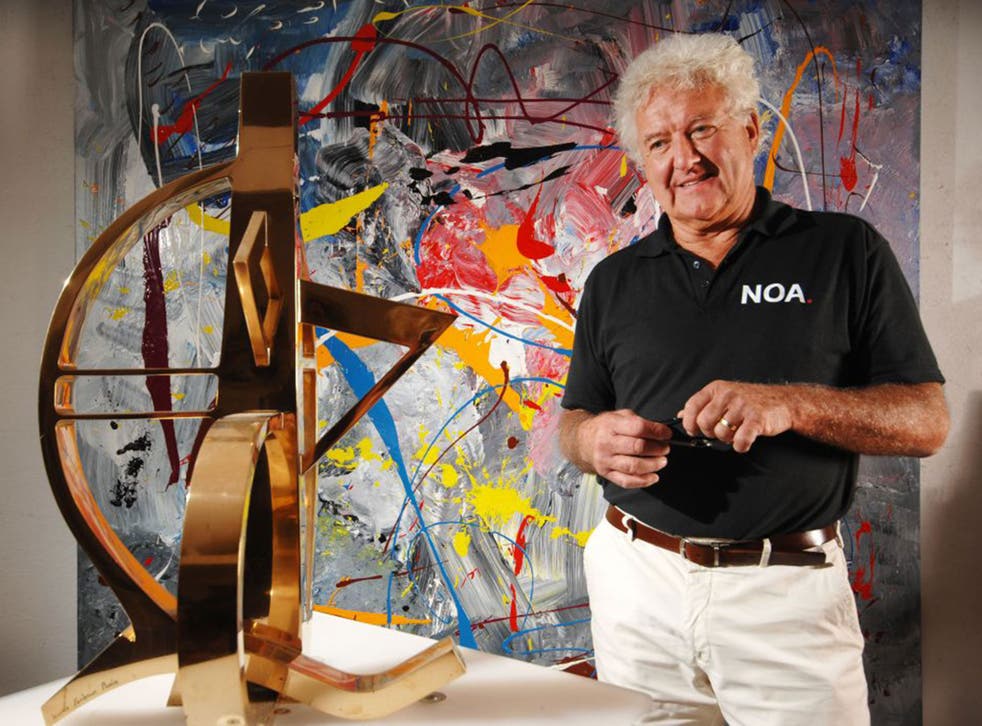 On one wall of the thatched barn adjoining his home is there evidence of Neil Lawson Baker's former life: a framed set of instruments he used on his last day as a dental surgeon.
Otherwise, every inch of space is devoted to his reincarnation, as a sculptor, artist and photographer.
He was a leading dentist with a hugely successful practice in Belgravia, London. Then, aged 49, he suffered a needlestick injury, contracted hepatitis B, couldn't work for four months and in that time taught himself to become a sculptor.
Commissions followed, including the entrance to the offices of the Houses of Parliament, British Gas headquarters, the Sterling House office building in London, National Stadium in Kuala Lumpur, and entrance to the Channel Tunnel (it was his work that the Queen unveiled when she opened the Tunnel with President Mitterrand).
He gave up dentistry six years ago, when he was 70, to concentrate on his art.
Today, as well as producing his own pieces, he chairs the National Open Art Competition, the country's biggest open arts competition (the Royal Academy's Summer Exhibition is of similar size, but Royal Academicians can also submit up to six works each, so it's not a true "open" contest). This year, there were 3,650 entries. They were whittled down to a final 122 which will go on show at London's Somerset House from 18 September to 25 October.
After that, they will be at the Pallant House Gallery and Festival Theatre, both in Chichester.
The winners will share a prize fund of £60,000. On the day we meet, Lawson Baker has just come from helping judge the 122 to go to Somerset House.
Why does he do it? He emits a cheery chuckle. "It's my way of giving something back to the art world. I've gained an awful lot from it and I think it's only right I give something back."
He's a big man, powerfully built, with a full head of silver hair. His face seems to be permanently wreathed in a smile.
It's not just dentistry and the arts where he's enjoyed success. In a garage at his home in West Sussex are two gleaming, classic Facel Vega sports cars.
"I was second in the Monte Carlo Rally in this one," he says. On a shelf there are some medals from the Badminton Horse Trials, including a second place.
"I took up three-day eventing when I had testicular cancer. I had it twice when I was 34."
Lawson Baker played the saxophone in his own jazz band, which supported the Ted Heath Orchestra.
He shows me a garden well. It's at least 20ft down to the water below. "We dug this out. It was full of rubbish when we moved in."
We move on. At any moment I'm expecting him to open a door and reveal a bi-plane he flew round the world and back again, single-handed.
He first became interested in art when his father, "a good amateur photographer", taught him how to develop and print photographs in a darkroom. He also made pots at school.
But it really took off when he made enough money as a dentist to visit galleries across the world and build up his own contemporary collection. Many of his clients were drawn from the arts.
He studied at London University, qualified as a dentist at Guy's Hospital, and then went on to qualify as a doctor at St George's.
"Originally I wanted to be a doctor but there was no room at Guy's so I studied as a dentist."
He bought the Wilton Place Practice in Belgravia, and developed it into one of the best-known dental practices in the world.
He also founded the Oral Hygiene Centre at No 1 Devonshire Place, near Harley Street, and for a period it was the first preventative dental practice in the world, and a pioneer in oral hygiene.
"Wilton Place was an extraordinary practice," he says. "An awful lot of interesting people came through its doors, a lot of academics and artists."
He met Adrien Maeght, the French gallery owner, who introduced him to the works of Picasso, Miro and Arp.
Then disaster struck. A needle went through his glove while he was operating and the patient was found to have been carrying hepatitis B. "I suffered very seriously and was told I might not work again as a dentist again."
He'd had one, short sculpture lesson from the Dutch artist Kees Verkade but that was all. As a form of occupational therapy, while waiting for the virus to clear he made wax sculptures. He literally made them, he says, in his bedroom while in quarantine.
A friend saw them and liked them, and introduced him to the owner of Burleighfield, the foundry used by many bronze sculptors. His first project was to produce a series of sculptures, one for each of the 26 poems in Kahlil Gibran's The Prophet. "It's the second best-selling book in the world after the Bible. It seemed like a good idea."
The virus cleared and he returned to dentistry. The Prophet soon gave way to corporate commissions, initially from captains of industry who were dental clients and saw pieces at his practice and asked him to make one for them. For a long time he was juggling the two worlds – dentistry as the day job, and sculpting at weekends. He was also commuting from the south coast to London every day.
The orders kept on coming. Mrs Thatcher asked him to sculpt a figure for each of the then-nine member states in the EU. "Her plan was that they should stand outside the European Central Bank which she wanted to bring to London, but it went to Frankfurt instead so they were never put on display."
He was picking up sculpting work by virtue of being a dentist to the sort of people who could commission him. "They were coming in, seeing the sculptures around, and wanting their own."
The opening of the Channel Tunnel came his way, as did the a massive, 16-metre bronze with seven 25-metre high arches and a 100-metre water feature for the Commonwealth Games in Kuala Lumpur in 1998. "It involved lots of meetings with the Malaysian Prime Minister, Mahathir Mohamad, who commissioned me personally. Every weekend for six months I was having to fly back and forth to Kuala Lumpur."
He's currently working on a giant bronze commissioned to celebrate the liberation of Guernsey from the Nazis. Then it was discovered he was not from Guernsey, and the order was scrapped. "I thought, 'Sod it, I'm doing it anyway'." He laughs. "I don't know where it's going to go."
In 2000, he was due to drive his Facel Vega around the world in the Around the World in 80 Days Challenge. It was to raise money for a new children's hospice. He'd been inspired by meeting Chearish, 15, from south London, with an inoperable stomach tumour.
At the last minute , he was unable to go. The drive went ahead anyway, and his team raised £200,000.
Afterwards, Lawson Baker was watching a TV show and saw a giant tumour being removed by a surgeon in California. He asked a friend, David Oram, a gynaecological oncologist, to review her case. Oram said he thought it was worth a try, and surgeons later removed a 10kg tumour.
Lawson Baker admits to being overwhelmed when he heard the news. Then, incredibly, they found it to be benign. He says he can only imagine what Chearish's mother, Mandy, must have felt after being told for seven years her daughter was incurable.
He tells the tale with joy. Now he's bringing the same energy to the arts, to the National Open Art Competition, which he hopes will inspire visitors to have a go themselves. "I've had a terrific time, both as a dental surgeon, and, since I've 'retired', as a painter, photographer and sculptor."
He says he sees it as his mission, "a joy", to help emerging and established artists by putting their work on show so it can be sold and they can raise some income.
A master in understatement, he murmurs he hopes that he has being a little bit useful, nurturing creativity and furthering careers.
CV: Many lives of a polymath
Born 1938, in Watford
Educated Merchant Taylors' School, Northwood; University of London
Family Married to Grace. He has an adopted son, Grace has a son
Career one qualified as a dentist at Guy's Hospital; then qualified to be a doctor at St George's Hospital; took over the Wilton Place practice, became a dentist to celebrities among 8,000 clients in total; founded the Oral Hygiene Centre at No 1 Devonshire Place
Career two Switched to sculpting; numerous prestigious commissions; now chairs the National Open Art Competition
Somehow found time for... Playing the sax in a jazz band; rally-driving; three-day eventing
Register for free to continue reading
Registration is a free and easy way to support our truly independent journalism
By registering, you will also enjoy limited access to Premium articles, exclusive newsletters, commenting, and virtual events with our leading journalists
Already have an account? sign in
Join our new commenting forum
Join thought-provoking conversations, follow other Independent readers and see their replies