Nuno Gomes: Foreigners are not cheats, we just like to jump out of the way
From a bruising encounter with Terry in 2004 to the Championship's hefty tackles, he knows all about big challenges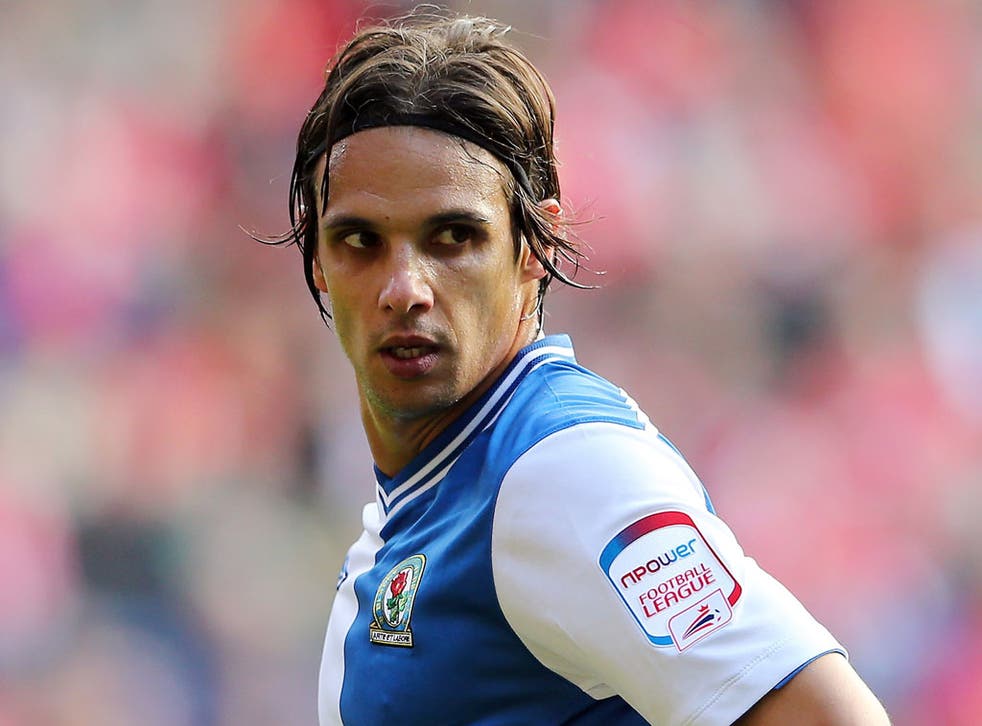 For Nuno Gomes, home used to be Cascais, the elegant seaside resort outside Lisbon once favoured by Portuguese royalty, where he would wake each morning with a view of the Atlantic. That was during his many years as a Benfica player; since he arrived at Blackburn Rovers in the summer, he has already enjoyed a visit to Blackpool, an altogether different kind of resort, but found the Irish Sea rather less enticing. "The problem is the weather," he says with a smile. "I saw some lads there swimming and my little boy said, 'Let's go for a swim'. I said, 'You'd better wait for another day'."
The weather is not the only difference, of course, and for a Portuguese footballer newly arrived in the Championship, things can seem pretty choppy out on the football field too: "It is harder here. The defenders tackle more." Gomes appreciates that the reaction to physical contact is different too.
During a week when diving was the hot topic in English football, with Michael Owen and Michael Kightly both identifying foreign players as the chief culprits, the 36-year-old seems a good person to ask for a Latin take on the debate.
Certain Portuguese players, after all, have a reputation for going down rather easily. Yet Gomes does not see it in black-and-white terms, dismissing the suggestion that football elsewhere may be inherently less honest. "It is not a question of being honest or not," he says. "OK, some players I have to admit they keep constantly [diving] during a game, but there are players I know who do that because it is a natural act to do – not to cheat the referee. [They] are afraid to be tackled so they just jump."
For Gomes, it comes down essentially to cultural baggage: what is considered unacceptable here is simply a matter of habit in southern Europe and Latin America. He cites the lessons being learned by the handful of young Portuguese players who followed him to Ewood Park, three of whom – Fabio Nunes, Paulo Jorge and Edinho – have already seen first-team action.
"In Portugal when we are young we can do bad things because maybe our culture and our mentality allow us to do that," Gomes says. "But if they do that here in England some referees or the opposition team will laugh. This is good for them to grow up as players, they will be stronger."
Gomes was speaking at Blackburn's impressive Brockhall Village training complex in a picturesque corner of the Ribble Valley. He arrived on a two-year contract from Braga, making a bright start with goals in four successive games as Rovers began their Championship programme with four wins and two draws. Then came a home defeat by Middlesbrough and the sacking of Steve Kean, followed by three matches without victory under caretaker Eric Black.
Gomes reflects: "If you change coach it means you are not doing well, but we'd started very well. The problem with the fans and Steve Kean [was] coming from last year." He witnessed only the tail end of Kean's unpopular reign and adds: "I am new to the club and maybe I am not supposed to talk about that."
An affable character, much loved by the supporters at Benfica, he is evidently a dab hand at diplomacy. "We as players appreciate the effort [Kean] took with us but we understand also the fans."
Whatever Rovers' troubles, he is "enjoying very much" the Championship experience. His fondness for the English game seems fitting; his first goal for Portugal was the winner against Kevin Keegan's England in a 3-2 comeback victory at Euro 2000.
"Everything for me started there," he says of a tournament in which he scored four times, earning a move to Fiorentina in Italy. He had returned to Benfica by Euro 2004, when Portugal overcame England in a quarter-final penalty shoot-out after a 2-2 draw. "That game was for heart attacks," he laughs.
The battles with England provided a foretaste of the physicality he now encounters in the Championship. He recalls facing the "frightening" Tony Adams at Euro 2000 and a challenge from John Terry that left him with a damaged knee ligament. "It was my fault also. I should have [realised], 'Oh it's him, I'd better leave it'. He was very hard."
Euro 2004 was also the first campaign he shared with Cristiano Ronaldo, 19 at the time but already with sights set on being the world's best. "He was a great kid, looking to learn and to grow fast. Since he was young he wanted to be the number one in football, he worked a lot to achieve that. From 16 to 18 he improved a lot, his body changed, he got stronger and that's what he needed because the technical stuff, the skill, was there."
As for Ronaldo's ability to inspire both love and loathing, Gomes replies: "[In Portugal] people of course like Ronaldo. But you know some people like him, some people don't; it's normal when you have his career and his money, his cars, his girlfriends. If you are a great footballer, people are envious."
Gomes will be just an interested spectator when Ronaldo leads out Portugal for Tuesday's World Cup qualifier against Northern Ireland, yet he still has one big goal.
"I have one more year's contract and it would be very good for me if this year we got up to the Premier League," he says. "In my last year I would like to try the Premier League, just to see."
Pass the port
Nuno Gomes is Portugal's fifth-highest scorer of all time with 29 goals from 79 internationals.
For Benfica he hit 163 goals in 392 league games in two separate spells spanning 12 years.
Career statistics (league only):
Boavista (1994-97): 79 games, 23 goals
Benfica (1997-99, 2002-11): 292 games, 126 goals
Fiorentina (2000-02): 53 games, 14 goals
Braga (2011-12): 20 games, 6 goals
Blackburn (current): 9 games, 4 goals
Join our new commenting forum
Join thought-provoking conversations, follow other Independent readers and see their replies