Oliver Tambo: the exile
Oliver Tambo, co-founder of modern South Africa, brought down the apartheid regime from a house in north London. This week he – and his former home – are recognised
Andy McSmith
Monday 15 October 2007 00:00 Comments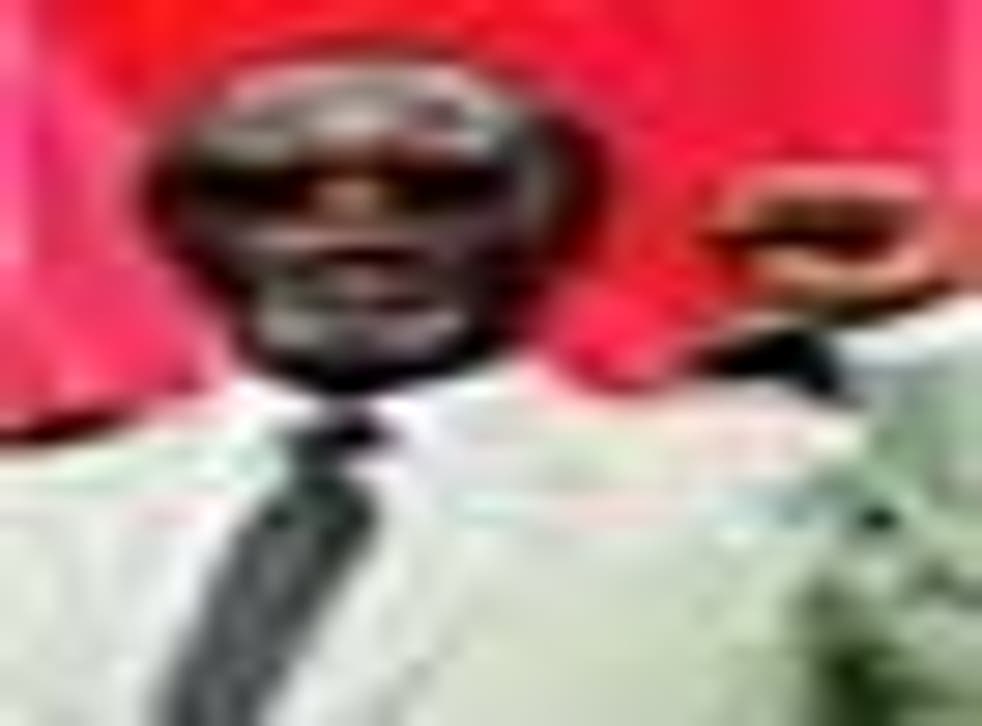 Until recently there was no plaque visible on the three-storey house in Muswell Hill that was once, in effect, the home of a government in exile. In the park nearby, where the children of one of the 20th century's greatest statesmen used to run around, there is a corner temporarily fenced off, in which there is an as yet unseen monument wrapped in blue polythene.
When the monument is unveiled, on Wednesday, it will be the centrepiece of a circle of a large circular memorial site, full of South African symbolism, bearing a bust of man whose face any black South African would recognise at once, even if some of the local residents passing by have never heard of him.
Oliver Tambo, the co-founder of the modern South African state, came to London penniless and unknown in 1960, with the police on his tail. His wife, Adelaide, and young children were smuggled out to join him.
In his homeland, Tambo is lionised as one half of a duo, the other half being Nelson Mandela, which led their people in freedom. While Mandela was in prison, a living symbol of black endurance under injustice and persecution, Tambo was travelling the world, like the head of a government in exile.
In Muswell Hill, in the north London borough of Haringey, there are folk who remember him mainly as the quietly spoken husband of an imposing NHS nurse who lived with her three children in a house on the corner of Alexandra Park Road.
The house was hard to miss because it was magnet for anyone involved in the anti-apartheid movement, especially when Oliver was at home.
Pauline Webb, a future BBC head of religious broadcasting, also moved into Muswell Hill in 1960 and was struck by the appearance of one her new neighbours – "an African woman of imposing and attractive appearance who, with her three children, including a small baby, had come to live in a large detached house just around the corner".
She soon noticed that "the Tambo household was never empty of visitors. Adelaide loved entertaining and was a most welcoming hostess as well as an excellent cook." The reason the Tambos could afford a three-storey, detached house with large rooms was that political sympathisers had raised the money to give them living space, anticipating that it would become the African National Congress's unofficial London headquarters.
In 1962, there was a ripple of excitement among the exiles, when Mandela, the ANC's rising young star, arrived for a fleeting visit as a guest of the Tambos, and rushed off with Oliver to see the sights of London. They were two unknown young Africans in a big city. But when Nelson Mandela called for the second time, he had the world's media in his train. He had just been released after 27 years in jail, and one of the first places he visited outside South Africa was the Tambo home on Muswell Hill.
Thembi Nobadula, an ANC activist who escaped in 1962 to become a near neighbour of the Tambos, cannot help chuckling as she retells the story, almost half a century later, of how he got away.
"He did it so beautifully. He really put those Boers in their place. He used to drive to the station on his way to work every day and leave his car in the car park. On that beautiful day when he escaped, he drove the car as usual, or somebody did, and left it in its parking place, but in the evening no one came to collect it. By the time those Boers realised he had gone and started harassing Adelaide, he was already in Bechuanaland [Botswana], where they couldn't catch him."
After the world had been disgusted by the spectacle of South African solders slaughtering unarmed African protesters in Sharpeville, in March 1960, the apartheid propaganda machine excused the massacre by claiming that the ANC, whose young leaders had become the regime's most formidable opponents, was a communist conspiracy. Tambo was told by his colleagues to go abroad and tell a different story.
His first stop was Ghana, where the government agreed to help him smuggle out Adelaide and the children. But by the time they arrived in Accra, Oliver was already in Paris. So they stayed as guests of the parents of Paul Boateng, the future British cabinet minister, until the family could be reunited in London.
"It was very hard because when we left South Africa, none of us expected to be in exile for more than five years," Mrs Nobadula said. "And even when the family was living in Haringey, Oliver was so often abroad, it was not until near the end that they were really together."
One of the first white friends the Tambos made in London was Patsy Pillay, now aged 82, who still lives nearby in north London. She and her husband, Vella Pillay, an economist, had had to leave South Africa because, under the Morality Act, they faced long jail sentences for living together, she being white while he was Indian. She found the newly arrived Tambo family living under pretty desperate conditions.
"It was very difficult for them, they were very, very poor, and they lived in a tiny, titchy flat in Finchley. London was quite racist. There were newspaper adverts for accommodation that used to say 'no coloureds, no Irish, no dogs, no children' – but it was better than South Africa. London was bad, but South Africa was very, very bad.
"Then they moved to a flat in Highgate, then they got the house in Muswell Hill. That was much better, but they were still always short of money. And Adelaide was like a single parent, because he spent so much time abroad. She made all the decisions about the children, and Oliver went along with them.
"Even when he was in London, he was always at meetings or receiving visitors. I heard her say to him 'you come here and you can't even get to talk to me because of all your meetings' and he used to say 'but Mandela's in prison. He's worse off than we are, and his wife never sees him at all.'"
When Tambo first began the work of lobbying for international recognition, almost the only head of government prepared to give him the time of day was Kwane Nkrumah, in Ghana. But over the years, he established ANC missions, shadow embassies for a future South Africa, in 27 countries, which by then was more than the number that continued to recognise white South Africa.
He also founded the military wing of the ANC, the Umkhonto we Sizwe. When the Portuguese empire collapsed in 1975, Tambo moved his guerrillas out of training camps in Tanzania and Zambia, into Angola, near the South African border, as a warning that if the apartheid system was not dismantled peacefully, the ANC was prepared to use force.
By the mid 1980s, governments across Europe were wanting to make contact with the little lawyer in Haringey, seeing him as South Africa's future.
The UK government was a glaring exception, because of Margaret Thatcher's belief that the ANC was a terrorist organisation. But Sir Geoffrey Howe, who was foreign secretary in 1983-89, said that by the mid-1980s, every adviser and minister in the Foreign Office was telling them that he should meet Thabo. Eventually, Howe did meet him, late in 1986, but to make it look unofficial, invited him to his grace and favour house in Chevening, Kent, rather than to the Foreign Office. A long conversation convinced Howe that he was dealing with a serious, thoughtful statesman.
Tambo only barely lived to see the apartheid system come down. He had a stroke in 1989, and was rushed to the London Clinic, where it was expected that he would die. When he pulled through, the doctors warned him against overwork, so he told some of his staff to move from Zambia to London, and turned one of the rooms at 51 Alexandra Park into a permanent ANC office. He returned to South Africa for the ANC's first legal national conference there, in July 1991, and was elected its National chairman, but died less than two years later.
What would have been his 90th birthday this month is being commemorated this week by the UK launch tomorrow of a book of essays by people who knew him, and the unveiling on Wednesday of a the memorial in Albert Road recreation ground, Muswell Hill, including a bust by the late Ian Walters, who also sculpted the statue of Mandela in Parliament Square.
Jacob Riba, the head teacher of the Ephes Mamkeli secondary school in the township of Wattville, where Tambo grew up, is one of the South Africans who have made the trip to pay homage. "If we compare the two – Tambo and Mandela – they are both legends," he said. "They are two lives that complement each other, one in prison, one in exile. It was harsh in prison, but it was also harsh in exile. They made equal contributions. They are both icons."
Register for free to continue reading
Registration is a free and easy way to support our truly independent journalism
By registering, you will also enjoy limited access to Premium articles, exclusive newsletters, commenting, and virtual events with our leading journalists
Already have an account? sign in
Join our new commenting forum
Join thought-provoking conversations, follow other Independent readers and see their replies