Oscar Pistorius trial: Where is he now? One year on from Valentine's Day tragedy
As the athlete releases 'a few words' in memory of Reeva Steenkamp today, we look back at his life since the alleged murder took place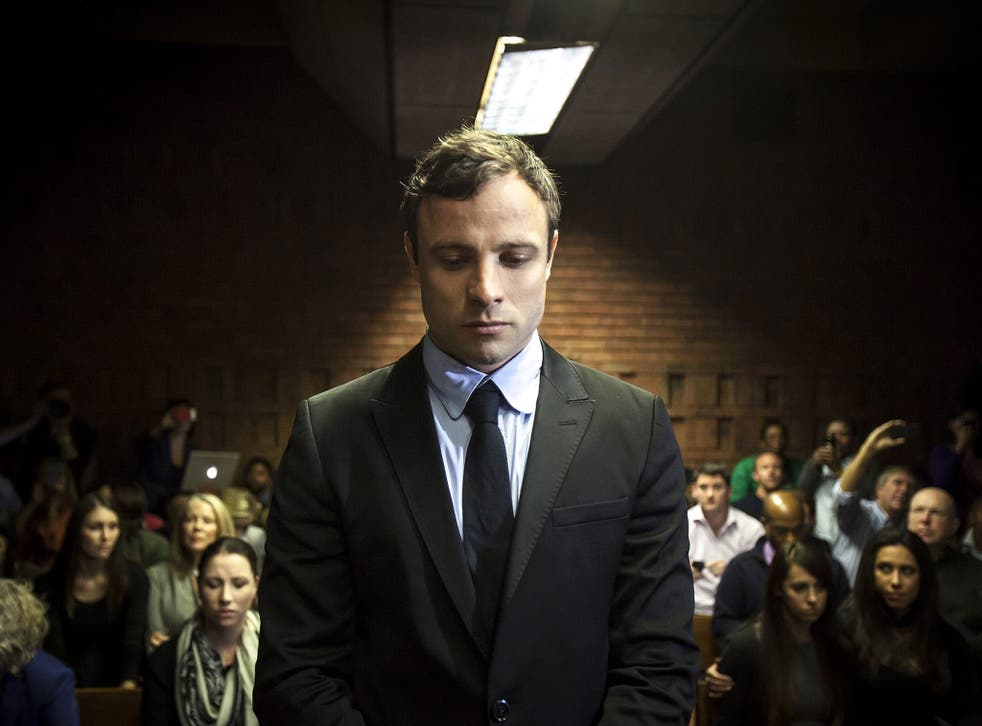 As the world went to sleep on 13 February 2013, they mostly had one image of Oscar Pistorius: an against-the-odds inspiration and, occasional moments of bad sportsmanship aside, a top athlete.
The previous summer, the "Blade Runner" bagged three medals - two of them gold - at the London 2012 Paralympics, taking his tally up to nine. The same summer, he became the first Paralympian to compete in the Olympics.
And though he didn't trouble the podium in the able-bodied Games, his achievement in lobbying to compete, and qualifying, was recognised by the eventual gold medallist in the men's 400m, Kirani James, who swapped name tags with him after their race.
Afterwards, James said: "Oscar is someone special, especially in our event. It's a memorable moment for me to be out here performing with him.
"He's an inspiration to all of us. He is very special to our sport. He's a down to earth guy and a great individual.
"I am going to keep it."
He was held up as a South African icon and Paralympic hero.
But exactly a year ago, on the Valentine's Day morning, that image was erased and replaced. At his luxury villa in a Pretoria gated community, he had shot his compatriot girlfriend, the model Reeva Steenkamp, four times through a locked bathroom door, killing her.
He was arrested and charged with premeditated murder, a charge carrying a minimum of 25 years in prison before parole. He denied the allegation, claiming he shot her in error, mistaking her for an intruder - a defence he maintains.
After the athlete's initial tearful court appearance, his uncle, Arnold Pistorius, said the pair "had plans together and Oscar was happier in his private life than he had been for a long time."
And the night before, Ms Steenkamp had tweeted:
But Pistorius still hasn't faced the charges in court. That will happen on 2 March, more than a year after the killing, during which time Pistorius has been on bail.
Some UK observers were shocked that a man who admitted killing someone (albeit claiming it was by accident) was released on bail and allowed to leave the country. There was some suggestion of a legal system going easy on a suspect because he was a famous athlete.
Initial bail conditions - which Pistorius' lawyer claimed amounted to "house arrest" - were overturned in March, because Judge Bert Bam said conditions should not contain any kind of "anticipatory punishment."
They had included a ban on alcohol, regular visits from a probation officer and travel restrictions. But until the trial starts, Pistorius has only had to to inform the state a week before he plans to travel beyond South Africa's borders, provide a full intinerary, and return his passport to a court within 24 hours of returning home.
But the bail laws in South Africa are one among many legacies of the Apartheid era.
As Dr Kelly Phelps, a senior lecturer in law at the University of Cape Town, explained: "During Apartheid, detention without trial was ruthlessly exploited by the oppressive state to suppress political dissent. The law was a weapon in the Apartheid government's arsenal, used to maintain minority domination and entrench its racist ideology.
"The value of the presumption of innocence and individual liberty therefore cannot be overstated in South Africa. Nowhere is this more true than in the case of bail laws, even if at times this upsets a public that seems to forget the risks associated with unnecessary detention before trial and the high cost of it to society at large."
And Dr Phelps added that, under South African law, Pistorius had done enough to meet the conditions for bail.
Oscar Pistorius: Career in pictures

Show all 34
"Specifically," she said, "Pistorius was not a flight risk – he has strong family ties in South Africa, he is incredibly easily identifiable globally, his prostheses require regular and consistent medical attention and the vast majority of his assets rest within South Africa.
"It was also held that he did not pose a danger of violence to the community – though the prosecution had alleged a track record of violence the magistrate criticised them for not providing any evidence of this beyond vague and flimsy allegations. Furthermore, the magistrate did not find that the state's case against Pistorius was so strong that it might induce him to abscond – he had cooperated with the authorities since the killing and there was no reason to believe he would not appear for the trial."
In rare public comments in November, however, The City Press quoted him as saying he was "anxious" about the trial, and was spending a lot of time with family.
"I feel calm," he said. "I now spend most of my time with my family and I enjoy their company.
"They are wonderful and their support is incredible. But, I must say, at the same time I am also anxious about the upcoming court case."
The Steenkamps' lawyer released a statement earlier this week. It read: "June (Reeva's mother) and other family members will be at the trial in Pretoria.
"All we are looking for is closure and to know that our daughter did not suffer on that tragic Valentine's Day."
And today, in another unusual public display, Pistorius released his own statement. This time, penning "a few words" from his heart, tweeted via his official account with a link to a piece on his website.
"No words can adequately capture my feelings about the devastating accident that has caused such heartache for everyone who truly loved - and continues to love Reeva," he wrote.
"The pain and sadness – especially for Reeva's parents, family and friends consumes me with sorrow.
"The loss of Reeva and the complete trauma of that day, I will carry with me for the rest of my life."
A South African TV station has already set up a dedicated channel for the 27-year-old's trial at Pretoria's High Court. By the end of 2013, Pistorius was revealed as the third most searched-for person on Google, beating the late former South African President Nelson Mandela into fourth place.
He also faces two more gun charges. Among the witnesses who will be called are Pistorius's sister Aimee and his uncle Arnold.
Medical experts, a weather forecaster, paramedics, and ballistic and forensic experts will also testify during its anticipated two to three weeks duration, during which Pistorius will learn his fate. For South Africa, disabled sport, and the wider world, the verdict could be huge.
Read more:
Join our new commenting forum
Join thought-provoking conversations, follow other Independent readers and see their replies