Patricia Field: David Cameron? He's gotten so fat, it's really bad!
She may be ambassador for a fabric softener, but the Emmy-winning designer is not afraid to rub people up the wrong way. She supports the shamed John Galliano – and speaks her mind when it comes to our PM. Kate Youde meets Patricia Field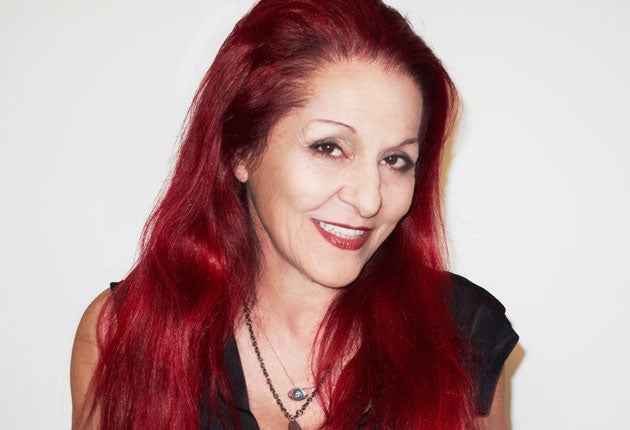 When thinking of criticisms that the Sex and the City costume designer Patricia Field might wish to level at David Cameron, his waistline is not the first thing that springs to mind. But it is his figure which is occupying the American stylist's thoughts.
"He used to be, you know, good-looking; he looks fat now," she says, sidetracking from my question about Cameron's support for proposals to tackle the sexualisation of children. "He must have put on about 40, 50 pounds, that guy; he looks a mess! And that is not good because he's supposed to be an example for people. He's just globbing up food: he's gotten so fat, it's really bad."
No stranger to ruffling feathers – she defended the shamed fashion designer John Galliano earlier this year – Field later compares Britons voting for "that Conservative" to the way Americans voted for "that stupid Bush", and labels the Prime Minister a "blowhard". One of three PRs sitting in on our interview in the basement of London's trendy Sanctum Soho Hotel interrupts to request we steer away from politics as it's "not quite on topic for Lenor".
Field is working as an ambassador for the fabric softener, offering style tips on how to wear the clothes that often lie forgotten at the back of wardrobes. The 69-year-old respects her client's wishes, but she obviously knows how to play the publicity game, telling the PR she wants to "stay interesting, not flat".
Earlier this year, she courted controversy with her defence of Galliano, who has faced charges in France over an alleged anti-Semitic, racist rant in a Paris bar in February. In an interview with Women's Wear Daily, Field, whose stepfather was Jewish, described the designer's behaviour, which was videotaped, as "theatre" and sent out emails headed "In praise of John Galliano".
"I stand by everything I said," she tells me, two weeks before Galliano tells a Paris court in June that he cannot remember the alleged rant because of his "triple addiction". "I said what I said and I can't say any more that's going to best describe how I felt about it." Subject closed.
On the sexualisation debate and the issue of young girls wearing overly precocious clothing, Field's view is that youngsters should wear items they like and "experience it so they can learn it". She adds that everyone should be responsible for their own lives. "If the parent wants to stop their kid, it's their kid," she says. "I mean, I grew up free, and that's the best way to grow up. If I were a parent, I would try to teach my kids how to be strong for themselves and learn to make their decisions based on thinking about it and coming to a conclusion, so that when they become adults they're ready to be adults – they're not, like, 25 years old and they have the ability of a 10-year-old."
Born in Manhattan, her "free" childhood saw Field taking taxis at the age of five to see her grandmother in another borough. Her Armenian-Turkish father, Henry Haig, died of TB when she was seven. When Field was eight, her Greek mother, Mary – who worked in the family's dry cleaning business – married Louis Field and he adopted the stylist and her younger sister, Joan.
"My parents were very supportive, but they weren't doting on me; they were doing their thing," recalls Field, a pair of glasses perched atop her bright red hair. "I mean, my dad died when I was young, so I am talking really more about my mum. She had her life. I learnt to have my life, watching her have her life, not having her tell me how to live."
This independence, coupled with approval from her family, gave the Emmy-winning costume designer the confidence to develop her individual style and interest in fashion. In 1966 she opened her New York store, which continues today in a different location. However, it was her work on the hit TV series Sex and the City, first broadcast in 1998, that propelled her to global recognition.
Viewers tuned in to the exploits of Carrie Bradshaw (Sarah Jessica Parker) and her three friends as much for their outfits as for the plot. Field, who does not watch "those kind of shows", was surprised by its success.
Over the years, she has faced criticism for using expensive designer labels and questions about how a freelance writer could afford "a closet full" of Manolo Blahnik shoes. This journalist certainly cannot. It is escapism, says Field, whose other credits include the two Sex and the City films, the TV series Ugly Betty and the fashion chick flick The Devil Wears Prada. "I wanna take you for a little joy ride that's, like, two steps above reality: it's not Mars, it's Earth, it's just on your toes, it's just a little more enjoyable than our everyday average lifestyle, day in and day out, which is the documentary," she explains. "I don't do documentaries, I do entertainment... If I have to justify every last pair of Manolos that Carrie had, I mean, I would stop designing."
In fact, Field later declares that she does not really want to be a costume designer any more. She is taking a break to work on "personal pet projects", which include her desire to direct a film. She has three comedy scripts in development, on which she will happily relinquish responsibility for costumes.
Field describes her style as "simple" and "interesting". The day we meet she has teamed red Paul Smith brogues with striped Tripp jeans, a black Helmut Lang top, a borrowed black jacket and a Carrie-esque necklace bearing her name in Arabic.
While the outfits she styled on screen may have inspired women to try to emulate Carrie and co, such "copycatism" is opposite to Field's philosophy of "individualism". When it comes to style, she believes there is no rule book, only what is right for each individual.
Therefore, maybe, unlike many fashion commentators, Field would embrace Cameron's recent sartorial statement of work shoes without socks, which he wore on holiday. Assuming she could ignore his waistline.
Patricia Field and Lenor are offering women tips to rejuvenate forgotten clothes at the back of their wardrobes. Visit www.awakenyourwardrobe.com
Join our commenting forum
Join thought-provoking conversations, follow other Independent readers and see their replies