Rankin Interview: In Defence Of Britain, Miley, Scarlett and the right to take photos of absolutely anyone
The acclaimed photographer and director speaks in a wide-ranging exclusive with The Independent
Jenn Selby
Thursday 13 February 2014 01:01 Comments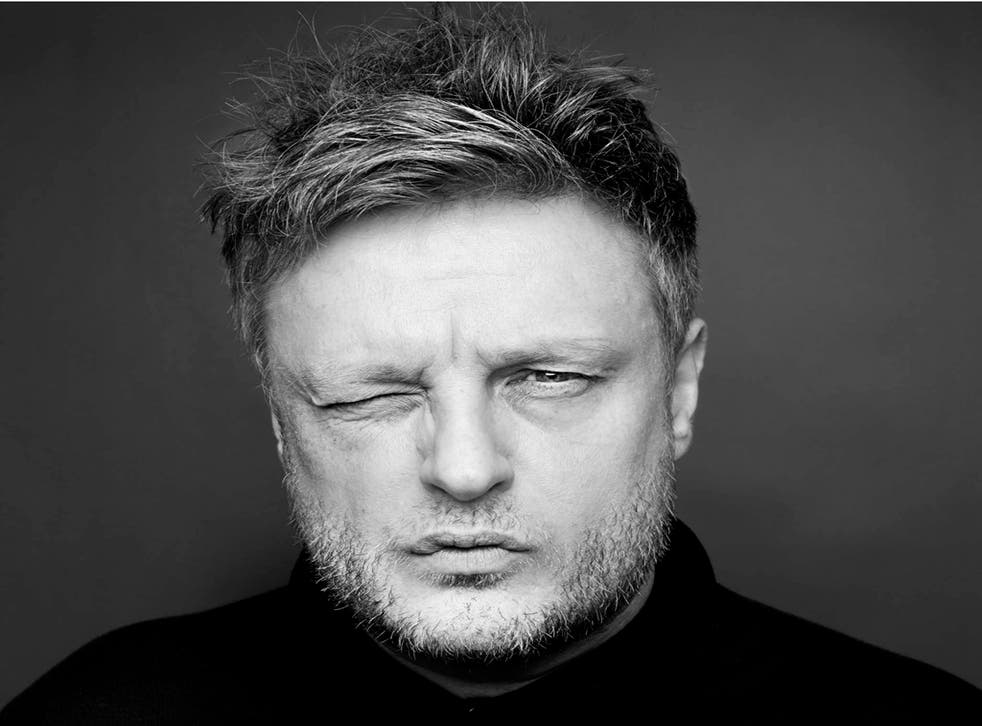 "You don't look at all like your photograph," Rankin tells me, squinting as he scans my face for recognisable attributes. "Oh, really?" I counter. "How so?" "No reason, you just look different. I thought I knew you, but now I realise I don't."
Rankin has done his research. He's Googled me. He's read my work. One of the world's leading photographers, directors, and publishing entrepreneurs has been judging me from a distance. And by the time I settle myself opposite him on a white leather couch in the middle of his glass-walled office, stared down at by eight Mick Jagger portraits on one wall, and Gisele on the other, I'm feeling slightly intimidated.
But the truth is, he isn't a bit like I thought he'd be either. He's shorter than I'd imagined. He's rounder, too. Plainly dressed. And, far from the macho, arrogant-by-trade creative force I'd pre-determined, he's friendly, warm, candid and a little bit camp.
Rankin HQ, however, is. As expected, the north London studio is all sprawling Mac screens upstairs, and angular haircuts downstairs. Scores of fashionable 20-somethings flit to and fro with hard-backed books, re-adjusting giant portraits and chasing Brussells sprouts across the floor. "He was doing a vegetable-based shoot today," the PR informs me, as we slip past a table festooned with edible greenery and slide into Nathan Barley territory. The test shoot, it later turns out, was for the World Wildlife Fund.
"We've got to think of a new name for the pie," an assistant ponders later on. The team are frantically preparing for the launch party of the latest edition of Hunger magazine – a 20-cover extravaganza celebrating creative talent in the UK. As it turns out, the pie – a deliberately ironic catering choice for the fashion crowd - bares the same name as a certain supermodel guest who has RSVPd. "She's very close to Rankin," they add. "We wouldn't want her to be offended."
Other big names expected include the cover stars – a various collection of Britain's biggest cultural exports. Like Damian Lewis and Jake Bugg. Nicholas Hoult is eagerly anticipated, as is Jamie Campbell Bower and Imogen Poots, to name a few.
Back in his office, Rankin tells me: "We've called the issue Mighty Blighty and we've called it that with a firm tongue in our cheek. I didn't want it to be like, you know, 'Cool Brits' or 'Brit Cool' or 'The Brits Are Back'.
"I guess that's been done a lot. I think the 90s was the last time you could create something like that, and it's all far too post-modern now."
Rather, points out the man who founded 90s fashion movement Dazed & Confused with Jefferson Hack, it's about seeing creative talent – in an era of economic disparity – as one of Britain's most sellable commodities.
Not because we're edgier or cooler or better, though. Our artists are a product. They are astute businessmen and women, who are outdoing their peers across the pond through sheer professionalism, as much as through performance. And whose publicists aren't nearly as much of a pain in the arse.
"I tried to do some stuff with American publicists, who I've got quite a good relationship with, and they played such silly games, you know," he tells me.
"I was like, 'Actually, f**k off. We've got so many great British people. I'm going to push them.
"I've got a fantastic quote from a German director, Roland Emmerich," he continues. "I said to him, 'What is the difference between an American actor and a British actor?' And he said, 'Well, the difference is that you meet the British actor at the beginning, they talk about the part, they think about it, they bring lots of ideas, they discuss it with you, they get on set and they do exactly what they said they were gonna do. The American actors, they take the part, they don't have a meeting with you, they don't think about it, they come on set and then they start asking questions. That's the difference.'"
But Rankin is careful to contextualize his own controversies. He loves American stars, he says. He'd shoot Beyoncé in a heartbeat. As one of Britain's biggest creative exports himself, it seems the Glaswegian-born artist possesses many of the same strengths of his fellow islanders. And one of those is versatility, a feat he's mastered in his own transition from still to moving image.
On the one hand, he's in the director's chair of a controversial music video that sees a 21-year-old Miley Cyrus simulate masturbation as she writhes around in her underwear between two crisp, white sheets - Adore You.
"Everyone is so negative about Miley Cyrus," he says. "And I think Miley is super fucking clever. And I was really similar. I thought, 'That's not cool'. But there's no puppet master behind her. She's the puppet master. And yeah, maybe she is a bit like Woody Allen's supposed son says, you know, she's like a living and breathing instant message. But she would take the piss out of herself for that. She's 21, and that's what young people do.
"It's always older people as well, isn't it?" he says of her objectors. "It's always like, people like, Sinead O'Connor and Annie Lennox, and they go, 'Oh, that's horrible' That's because you've grown old! No-one the age of 18 or 19 is looking at that going, 'That's disgusting'. They are looking at that going, 'F**king who cares? You care about that? What are you, a sad old f**k?' So you've got to check yourself out, because maybe you're a sad old f**k."
On the other hand, he takes a candid, haggard black and white portrait of Tony Blair that is perhaps the most honest glimpse behind the mask of the former British Prime Minister that we're ever likely to see.
"I find it hard to talk about that photograph," he says. "Because it was a gift. As a photographer, you learn to run with the gift. He was late and he was tired and he was obviously really busy and he was, you know, in the middle of a war. And when you get someone like that, you can kind of do two things. You can try and persuade them to give you something and try and charm them into doing something interesting, or you can not doing anything and just take the picture."
Politicians are, he says, among the hardest to people to photograph.
"Horrible. There's nothing there. What they do is they have a face. There's something there when you're talking to them, but as soon as you pull the camera out, they have a face. A photographic face, they've obviously practiced it in the mirror."
From Blair we easily travel to the morally bankrupt world of mass murderers and dictators. So far, the Rankin portfolio is all about range and depth and rich variety. But is there anyone he wouldn't photograph for ethical reasons? Now, I'm thinking Mugabe or Jong-Un. The first person that springs to his mind, however, is Jay Kay from Jamiroquai.
"I hated that band in the 90s. And I really, really didn't like that guy. It was a visual thing, I just found him irritating… And I made myself shoot him and he was one of my favourite people I've ever shot. And I don't know if that's my expectation of him, but I just think you should never judge people on how you perceive them to be in magazines or in newspapers or on the TV. I call it my empirical kind of conscience.
"But what about questionable politicians," I ask, steering him in a Putin-wards direction.
"I would shoot him because that's my job," he replies. "There's a great photograph that Platon took of him where he looks like a fucking nasty piece of work, and I wish I'd taken that photo."
"Kim Jong-Un?"
"I would shoot him, yeah. It's just that fascination of being able to go there and see it all and, you know, things that no-one sees."
We talk about blood diamonds. About accepting money from the wrong people. Of aligning yourself with the wrong brands.
"You can't move through life without having connections with certain brands and certain things," he says, honestly. "You've got to suck it up a little bit and realise that the world is a horrible place, and in it, you have to try and do good things and live in a bit of a moral code, and sometimes bad things are going to happen. It's like I wouldn't do cigarette advertising now, but in the past I've done it."
But he wouldn't, he clarifies, take any payment from Jong-Un.
"If he phoned me up and said, 'Yeah I'm going to pay you to come across,' you'd do it, but you'd do it with that reserve. With that political self motivation of, 'Yeah, I'll do that, and then I'll fuck you up, dude, if I don't like you'.
"I'd photograph anyone if I thought it was going to be interesting to me and for the people who would be looking at my photograph," he continues. "I wouldn't ever shy away from that. But there's certain brands that I don't want to do, because morally…"
"What sort of brands?" I question. "Would you ever do a Scarlett Johansson and SodaStream, for example?"
The actress, it emerged recently, had decided to continue her contract with the Israeli brand, and ditch her role as a global ambassador of Oxfam. Oxfam had written to Johansson to express their concern for her relationship with the company, who had an operations factory on the illegally occupied West Bank. Rankin, himself, has not only shot Scarlett several times, but he's also shot some of Oxfam's most striking visual campaigns.
"I've got a lot of time for her, but I've got a very negative view on SodaStream. I asked, actually, Oxfam if I could go to Palestine because I'm interested in what happens in Palestine. I'm fascinated from a humanitarian perspective, I'm interested in why two religions can't find some common ground.
"The thing is, I think the reason that she's not backed down is because, in America the Jewish zealots are so powerful. Especially in the entertainment industry, what they could do to her career.
"I've worked the best people in Oxfam and I've worked with the worst people in Oxfam," he continues, contemplating what he'd do if they'd have released a statement on him without his prior knowledge. "And I've worked with people in Oxfam who've had to send me letters of apology because of the way they've treated me. You have to understand that just because someone works at Oxfam does not make them an angel, it does not make them perfect. And I'm a massive fan. I would be an ambassador for Oxfam if I didn't drive a Range Rover. I'm a big supporter and what they do.
"But the main thing in all this for me is that kind of extreme Judaism. That extreme belief that this is their homeland and those people are worthless to them. That's very powerful in America. They will blacklist you. They will blacklist you. It's worse than McCarthyism. You are pro-Palestinian? F**king forget it.
"People have said to me if you go to Palestine you will be put on a list and it doesn't matter if you're a humanitarian. You will be put on a list. And I'm not political. I'm not religious. I don't even believe in a god. I'm just about human beings."
But there is one person he finds more offensive than Putin and Jong-Un and SodaStream put together – and she's pulling audiences of 12million every weekday morning: Katie Hopkins.
"That's like one sixth of the entire population," he cries out, incredulously.
"Everyone's got a voice now and that's brilliant. Giving someone a voice doesn't mean that they are necessarily going to use it that wisely. That kind of narrowness of vision, it scares me."
But, he says, even she could make a potential Rankin subject.
"Oh, I'd photograph her. I'd photograph her, I would. But she offends me more."
I realise, on the point of Hopkinisation, that we've meandered dangerously off-piste. Another Rankin trademark, I've come to learn. So we talk about Damian Lewis.
"Oh God, he was so sexy and so good looking and so fit, you know," he gushes, recalling the first time he ever clapped eyes on the flamed-haired thesp at an awards show in London last year.
"He seemed very happy, if I'm honest," he continues. "Like I'm really happy at the moment. Really happy in my relationship, really happy in my work. I have no skeletons in my closet, nothing I want to hide from you, I don't feel I've done anything bad, I don't do drugs and, you know, go out partying any more so I'm not hiding anything. Damian was just like the guy that got the cream, so to speak. Which was really annoying if you're not in that place."
But there's a fine line, I pose, between confidence and arrogance. Certainly, one could deduce from the interview with Lewis, in which he describes himself as a 'natural schoolboy' who was good at everything, and a modern-day 'star', that he could come across a touch imperious.
"I don't know if I'm equipped to answer it in relation to Damian, but in relation to myself, you know, I've been arrogant, and I'm now confident.
"I think also there was probably an insecurity in me then. And my insecurity was probably coming from not really feeling like I fitted in. I never felt like I was part of the cool crowd or the uncool crowd. I didn't smoke. I never felt like I wore the right clothes.
"It's also about the way you treat people," he continues. "I've treated people really badly in my life. Those certain assistants and relationships, like personal girlfriends that I've had… I regret having done that, but that's growing up for you and making mistakes. At the beginning, we have to make them. You can't not make mistakes. No-one's going to live a perfect life."
The Mighty Blighty issue of Hunger magazine is out across the UK on 20 February 2014
Register for free to continue reading
Registration is a free and easy way to support our truly independent journalism
By registering, you will also enjoy limited access to Premium articles, exclusive newsletters, commenting, and virtual events with our leading journalists
Already have an account? sign in
Register for free to continue reading
Registration is a free and easy way to support our truly independent journalism
By registering, you will also enjoy limited access to Premium articles, exclusive newsletters, commenting, and virtual events with our leading journalists
Already have an account? sign in
Join our new commenting forum
Join thought-provoking conversations, follow other Independent readers and see their replies