Sam Warburton: 'I can't believe I sat next to Clerc on the flight home'
Wales captain explains chance encounter with France wing who earned him semi-final red card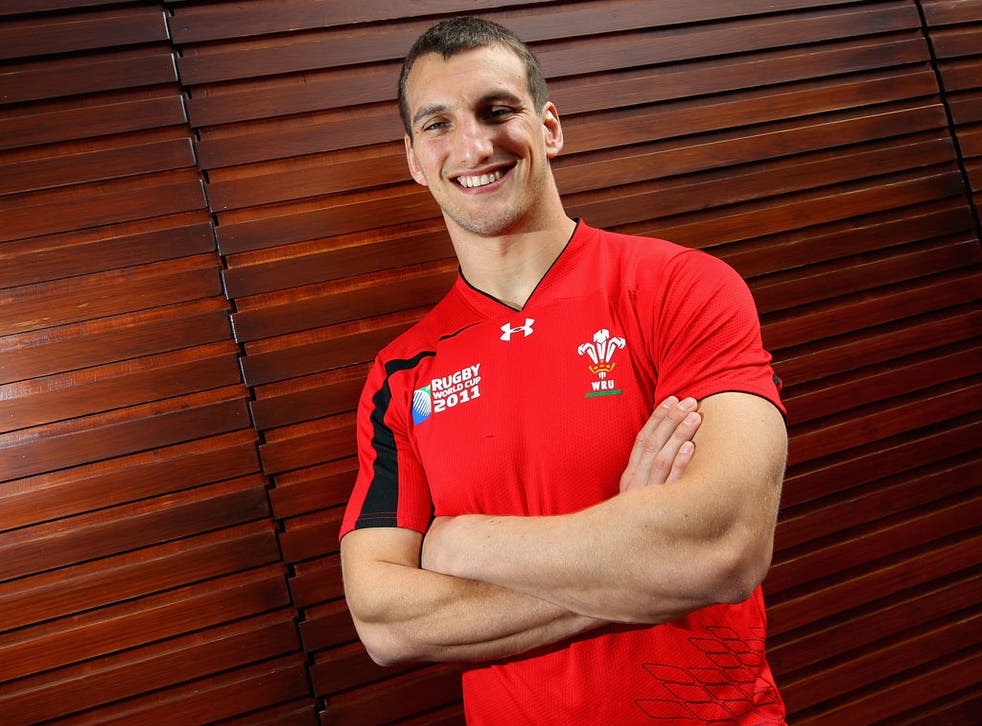 There are awkward moments and then there is being forced to sit next to the man involved in the darkest moment of your career.
Sam Warburton had already suffered the ignominy of becoming the first Wales player to be sent off at a World Cup in 24 years – in the semi-final no less – and a subsequent three-week suspension.
That was before a remarkable twist of fate forced the Wales captain to sit next to France wing Vincent Clerc, the man he was found guilty of tip-tackling, on the journey home.
Both must have feared the three-hour flight from Auckland to Brisbane would feel like an eternity, but after a wry smile and a joke, they were just two rugby players sharing a yarn.
"It was unbelievable. There must have been 10 flights out of Auckland that day but not only was I on the same plane as the French boys, but I was next to him," recalled Warburton, who stayed in New Zealand for the IRB Awards dinner following the World Cup final.
"I was one of the last on to the plane and as I threw my bag into the over-head locker some of the French lads were sniggering because they could see what was happening.
"Vincent and I just looked at each other for a second and I thought, 'This could be really awkward'. But we shook hands and he asked me for a massage, which really broke the ice. That was the only time we mentioned the tackle. We just chatted about stuff in general, he's a good guy."
It was the first step towards redemption for the 23-year-old who has taken his punishment on the chin and even defended the third protagonist in what was to be the defining moment of Wales' enthralling – but ultimately heartbreaking – campaign. Players, pundits and Wales coach Warren Gatland clamoured to criticise match official Alain Rolland for issuing the marching orders just 18 minutes into a World Cup semi-final, but Warburton gracefully acceded to the decision.
"It won't be an issue the next time Alain Rolland referees a game that I'm involved in. It can't be at this level," he said. "It was not a personal thing from Alain against me, he was just doing his job. I've seen him give red cards for spear tackles so I should have known.
"If you pick someone up and drop them then it's a sending-off. But if I'm being honest I had never thought about the spear tackle rules. I didn't really know what they were because I never thought I would be in that situation.
"Had I known then I obviously wouldn't have let him [Clerc] go. I didn't do that because I thought it would have looked even uglier and he could have landed on his head. But when I looked at the rule book and went to the hearing, I realised it was a red-card offence and I couldn't complain."
He added: "I was so surprised it happened because I wasn't nervous or too pumped up for the game. Afterwards I sat in my hotel room telling myself there was nothing that could be done about it but realising my World Cup was over. It was like suffering an injury, one minute you're there and in a split second it's all over.
"I trained with the boys because I wanted to stay involved and I thought sitting in the stands would be the worst thing to do. Carrying on as normal really helped me deal with it all but I didn't chip in too much because I didn't want to steal the thunder from Gethin [Jenkins] who took over as captain."
And he feared a public backlash like those that have stung David Beckham and Wayne Rooney after suffering similar red-card shame. "Thankfully I haven't had any hassle since I came home. People have congratulated me on how well Wales played."
Ospreys ban spray tans and flashy boots
In a sport renowned for broken noses and cauliflower ears, one club is taking a stand against the accessories of image-conscious players. The Ospreys have imposed a ban on spray tans and only those who have played 50 matches for the Welsh club or 15 times for their country are allowed to wear boots coloured anything other than traditional black.
The new rules come after the departures of Gavin Henson and James Hook, two high-profile (and fashion-conscious) players. Coach Sean Holley said: "We've banned the tan – it's real tan only... We want to represent our region properly. We don't want to be false or misrepresented."
Join our new commenting forum
Join thought-provoking conversations, follow other Independent readers and see their replies