Simon Pegg profile: Everyone's favourite lad
Nobody's idea of a Hollywood leading man, he nonetheless has the film world in his thrall
John Walsh
Friday 12 July 2013 22:06 Comments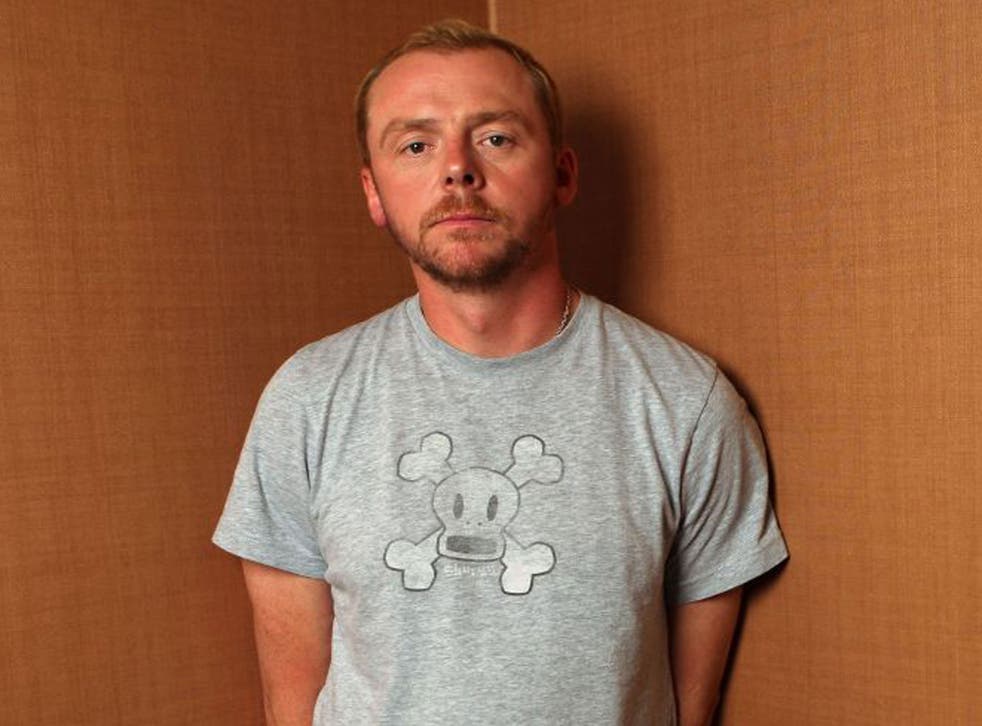 This week, The World's End had its world premiere in Leicester Square. It stars Simon Pegg, Nick Frost, Paddy Considine, Rosamund Pike, Eddie Marsan and Martin Freeman and, after the showing, the cast and their director, Edgar Wright, retired to a quiet restaurant for beef Wellington and some fine claret, followed by amusing speeches and an early night.
Actually no, that's not strictly true. What they mostly did was pile into a party-time photo booth, three or four at a time, and take snaps of their gurning drunken faces, laughing fit to burst, before Pegg posted them on Twitter for the amusement of his 3,338,351 followers.
Mr Pegg is 43. Mr Frost is 41. Mr Wright is 39. Pulling silly faces in photo booths to amuse your pals is not how fortysomethings behave. It's how 19-year-olds behave, before the real world of seriousness and maturity smacks them round the head. But the secret of the trio's success is their gleeful arrested development.
Simon Pegg is, to be frank, nobody's idea of a Hollywood leading man. He has the face of a permanently surprised 12-year-old schoolboy. He has described himself as a "geek boy" about Star Wars and SF movies and comics. The background artwork on his Twitter feed shows him as a suave James Bond, being photo-bombed by a robot with "TWAT" written across its chest. But this dedicated adolescent has become a darling of the Hollywood A-list, and an indisputably big player on the transatlantic movie scene.
Quentin Tarantino is a fan, and a dinner companion. Tom Cruise is a fan and friend. David Schwimmer – Ross in Friends – has directed him in two movies so far. When Shaun of the Dead was premiered in Austin, Texas, the director Robert Rodriguez, of the blood-drenched Mariachi trilogy, led a standing ovation – and George A Romero, who directed the original Dawn of the Dead, was impressed enough to ask Pegg and Frost to make cameo appearances in his forthcoming Land of the Dead. Pegg and his wife Maureen are best friends with Chris Martin and Gwyneth Paltrow; he is godfather to Apple Martin; Chris and Gwyneth are godparents to three-year-old Matilda Pegg. In interviews, Pegg bats away any attempts to make him discuss his celebrity acquaintance.
Some commentators have tried to accuse him of "selling out" to Hollywood. But here he is making a film about a reunion, that reunites the cast and crew from the two earlier movies. And he tends to invite a slew of British character actors to appear in his movies, just as he himself has appeared in so many British film and TV comedies of the past decade: Band of Brothers, Brass Eye Special, Black Books, I'm Alan Partridge, The Parole Officer, Guest House Paradiso. Pegg seems to be friends with everyone in the film business. And everyone seems to want to be in his gang.
Friendship is a big theme of his work. The four projects for which he, Wright and Frost are best known – Spaced, Shaun of the Dead, Hot Fuzz and The World's End – follow a similar trajectory: Pegg and Frost play emotionally dyslexic best friends, their relationship stuck in joyous teenage frivolity, who find the apparently calm and herbivorous world of Home Counties England has become a weird and threatening place. The pair enjoy drinking, farting and singing, gags, japes and piss-taking, until they realise they're in mortal danger and must stand and fight.
The plot of The World's End is typical: Pegg plays Gary King, a former Jack the lad who persuades four male buddies to re-create a 12-pub pub crawl from their sixth-form days. He takes them back to their home town but a) things have changed between the sociopathic Gary and his bourgeois pals, and b) the town has been taken over by lethal alien robots.
The film is the last in the Three Flavours Cornetto Trilogy – so-called, according to Empire magazine, because the Nick Frost character in Shaun of the Dead asks Pegg to buy him a Cornetto from the local shop as a hangover cure; it got a big audience laugh in previews, and Wall's provided free ice cream at the launch. So Pegg put another Cornetto into Hot Fuzz – and suddenly they were making a variant of Krzysztof Kieslowski's Three Colours trilogy, only with zombies, aliens and laddish bromance.
Pegg's vision of rural England may derive from his childhood in Gloucestershire. He was born Simon John Beckingham in 1970, in the village of Brockworth, known for its annual ritual of cheese-rolling. His father John Henry sold keyboards by day and played jazz professionally by night. His mother Gillian was a civil servant and am-dram queen. The young Simon looked on and was impressed. "I grew up around a really passionate group of people who were doing theatre for nothing, doing it simply for the sake of doing it," he said later. "And that's where I got my love of it from."
His parents divorced when he was seven. After a peripatetic education, he studied English literature and theatre at Stratford-upon-Avon College, and drama at Bristol University. At the latter, he turned his nerdish obsession with Star Wars to good effect: his undergraduate thesis was titled "A Marxist overview of popular 1970s cinema and hegemonic discourses". And he made some valuable contacts. He met the Little Britain comedian and actor David Walliams, and set up a comedy club with him. He acted in Howard Barker's Victory with a fellow drama student and playwright called Sarah Kane, who later wrote Blasted and Cleansed, and killed herself at 28.
Pegg's twenties were spent doing TV acting jobs for mostly forgotten shows. One, shown on the Paramount Comedy Channel in 1996, was Asylum, a "surreal black comedy" about characters trapped in a lunatic asylum in the English countryside. It was co-written by Walliams and Edgar Wright (who directed) and co-starred Jessica Stevenson. Everyone's lives were changed by that short-lived six-part series.
Pegg co-wrote the sitcom Spaced with Stevenson, and Wright came aboard to direct it. It was a cult hit, about a pair of directionless Londoner flat-hunters who pretend to be a professional couple to rent a cheap flat in Tufnell Park. It was quirky and stoned, full of fantasy sequences and allusions to horror movies. And it featured Nick Frost, whom Pegg met in the glamorous environs of Chiquito Mexican restaurant in north London. Frost was working as a waiter. They forged an instant rapport. "I just thought he was the funniest person I knew," says Pegg. "I worked in comedy and I didn't think those people were as funny as him, so when I came to write Spaced, I wrote a part for him." The combination worked.
And lo, Pegg, Frost and Wright came to make Shaun of the Dead in 2004. After it, the story goes, a journalist asked Simon Pegg if he planned to leave the British film industry and fall into the arms of Hollywood. No way, said Pegg. "It's not like I'm going to run off and do Mission: Impossible III!" And guess what? That's exactly what he did, playing Benji Dunn, a techno-geek who helps Tom Cruise's Ethan Hunt.
A love affair with Hollywood followed. He was signed up by David Schwimmer, who directed him in Big Nothing and Run, Fatboy, Run. He was called back by the Mission: Impossible producers to play Benji in a more active role in MI: Ghost Protocol. He crowned years of science-fiction connoisseurship by appearing in the 13th Star Trek movie, playing the chronically importuned Scotty. He and Frost voiced the identical Thompson twins in Spielberg's stop-animation film The Adventures of Tintin. In the same year, they co-starred in Paul as two SF nerds travelling to a comic-book convention and encountering an alien en route.
Pegg's immediate future holds the promise of more serious work: in A Fantastic Fear of Everything he plays a writer going slowly mad from paranoia. But as British audiences flock to The World's End, he remains the nation's favourite embodiment of cheery, beer-drinking, middle-aged British lad, a debased and chronically nervous Peter Pan with whom thousands of perfectly sensible people can identify.
Register for free to continue reading
Registration is a free and easy way to support our truly independent journalism
By registering, you will also enjoy limited access to Premium articles, exclusive newsletters, commenting, and virtual events with our leading journalists
Already have an account? sign in
Join our new commenting forum
Join thought-provoking conversations, follow other Independent readers and see their replies