Sir Chris Woodhead interview: Former head of Osted and scourge of the teaching profession on academies, Michael Gove and motor neurone disease - 'For those who thought that I was finished – I've got news for you'
The trailblazing and divisive former Ofsted head, Sir Chris Woodhead, tells Richard Garner of his plans for a new academcy chain, why Cameron was wrong to get rid of Gove and how motor neurone disease has made him refocus on education and life
Richard Garner
Sunday 07 September 2014 20:06 Comments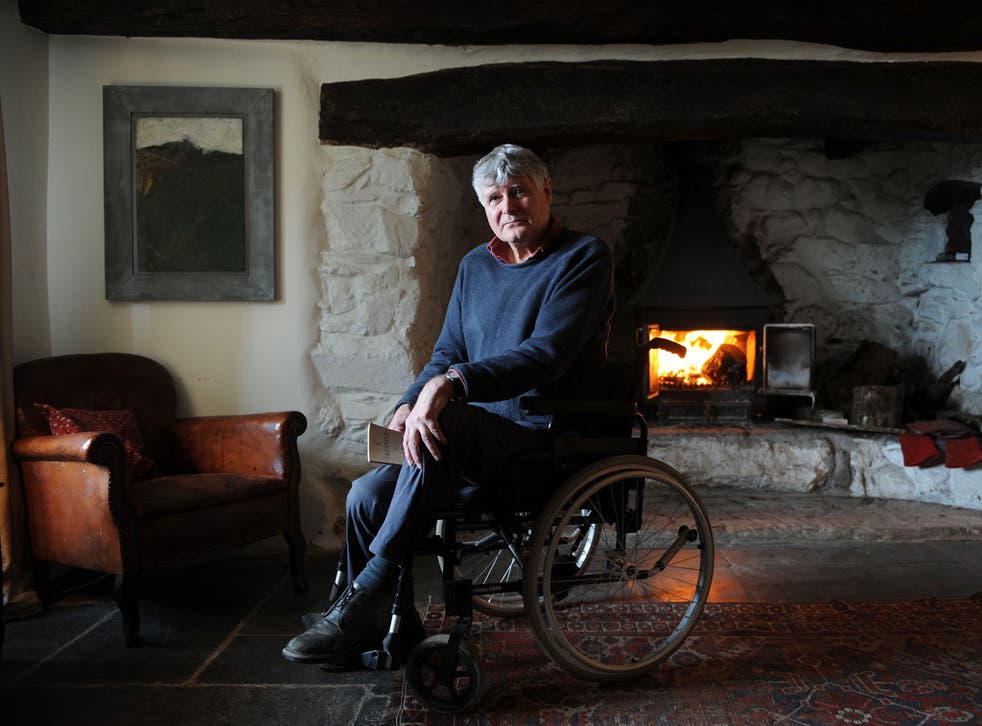 A wry smile forms on former Chief Schools Inspector Sir Chris Woodhead's lips as he contemplates one of the lesser-known consequences of his illness.
"For my opponents who thought when they heard I had got motor neurone disease, 'ah, well, that's the end of him, then' I've got news for them," he says, "they're wrong. In fact, it's made me concentrate more on it. I had been planning to do things like gardening and climbing but obviously I can't now."
As head of the education standards watchdog Ofsted in its early years, Woodhead gained a reputation as the controversial scourge of the teaching profession – concentrating on the need to weed out an estimated 15,000 incompetent teachers from the profession.
Now he is now a quadraplegic who relies on his wife, Christine, to care for him and feed him. But although motor neurone disease is almost always a terminal illness, he says his condition has not worsened for some time – and he is as sharp as ever, and passionate about trying to reform and improve the education profession.
For a while after leaving Ofsted, 14 years ago, he devoted much of his energies to chairing the Cognito group of independent schools – offering a cut-price private education to those parents who could not afford the likes of Eton and Harrow.
For health reasons he had to give up the overarching role, but was persuaded to keep his hand in as chairman of governors at the South Bank International School – only to be engulfed in a scandal over a paedophile teacher who had been employed by the school, and having to deal with worried parents fearful that their children may have fallen prey to him.
"I'm still dealing with the aftermath of that," he says, "and generally hopefully the business of improving the school. I do keep in touch [with the company] and still am involved."
Then there is the University of Buckingham's School of Education, which he founded about five years ago. Although he has relinquished the reins of power, he is still involved with an educational leadership programme being pioneered by the private university.
He is also a consummate blogger (although he readily agrees his history is not one of being in the forefront of new technology) and answers the questions of all and sundry about education for a Sunday newspaper. "I do one blog a week," he says. "It's a bit of a chore but more often than not I find something interesting to write about."
What is exciting him now, though, is the prospect of becoming an academy sponsor and founding a new academy chain.
He already has a failing school in Cumbria in his sights as a possible contender to be sponsored. He has hand-picked a successful head who has previously turned round two failing schools, if he can get the Department for Education to allow his group – named Ithaka, after the home of Odysseus in Homer's The Odyssey – to sponsor it.
Reflecting on the name he has chosen, he says: "I didn't want to call it the Happiness Foundation or anything like that." That would have been banal, he says, in a reflection which could be interpreted as a sideswipe at Wellington College headteacher Dr Anthony Seldon's moves to make happiness a central part of his curriculum. He is not a fan of such initiatives.
If the sponsorship of the Cumbrian school is successful, he anticipates an academy chain will ultimately emerge from the work. But he is adamant he will "progress slowly" on that – ensuring he avoids the pitfalls of some of the biggest academy chains such as AET (Academies Enterprise Trust) and E-Act which have drawn criticism from his successor Sir Michael Wilshaw for failing too many children as a result of expanding too fast. Woodhead agrees that "some have grown too big too quickly".
While he is full of praise for many of former Education Secretary Michael Gove's education reforms – sharing his traditionalist views of what makes for effective schooling – he does not believe they have yet taken their grip on schools.
"In general, I don't feel the world of education has moved that far since I resigned as head of Ofsted 14 years ago," he says. "There's still too much talk of Gove's 'Gradgrind' approach to education," he says, referring to the Dickensian schoolmaster whose mantra was that education should consist of "facts, facts and facts".
"There is nothing about Gove's approach that's Gradgrind. He is not just pouring facts into empty vessels." However, it is, he says, necessary to prepare the groundwork in a subject so a pupil can flourish and build on it later.
Woodhead admits to being "surprised" and "disappointed" at Gove's removal from his role in David Cameron's end-of-term Parliamentary reshuffle.
"I was very, very surprised because I thought if anybody was secure it was him because he had demonstrably achieved so much... It was more than any other cabinet minister, with the possible exception of Iain Duncan Smith.
"I was shocked. I think it was stupid in terms of laying down the requirements for the future of the education system because if Cameron or anyone else thinks Gove's reforms are going to be implemented simply because Gove decreed that they should be, they are very much mistaken.
"I thought it was very bad news for the changes and I thought it was very stupid to get rid of him. Lynton Crosby [Cameron's Australian political adviser] might have decreed that he go just before the election and Cameron may turn radical again if he wins the election, but I doubt it."
Under Gove's reforms, changes to the GCSE and A-level examination system – moving from a modular approach to a "sudden death" end-of-course exam and strengthening the content of the syllabus to make questions more taxing – will take two or three years to bed in.
He questions the statement from Gove's successor, Nicky Morgan, that she would implement the reforms but be conciliatory – asking whether "conciliatory" means she would just be nice or would she ditch some of the reforms.
"I think it is very depressing," he says. "We're going to have a period up to the next election when Nicky Morgan does everything in her power to keep teachers happy. She is not going to advance the Gove agenda. I don't think she is going to keep her eye on the ball."
Woodhead does admit, however, to disagreeing with some parts of the Gove agenda – particularly the English Baccalaureate and the insistence that those pupils who do not get a C grade pass in maths and English at 16 should be forced to keep on taking exams in the subjects.
"If they're not able to write properly by the age of 16, they're not going to write like Shakespeare at 18," he says.
He would be in favour of former Education Secretary Lord (Kenneth) Baker's initiative to open a network of University Technical Colleges focusing on vocational education provided he could be assured the vocational course were of a high enough standard. While he obviously spends some time keeping up with the education world, his condition has meant he has had to rely on DVDs for entertainment possibly more than he would like. He is a fan of Games of Thrones and Sons of Anarchy, the latter about a motorcycle gang in California.
"My condition hasn't got any worse over the last couple of years. I may get a little tireder now, though. It is eight years since I was diagnosed and I've always said that I feel that the quality of life is more important than the quantity of life.
"There is a point where you decide maybe you have had enough. I know that provokes anguished comments like 'you're encouraging people to feel they're a burden' but I actually think it's a measured response and the right thing to do.
"When the quality of life disappears, I think you almost have a duty to think of the burden upon your carer. I know Christine doesn't agree with me over this but it is not easy looking after me 24 hours a day.
"I'm still here and who knows how long I've got."
Still here, yes, and perhaps still with at least one more education initiative to get off the ground.
Register for free to continue reading
Registration is a free and easy way to support our truly independent journalism
By registering, you will also enjoy limited access to Premium articles, exclusive newsletters, commenting, and virtual events with our leading journalists
Already have an account? sign in
Join our new commenting forum
Join thought-provoking conversations, follow other Independent readers and see their replies