Terry Wogan: The broadcaster on Eurovision tipples, Michael Phelps's big feet, and being blanked by Madonna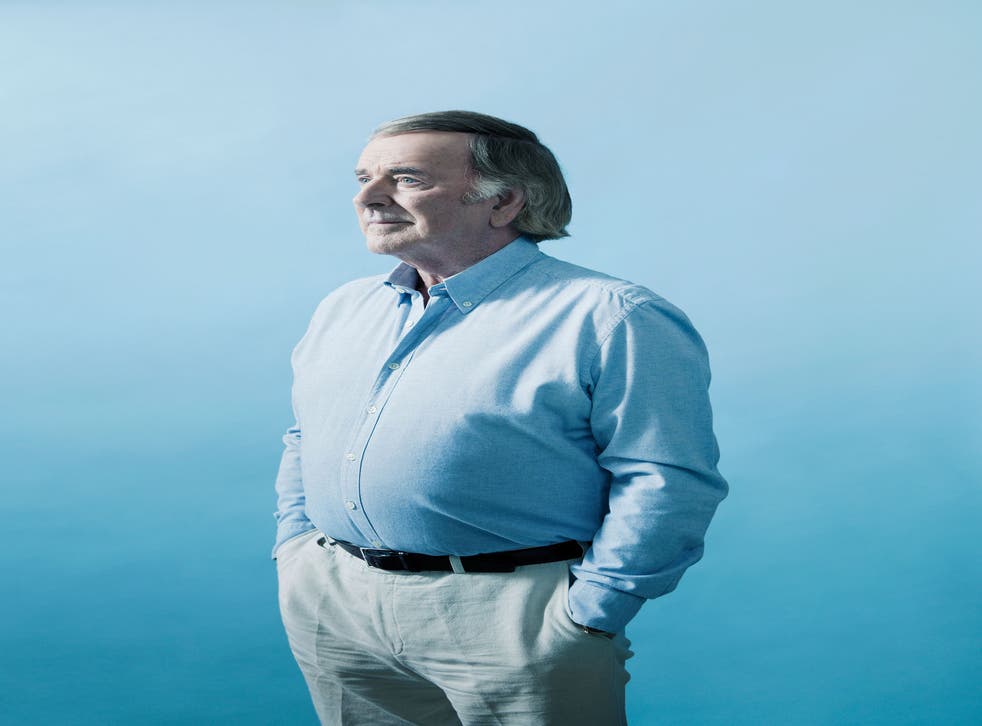 Who has been the worst behaved guest on Children in Need?
I tell you, a couple of years previous to Madonna's appearance on Children in Need, I went down to the South of France to interview her for Wogan, and it was fine, we did the interview and came back. Then she came on Children in Need and completely blanked me!
Do you have any favourite listener pen names from Wake Up to Wogan?
I was thinking of a few of them the other day. Tess Tickles was one of the very early ones, of course. Then there was Edna Cloud, Helen Back and Mick Sturbs. And then there was a man called Peacock, whose first name was Drew.
Ever used one as a pseudonym?
No. You see, one of those extraordinary illusions that people have is that if you have a famous name, you're able to get the best table at a restaurant. I try to disabuse people of this idea, because most of the receptionists in the expensive restaurants are foreigners, and they have no idea who you are. I'll say, "Hello, Terry Wogan here" and they say, "Oh, Terry Wogan, how you spell that?".
You must have cold callers recognising your voice?
Sometimes. But in the main, pretty much nobody's heard of me. I'm not one of the current crowd, you see, and you have to accept the fact that you eventually disappear.
You're still very much part of the landscape.
Still clinging to the wreckage! That's the great thing about this whole game – you don't have to retire. If I'd stayed in the bank, I could have been a retired bank manager for years.
Eurovision's a long evening. Did you rely on a tipple to help you through?
The traditional drink was Bailey's Irish Cream with ice, which was entirely in character with Eurovision, I think. In the early days I suppose we'd wait to have a little glass until maybe song 11. But as the years went by, the drinking got earlier and earlier...
Apparently, you held the record for the longest-ever televised golf putt?
Well, that is true. It was 33 yards if you want the gory detail. I know that because the great golfer Lee Trevino walked it out, and he has got very big feet. The thing is that some professional geezer, called Woods or something, he sunk a longer one. But I tend to ignore that.
Unfortunately you've also been beaten by another amateur. Michael Phelps hit a 50-yarder.
Well, so he says. But you see again, he's got huge feet! So if he marked them out, it's probably only 25.
What do you make of being labelled a national treasure?
Treasure is the kind of thing you dig up... or bury! And when people say "Oh, he's an icon", well an icon is a very old painting hanging in a Russian church! If you want to say something, say something nice about me. Don't call me a national treasure.
You were brought up religious; do you still believe in an afterlife?
Well, I have difficulties with stuff like that. When people have a miserable life, as most people did through the Middle Ages, and lots of people do now, I think it's easier to believe that there's going to be a better life ahead. Whereas, I can't think of a better life than I'm having here.
Biography
At one time th most listened-to radio broadcaster in Europe, SirMichael Terence Wogan, aged 76, was born in Limerick, and at the age of 18 took a job in a bank. He later became a household name with his chat show 'Wogan' and his Radio 2 breakfast show, as well as 'Eurovision'. On 14 November, he will once more be presenting 'Children in Need'; bbc.co.uk/Pudsey
Register for free to continue reading
Registration is a free and easy way to support our truly independent journalism
By registering, you will also enjoy limited access to Premium articles, exclusive newsletters, commenting, and virtual events with our leading journalists
Already have an account? sign in
Register for free to continue reading
Registration is a free and easy way to support our truly independent journalism
By registering, you will also enjoy limited access to Premium articles, exclusive newsletters, commenting, and virtual events with our leading journalists
Already have an account? sign in
Join our new commenting forum
Join thought-provoking conversations, follow other Independent readers and see their replies