Troy Deeney: From jail to Wembley in just nine months
Watford striker tells Jack Pitt-Brooke about the pain of doing time and how he aims to repay his club for giving him a second chance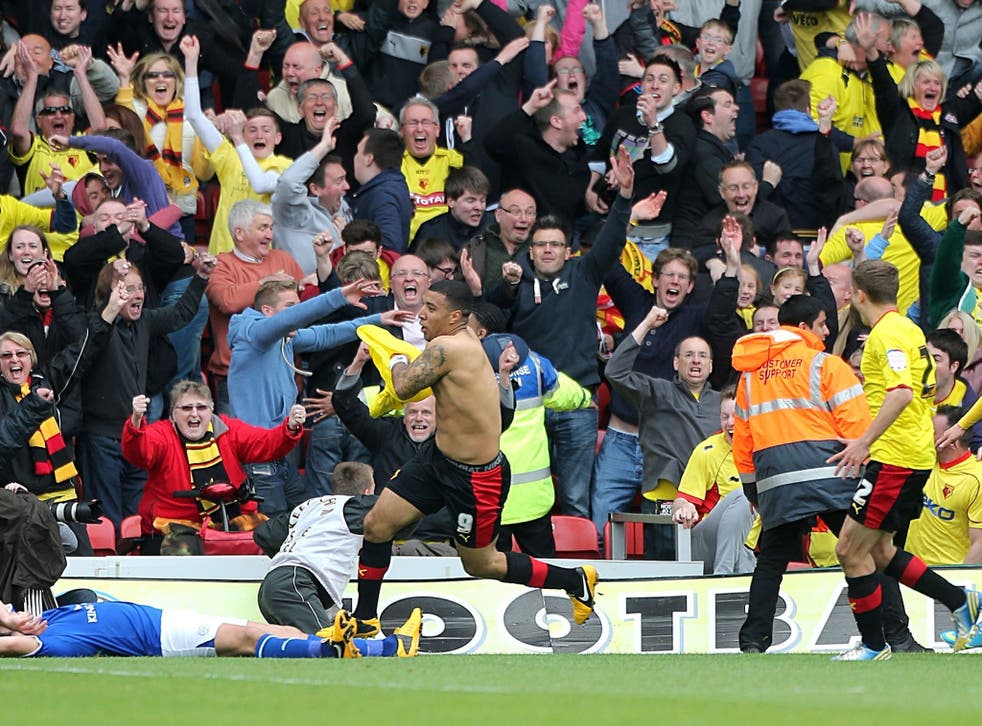 When Watford began their season against Crystal Palace, 52 games and nine months ago, in the Selhurst Park summer sun, Troy Deeney was in Warrington, in Thorn Cross Prison.
Deeney, who served just under three months of a 10-month sentence for affray, had to wait in his 6ft by 8ft cell for the late-night Football League Show to see how his team-mates got on. "We got locked up at half seven, so it was hard to try and keep yourself awake for the next four or five hours."
The prospect of watching Watford highlights "made the days pass a bit quicker", Deeney remembered, as he spoke with remarkable honesty about his past.
"I'd wake up at 7am and then go clean the landings for basically the whole day. You eat at 12.30pm for 40 minutes then go back to cleaning. You get dinner at 6pm and they give you your next day's breakfast in a pack at the same time. You've got to try not to eat it right then or you'll go a long time without eating again. But I didn't have a job for the first couple of days so I had to stay in my cell for 23 hours."
Eventually Deeney got a job cleaning the gym, which gave him the time to work on his fitness as he prepared to return to football. But the start of his sentence, at Winson Green, a Category B facility in Birmingham, was difficult, as it is meant to be.
"Oh s**t, this is cold," is how Deeney remembered his first reaction to his small shared cell. "I had one blanket – not even a blanket, a sheet. The bed was caved in. The first two days I was moping. Not crying or anything, but not nice to talk to."
Deeney's son, who turns four this week, did not go to see him. "My son never came, because he thinks I'm a king. He's not going to see me in somebody else's clothes, moping. It was a bit selfish of me, but I couldn't see him. I know I would have cried. I spoke to him every other day on the phone, I told him I was at football camp. I normally stay away for pre-season, so he understood."
This was a time for self-examination and Deeney was very open about how he reflected. "I just started writing. From the first day I started writing loads; I've still got the book at home. I filled out a whole binder in two and a half months. It was what I wanted to do, what I was thinking, letters to myself, letters to people who are not here. When I feel a bit s****y now I can just have a look through them and think, 'It's not too bad'."
Deeney was released in mid-September and was not expecting to be welcomed straight back at Watford. "I never thought I would be. To be honest I was quite lucky to get the opportunity to come back. I knew I'd be playing football, but thought I might have to go to League Two or something like that, get a season under my belt, score goals and win some trust back and build back up again."
Watford had moved quickly while Deeney was in prison over the summer. "Every time I phoned my agent he would say, 'They've changed manager', 'They've changed owner'. I'd read the papers and see they had signed another striker and another one. I was thinking I had no chance.
"I was quite nervous. Not in terms of my ability, but the fact that you can get a stereotype or a stigma attached to you, people thinking you must be rough. But I'm not. I was a bit worried the boss might not like me. But we had one conversation, he saw me get back working and do all the fitness tests and knew I was going to be part of his plans."
Ten days after his release Deeney played a friendly, three days after that he came off the bench against Bristol City. His main physical difficulty was losing muscle he had put on inside. In three weeks he lost nearly 10kg through focusing on cardio work. Twenty goals later, Deeney is playing the best football of his career.
The most recent, the most dramatic, and surely the most vital, of those goals was the injury-time strike against Leicester City that settled the play-off semi-final 3-2 on aggregate and took Watford into tomorrow's promotion decider against Crystal Palace at Wembley. He could scarcely have dreamed of such joy while detained at Her Majesty's pleasure.
"When I came out I thought it's about time I gave myself a kick up the arse, and really dedicated myself to being a better person. I have grown up massively. You have no choice but to. I nearly went broke, all the bills were still coming through and I wasn't getting paid."
The twin experiences of losing his father last year and imprisonment have left Deeney a far more mature person. He often goes to see his father's grave at Woodlands cemetery in Coleshill in Birmingham.
"I go if I am having too good a day, just to keep myself balanced. He has got one of my man-of-the-match awards on there. Every time I do something good it is for him and my grandad. I go and speak to them and have a little prayer before games."
Deeney, who will be taking 97 friends and family to Wembley tomorrow, including two of his old prison guards, is happy with how he has been changed.
"It was a blessing for me. My missus says that every day. We couldn't have foreseen how it was going to go but now, when you look back, it was probably the best thing that happened for me. I'm not going to say I'm thankful, but I'm glad that I got to see the opposite end of the scale."
No football match – not even one worth £120m – can mean as much as this story of rehabilitation, even if it would mark a remarkable end to Deeney's year. "It's football. There is much more to life. Fans don't think that way but there is much more to life.
"If I play at Wembley and play well I will be a hero, but I am still Troy, making mistakes and trying to learn and improve on a day-to-day basis, being a family man and a better footballer."
Final in numbers
2012 Watford's win last August was their only victory in the last eight meetings with Crystal Palace.
14 Goals in the past three Championship play-off finals.
11 Years since the final was last decided on penalties - Birmingham beating Norwich in 2002.
5 Times in last seven when the side who finished third have been promoted.
3 Palace have been promoted to the Premier League via the play-offs three previous times.
2006 Watford last won promotion to the Premier League seven years ago – also via the play-offs.
Join our new commenting forum
Join thought-provoking conversations, follow other Independent readers and see their replies