Pussy Riot meet Jon Snow for first UK television interview: 'The Cold War never ended'
Nadya Tolokonnikova and Maria Alekhina are on a week-long UK tour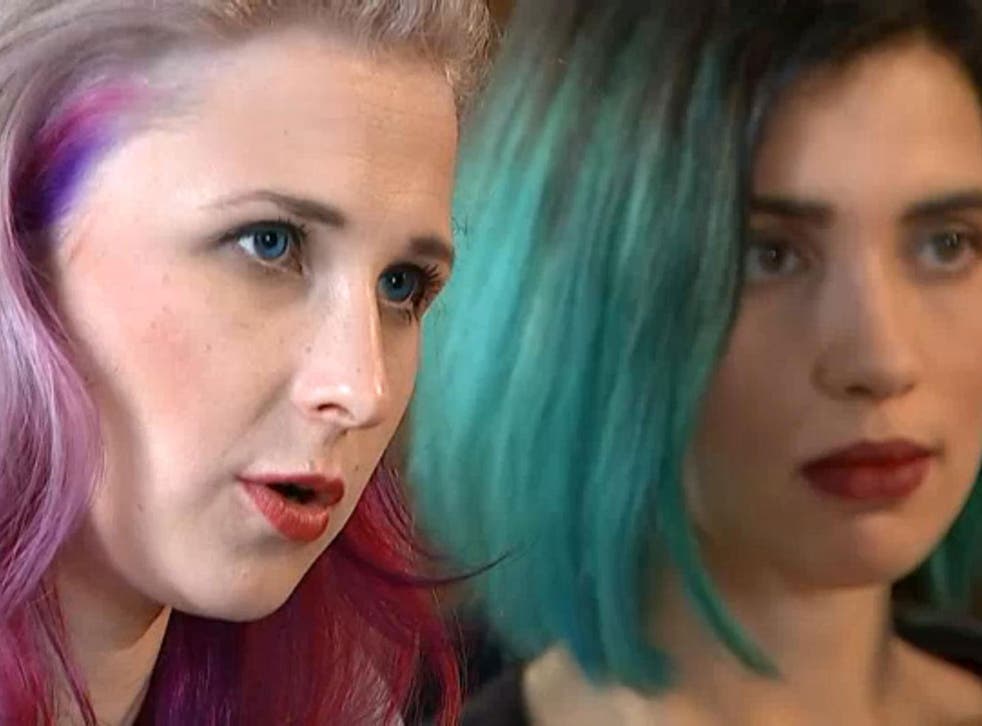 Pussy Riot members Nadezhda (Nadya) Tolokonnikova and Maria Alekhina have met Jon Snow for their first British television interview.
The activists were sentenced to two years in prison for a 40-second performance calling on the Virgin Mary to "kick [President Vladimir] Putin out" in Moscow's Christ the Saviour Cathedral in 2012.
They have also been repeatedly detained along with other members of Pussy Riot, who stage guerrilla punk performances in unauthorised locations, and beaten by guards at the Sochi Winter Olympics.
While the Russian President is in Australia for the G20 summit, his critics have come to the UK for a week-long tour, meeting MPs and speaking to the Cambridge Union.
Meeting Snow in central London, Tolokonnikova and Alekhina said they were both "damaged" by their 18-month imprisonment, which ended in December after drawing international condemnation.
Tolokonnikova said she was not beaten in jail but was left with scars from going on hunger strike.
"Everybody is damaged somehow or in some way," Alekhina said. "Prison is not so different probably as our regular life."
Watch the full Channel 4 News interview here.
The pair joked about their "kind of normal lives" under the watchful eye of Russia's Federal Security Service (FSB) and state censors.
Alekhina said her neighbour is coincidentally an FSB officer who she says "hello" to every day.
"We are always making jokes about them listening to our phones because the quality gets so bad," she added. "It can be funny if you want it to."
The Pussy Riot members said voicing criticism about President Putin was often easy, especially on Facebook and Twitter, but "problems" start when activists try and take action.
When asked about fears circulating of a new Cold War following accusations of Russian involvement in the Ukraine crisis, sanctions, military incursions and increasing diplomatic hostility between the Kremlin and the West, Tolokonnikova said the conflict did not end.
She told Channel 4 News: "I don't think it actually ended because...the people who are running the power in our country, they are from that Soviet age and they believe the Soviet myth that there is only one way of policy – American bloc and anti-American bloc."
Pussy Riot: Story in pictures

Show all 27
The pair has been vocal about their mistreatment and critical of Kremlin propaganda since launching a prison reform project in Russia, as well as a website called Mediazona. They have previously stated that their goal is to make prison administrations know that "they cannot just treat prisoners as they want with impunity".
Speaking to the Guardian during their visit to the UK, they said that during their incarceration they were treated like "animals put in custody for care".
Pussy Riot is set to sue the Russian government over their ordeal, having filed a case with the European Court of Human Rights.
Join our new commenting forum
Join thought-provoking conversations, follow other Independent readers and see their replies