The Pussy Riot prison diaries: Letter reveals horrors faced by punk-band protester at Russian penal colony
As Nadezhda Tolokonnikova goes on hunger strike, questions are being asked about the brutal conditions that she is having to endure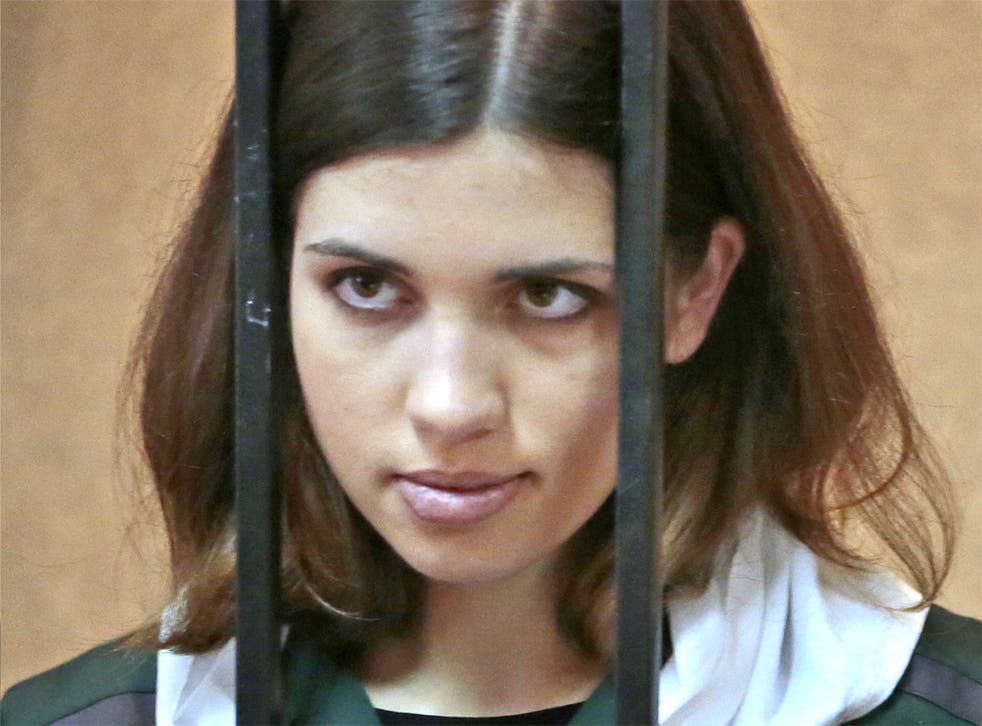 She has been forced to endure 17-hour working days, eat rotten food, and watch her fellow inmates made to perform humiliating punishments. These are just some of the conditions the Pussy Riot member Nadezhda Tolokonnikova claims to have endured in an open letter this week, which announced her decision to begin a hunger strike in protest against her treatment in a prison system that human-rights advocates say hasn't changed since the days of the Soviet Gulag. Today, she was placed in solitary confinement.
Tolokonnikova and fellow Pussy Riot punk-band members Maria Alyokhina and Yekaterina Samutsevich were sentenced to two years in prison for a 40-second performance calling on the Virgin Mary to "kick [Russian President Vladimir] Putin out" in Moscow's Christ the Saviour Cathedral in 2012. Samutsevich was released with a suspended sentence after an appeal, while Tolokonnikova and Alyokhina were sent to penal colonies in October. Their sentences, which critics have said are politically motivated, will be up in March 2014.
In her letter, Tolokonnikova demands that administrators stop violating human rights in her prison camp in Mordovia, where she works sewing police uniforms. She said the women sleep only four hours a night, and that prison officials use older inmates to mete out punishments, forcing prisoners to stand in the cold, not eat their own food or go without bathing.
"I refuse to participate in slave labor [sic] at the camp until the directors of the colony begin to follow the law and treat women inmates as people rather than cattle," she wrote.
Tolokonnikova also appealed to Russia's human-rights commissioner and to the Investigative Committee, asking the latter to open a criminal case against Yuri Kupriyanov, the deputy head of her prison colony, for threatening to have her killed. According to Tolokonnikova, fellow inmates also threatened her with violence, saying they had the sanction of the colony's directors.
The chairman of the Mordovian Public Supervisory Commission denied the claims of threats and a 17-plus-hour work day in the Russian government's official newspaper.
The Mordovia branch of the Investigative Committee announced that it will open an investigation into Tolokonnikova's claims that she was threatened. In addition, Maria Kannabikh, a member of the Public Chamber and the chairman of the Public Supervisory Commission on Places of Confinement, said she would travel to the camp this week to investigate the claims and meet with Tolokonnikova and the wardens.
Prison officials fired back, filing a complaint that Tolokonnikova and her supporters were seeking special privileges. According to the press service of the Mordovia penitentiary system, her husband, Pyotr Verzilov, and her lawyer, Irina Khrunova, said they would complain to the Investigative Committee that Mr Kupriyanov was threatening Tolokonnikova if he didn't assign her to work in an art studio instead of the sewing workshop.
Prison authorities said they had moved Tolokonnikova into solitary confinement for her own safety, the state news agency Interfax reported today. But Ms Khrunova told the newspaper Moskovsky Komsomolets the move would expose Tolokonnikova to retribution from prison officials.
Fellow Pussy Riot member Alyokhina went on an 11-day hunger strike in May, claiming that her penal colony in the Perm territory was cracking down on security to turn inmates against her before her parole hearing. She ended the strike after the crackdown was reportedly lifted. Both Tolokonnikova and Alyokhina were denied parole in July.
Tolokonnikova's letter received both praise and condemnation, again displaying the deep fissure between the conservative majority clamouring that the girls had violated a holy place and the liberal intelligentsia calling for leniency. Polling by the independent Levada-Centre showed that 27 per cent of respondents said they disliked the Pussy Riot members in August, up from 17 per cent the year before. The percentage of respondents who felt sympathy for them remained at 6 per cent.
A petition on Change.org calling for Tolokonnikova to be moved to another penal colony and assigned to different work had almost reached its goal of 25,000 signatures as of this afternoon.
The Pussy Riot trial was seen by many as part of a Kremlin crackdown on dissent that has since continued with the conviction of the opposition leader, Alexei Navalny, in a politicised trial in July, and the ongoing prosecution of people present at a Bolotnaya Square protest against Vladimir Putin's re-election in May 2012. Laws have been passed labelling non-governmental organisations that receive money from abroad as "foreign agents" and banning "homosexual propaganda" – a vague term for behaviour that is deemed to promote homosexuality.
The Russian Orthodox Church has served as a linchpin of this trend. On the same day that the State Duma passed the controversial "gay propaganda" law in June, it also approved a blasphemy law outlawing public actions that offend the "religious feelings of believers". Orthodox activists have beaten gay-rights activists at rallies and attempted to disrupt art exhibitions and performances, including a show by Pussy Riot supporters at a Moscow theatre in August 2012.
Publications such as the newspaper Vedomosti have supported Tolokonnikova's action, and Pavel Durov, the founder of the Russian social network VKontakte, called on users to spread the news of her letter. But many internet users echoed church officials in arguing that Tolokonnikova is getting her just deserts.
"When God punishes a person, he ends up in a very unenviable position, losing his health and sometimes even his life," archpriest Vsevolod Chaplin, the most prominent spokesman for the Russian Orthodox Church, wrote in a post on the website Ekho Moskvy decrying Tolokonnikova's refusal to confess her guilt.
However, deacon Andrei Kurayev, an Orthodox priest known for his independent position, wrote on his LiveJournal blog that the letter was not about Tolokonnikova's suffering, but about the degradation and "torment of thousands of women in prison".
According to statistics compiled by New York University professor Mark Galeotti, the mortality rate in Russian prisons and pre-trial detention centres is twice as high as in US prisons, and it has been rising. In 2012, 4,121 prisoners died in prison or pre-trial detention in Russia while the total number of inmates was about 731,000.
Olga Romanova, a journalist and the head of Rus Sidyaschaya, an organisation for wrongfully convicted prisoners, said that Tolokonnikova's account of prison conditions was true to life. She said the mortality rate has been increasing due to the cruelty of the guards, the prevalence of disease, and the deteriorating Soviet-built penal colonies. The infrastructure of the penitentiary system and the behaviour of the guards have remained unchanged since Gulag times, she added.
Register for free to continue reading
Registration is a free and easy way to support our truly independent journalism
By registering, you will also enjoy limited access to Premium articles, exclusive newsletters, commenting, and virtual events with our leading journalists
Already have an account? sign in
Register for free to continue reading
Registration is a free and easy way to support our truly independent journalism
By registering, you will also enjoy limited access to Premium articles, exclusive newsletters, commenting, and virtual events with our leading journalists
Already have an account? sign in
Join our new commenting forum
Join thought-provoking conversations, follow other Independent readers and see their replies