Pussy Riot: Russian prisoners are treated like animals in captivity
Members Nadezhda Tolokonnikova and Maria Alekhina are on their first week-long visit to London
Antonia Molloy
Friday 14 November 2014 10:41 Comments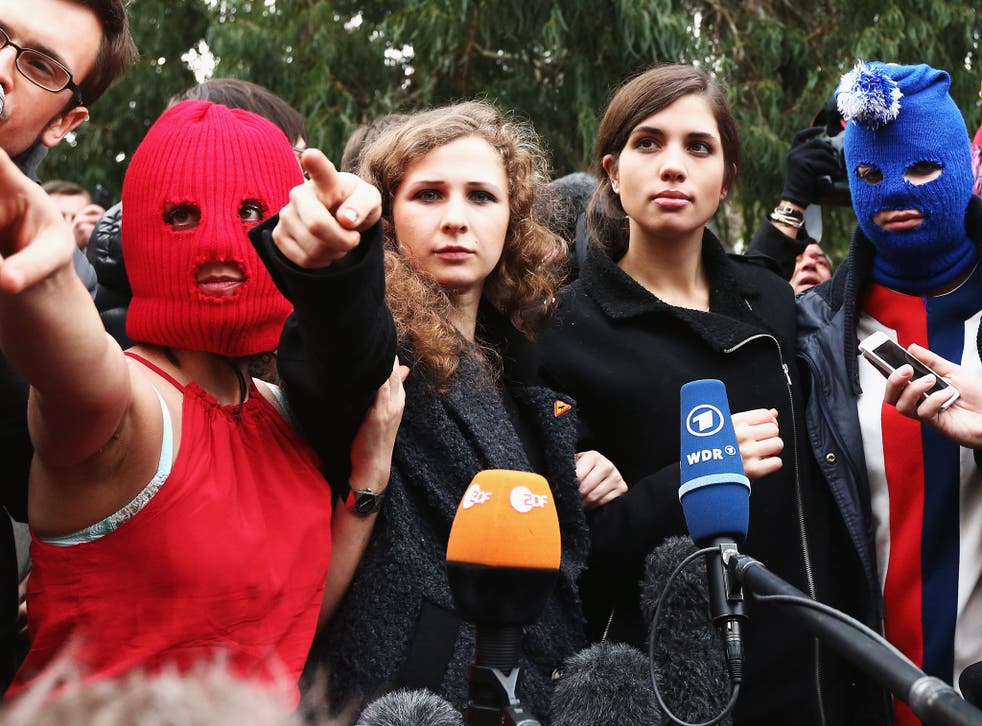 Pussy Riot has landed in London – and the anti-Putin punk activist group has plenty to say about Russia and, more specifically, the way in which they were treated in prison.
Members Nadezhda Tolokonnikova and Maria Alekhina, who were sentenced to two years in prison for a 40-second performance calling on the Virgin Mary to "kick [President Vladimir] Putin out" in Moscow's Christ the Saviour Cathedral in 2012, were released from jail in December after serving 18 months.
The pair has been vocal about their mistreatment and critical of Kremlin propaganda, since launching a prison reform project in Russia, as well as a website called Mediazona. They have previously stated that their goal is to make prison administrations know that "they cannot just treat prisoners as they want with impunity".
Speaking to the Guardian during their first week-long visit to the UK capital, they said that during their incarceration they were treated like "animals put in custody for care".
Pussy Riot is set to sue the Russian government over their ordeal, having filed a case at the European Court of Human Rights.
Pussy Riot: Story in pictures

Show all 27
Tolokonnikova and Alekhina said: "This is why they [warders] very casually beat people up. They don't have a sense that they [inmates] are human."
Alyokhina added: "We try and cover everything about prisons and the broader law-enforcement field. If you read Mediazona for a week you won't be able to say there are no political prisoners in Russia."
But they said it is increasingly difficult for people to penetrate the Kremlin propaganda machine.
"When all media and TV talks only about Putin it's very difficult for people to develop a sense that they can choose between various parties."
They added that they supported Western sanctions against Russia in light of the conflict with Ukraine and would like to meet Edward Snowden.
Tolokonnikova and Alekhina will tonight speak at a reception at Amnesty International. The event will see the Pussy Riot duo addressing Amnesty activists who campaigned for their release.
Their visit also incorporates visiting Parliament and speaking at the Cambridge Union.
Register for free to continue reading
Registration is a free and easy way to support our truly independent journalism
By registering, you will also enjoy limited access to Premium articles, exclusive newsletters, commenting, and virtual events with our leading journalists
Already have an account? sign in
Register for free to continue reading
Registration is a free and easy way to support our truly independent journalism
By registering, you will also enjoy limited access to Premium articles, exclusive newsletters, commenting, and virtual events with our leading journalists
Already have an account? sign in
Join our new commenting forum
Join thought-provoking conversations, follow other Independent readers and see their replies