Raif Badawi profile: How the freedom-of-speech blogger sentenced to 1000 lashes put the spotlight on Saudi Arabia
The editor was sentenced to 50 lashes for 20 weeks - all for starting a website. And his wife thinks he could now face the death sentence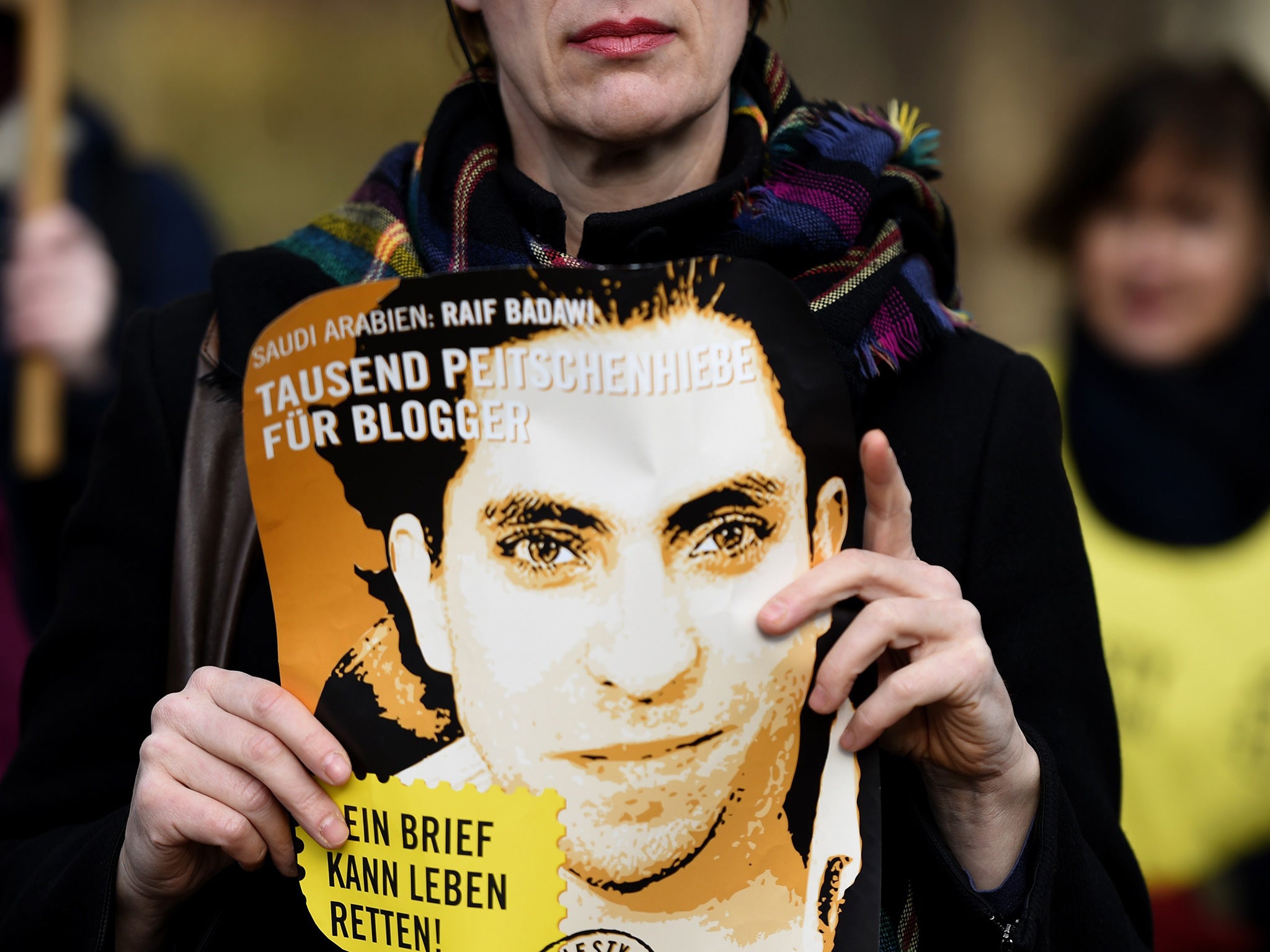 Raif Badawi was sentenced to 1,000 lashes and 10 years in prison in the wake of the Paris Charlie Hebdo killings, and the world has watched on in horror.
Here's everything you need to know about him.
He was convicted for insulting Islam
The 31-year-old Saudi Arabian writer and creator of secularist website Free Saudi Liberals was originally arrested for insulting Islam and showing disobedience in 2012, and was brought to court for several charges including apostasy. Badawi avoided the death penalty as a high court threw out the apostasy charge in 2013.
Could face beheading
However, his family say that they have learned of judicial attempts to have Badawi retried for apostasy, and that he could be beheaded for renouncing his religion. Human rights watchdogs have not yet been able to verify the claims.
He has 950 more lashes to endure
Badawi received his first set of lashes after Friday prayers on 9 January outside the Al-Juffali mosque in Jeddah. He was due to receive 50 lashes every Friday for the following 19 weeks, but the punishment was suspended on medical grounds. As Amnesty International put it, the punishment was "postponed - to let Raif heal enough to suffer again."
A team of eight doctors carried out tests on Badawi, and believe the wounds he suffered from the first set of lashes haven't healed sufficiently for him to go through the next 19 sets of lashes.
On top of the lashes and a 10-year jail term, Badawi has been ordered to pay a fine of 1million riyals (£175,000).
Badawi's father reportedly spoke out against him
Part of the punishment, which has been enforced at a time when the debate about Islam and freedom of speech continues to rage, was in part down to "parental disobedience". It is a crime to disobey your father in Saudi Arabia, and Badawi's father reportedly went on TV to renounce his son.
More pressure is needed, says his wife
His wife, Ensaf Haidar, who Raif married in 2002, has been the victim of anonymous threats. She said: "Two or three days after Raif's hearing, I started to receive phone calls from unknown people, saying 'we are going to kill your husband'. But I didn't respond to them."
Haidar has claimed political asylum in Montreal, Canada, along with their three children, Terad, Najwa and Miriam, but has been able to speak to her husband while he's in prison. "Raif told me he is in a lot of pain after his flogging, his health is poor," she told Amnesty International. "I told our children about the news last week so that they would not find out about it from friends at school. It is a huge shock for them. International pressure is crucial; I believe if we keep up the support it will eventually pay off."
Influence of new monarch
After the death of Saudi Arabia's King Abdullah in January, commentators wondered what, if any, impact the change of power would have on Badawi's case. King Salman ascended the throne promising continuity, but he's much more conservative than his predecessor, who pushed through some very limited reforms.
Royal pressure
On his state visit to visit the new Saudi king in early February, Prince Charles is believed to have raised Badawi's case. A source said that "the reaction from the king was not unfriendly". But as nothing's changed in the last month, campaigners have speculated that King Salman wasn't friendly to the idea of freeing Badawi either.
Saudi Arabia has not listened so far
Other international pressure hasn't had any effecteither. Canada, Germany, Norway and the United States have called for an end to the "brutal" sentence. State Department spokeswoman Jen Psaki said the US was "greatly concerned" by reports of the punishment.
Psaki said: "The United States government calls on Saudi authorities to cancel this brutal punishment and to review Badawi's case and sentence."
Badawi's writing is incredibly poignant
Until the website was shut down by Saudi Authorities, Free Saudi Liberals was a forum, as well as a place for Badawi to record his musings. In one post, he writes: "You have the right to express and think whatever you want as you have the right to declare what you think about it, it is your right to believe or think, have the right to love and to hate, from your right to be a liberal or Islamist."
In another post, Badawi used the Israeli occupation of Palestine as a springboard into looking at what he believed was the problematic idea of founding a nation on religion. He wrote: "What we need in the Arab and Islamic societies is more to uphold the value of the individual and uphold freedom and respect for his thinking... States which are based on a religious basis confine their people in the circle of faith and fear."
The timing of the flogging has linked it to Charlie Hebdo
The timing of the punishments has been criticised. At the Paris rally for the victims of the Charlie Hebdo massacre in January, one woman held a sign reading: "I am Raif Badawi, the Saudi journalist who was flogged" in an echo of the #JeSuisCharlie slogan.
In pictures: Charlie Hebdo demonstration, Paris
Show all 20
Amnesty has campaigned ferociously to release Badawi.
Philip Luther, Amnesty's Middle East and north Africa director said: "It is horrifying to think that such a vicious and cruel punishment should be imposed on someone who is guilty of nothing more than daring to create a public forum for discussion and peacefully exercising the right to freedom of expression."
This article was originally published on 15 January 2015. It was updated on 2 March 2015.
Join our commenting forum
Join thought-provoking conversations, follow other Independent readers and see their replies