Rene Laennec: 5 things you need to know about the inventor of the stethoscope
He coined the term melanoma, a type of skin cancer
Matt Payton
Wednesday 17 February 2016 09:29 Comments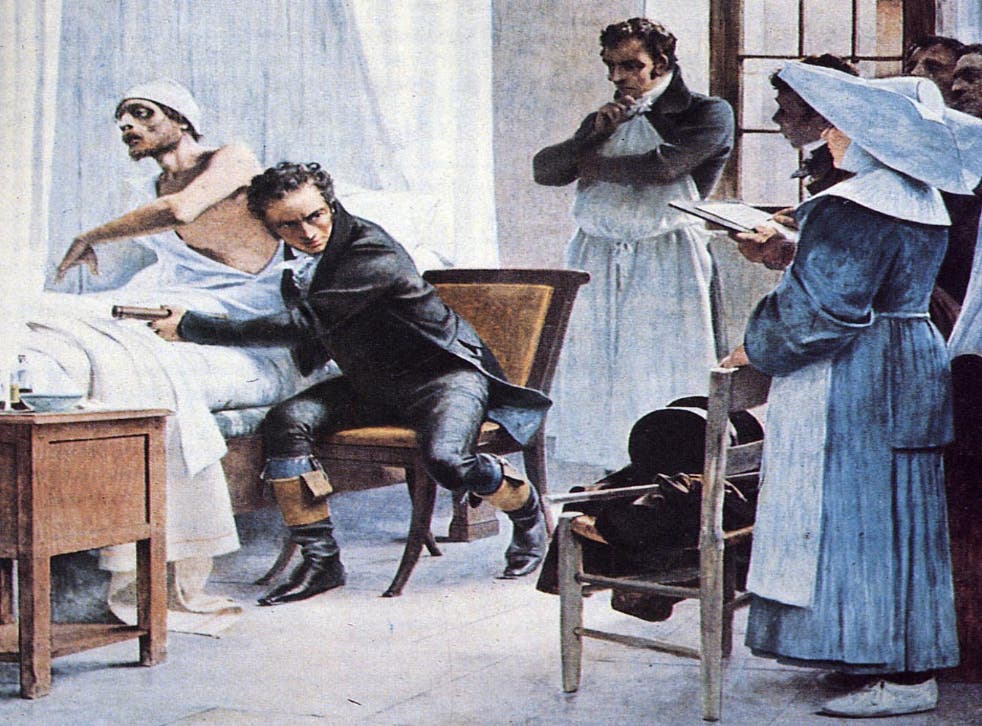 René Laennec, a French doctor and inventor was born 235 years ago today, and Google has marked his birthday with a Doodle.
Dr Laennec's importance to modern medicine was guaranteed by his invention of the very first stethoscope in 1816.
Here are five things you (probably) didn't know about him:
1. Dr Laennec's stethoscope bears little semblance to the modern stethoscope.
Unlike those used today, Dr Laennec's stethoscope was not a set of ear pieces connected by a plastic tube to a chest piece.
His stethoscopes were simple cylinders made from wood and metal.
The doctor using it would simply place it directly over the area in question and listen at the other end.
2. His first stethoscope was a rolled up piece of paper
Described in his 1819 treatise on this device, Dr Laennec invented the stethoscope while treating a young woman suffering from symptoms of heart disease.
Due her being overweight, he was unable to study the heartbeat using usual methods.
On listening through a rolled up piece of paper, however, he found the sound clearer and more distinct.
3. The stethoscope was not his only contribution to medical science
In addition to his study of chest diseases, Dr Laennec made significant strides in the understanding of peritonitis and cirrhosis.
He coined the term melanoma, a common type of skin cancer; and the mucus brought up by asthmatics is named "Laennec's pearls" in his honour.
The best Google Doodles

Show all 50
4. Dr Laennec's nephew used a stethoscope to diagnose Laennec himself with tuberculosis
Tuberculosis, a disease he had studied, was first diagnosed in his own body by his nephew Mériadec Laennec using the former Dr Laennec's stethoscope.
5. He has a flowery middle name
Dr Laennec's full name is as follows: René-Théophile-Hyacinthe Laennec.
Register for free to continue reading
Registration is a free and easy way to support our truly independent journalism
By registering, you will also enjoy limited access to Premium articles, exclusive newsletters, commenting, and virtual events with our leading journalists
Already have an account? sign in
Join our new commenting forum
Join thought-provoking conversations, follow other Independent readers and see their replies