Richard Ayoade uses promotional Channel 4 interview to take down promotional interviews
In possibly the most awkward interview in recent TV memory, Ayoade's series of deadpan answers leaves Guru-Murthy squirming with embarrassment
Jenn Selby
Thursday 23 October 2014 08:46 Comments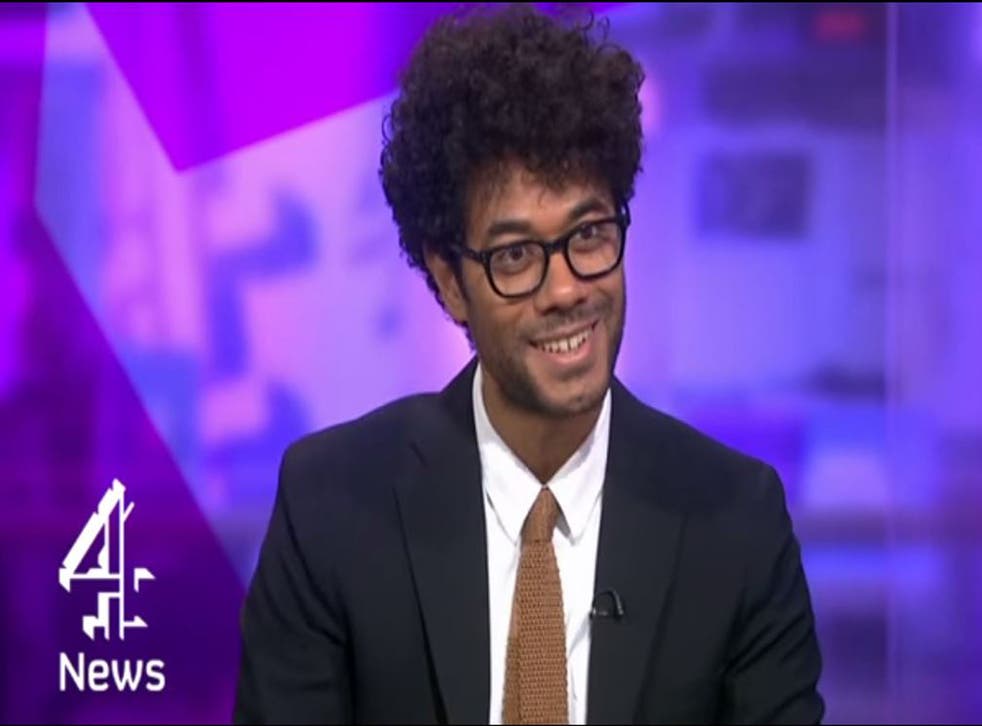 Krishnan Guru-Murthy is slowly building a reputation for conducting particularly uncomfortable conversations with the entertainment elite.
In 2013, he achieved viral notoriety for an explosive interview with Quentin Tarantino, during which the director abruptly ended it by declaring he was shutting his "butt down".
Now, he's found himself at the mercy of comedic genius Richard Ayoade, who used his promotional interview on Channel 4 News – scheduled to push the release of his new book Ayoade On Ayoade – as a platform to take down the practice of promotional interviews.
"If you were asking yourself a question right now, what it would be?" Guru-Murthy asked him, riffing on the book's self-conversational concept.
In the following four minutes, Ayoade tears his line of questioning apart with a series of deadpan answers that leave Guru-Murthy squirming with embarrassment as he attempts to regain control.
"So it's not about Richard Ayoade at all?" Guru-Murthy went on.
"No, any more than the moose story by Woody Allen is about his grappling with wildlife."
Elsewhere during the interview, he batted off Guru-Murthy's attempt to clarify his position on whether he felt, as a person of ethnic origin (he is half Nigerian and half Norwegian), he had a responsibility to other black actors to champion their achievement in the entertainment industry.
After another quick put-down, Guru-Murthy asked whether he felt he was a role model for other Norwegians.
"I do, and I feel that Norway as a nation looks to me and my activities, in many ways to marshal any kind of policies they can drum up, and have been doing so for a while," he bluntly replied.
And on the subject of disliking promotional interviews, he said: "I don't dislike interviews, it's a bit more like commuting. I accept it as a part of this, but no one, you know, loves it."
"I get that. But give me something in return…" Guru-Murthy said.
"What do you want? That was not a good chat-up line," he replied, prompting a fit of laughter from his now pained interviewer.
He went on to discuss the "big lie" of the promotional interview process, making reference to the aforementioned Tarantino interview, and the director's outrage that he hadn't been able to advertise his movie.
At the end of the clip – and shortly before the camera pans around to depict Jon Snow practically laughing himself off his chair in the corner – Guru-Murthy politely thanks Ayoade for coming on the show.
To which he replies: "Don't thank me, I've done nothing for you."
In order not to provoke further outrage, Ayoade's new book, Ayoade On Ayoade, is available in all good book stores now.
Register for free to continue reading
Registration is a free and easy way to support our truly independent journalism
By registering, you will also enjoy limited access to Premium articles, exclusive newsletters, commenting, and virtual events with our leading journalists
Already have an account? sign in
Join our new commenting forum
Join thought-provoking conversations, follow other Independent readers and see their replies