Richard Branson cycling accident: Virgin boss 'amazed I am still alive' after crashing bike near cliff edge
Entrepreneur tested movement while being treated on scene to check he wasn't paralysed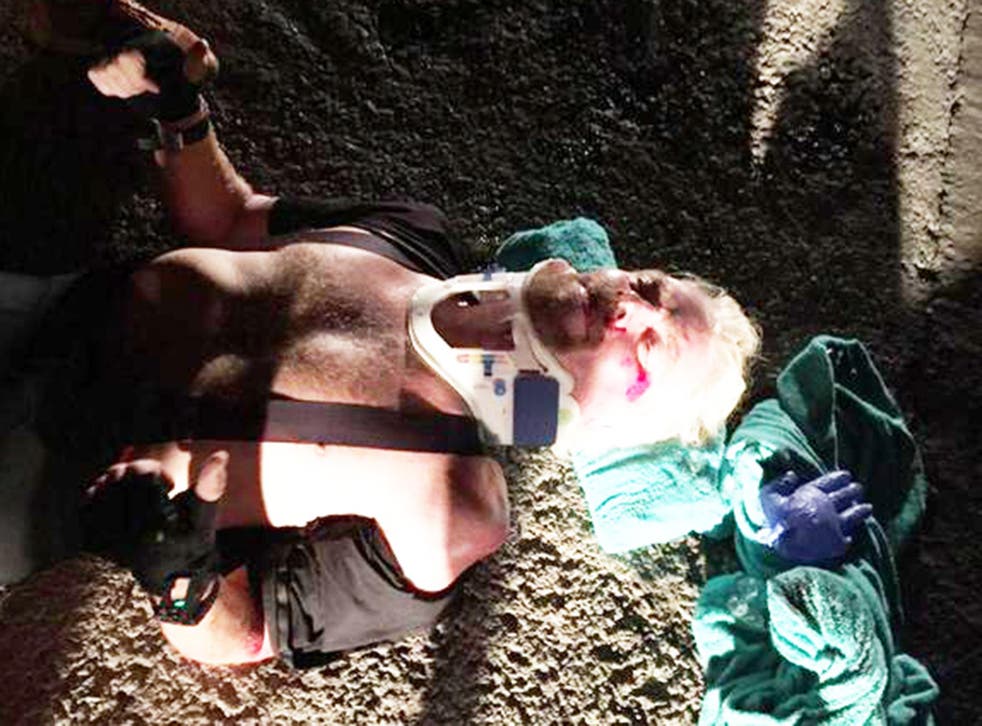 Sir Richard Branson saw "his life flash before my eyes" during a bike crash close to a cliff edge that left him needing hospital treatment.
The Virgin founder suffered a badly damaged cheek and severe cuts to his body after crashing his bicycle during training on the island of Virgin Gorda.
Dramatic photos from the incident show a bloodied and bruised Sir Richard receiving emergency treatment at the scene after he missed a bump in the road and was thrust into the air, over the handlebars and onto the concrete.
"The next thing I knew, I was being hurled over the handlebars and my life was literally flashing before my eyes," he wrote in his blog.
"I really thought I was going to die. I went flying head-first towards the concrete road but fortunately my shoulder and cheek took the brunt of the impact, and I was wearing a helmet that saved my life [...]" he wrote. "My bike went flying off the cliff and disappeared. We've since recovered the crumpled bicycle, completely destroyed. My cheek has been badly damaged and my knee, chin, shoulder and body severely cut."
Sir Richard also shared a series of photos showing heavy bruising around his eye and grazes to his cheek.
"As I landed, once I realised I was alive, I began testing my movement," he wrote. "I really couldn't believe I was alive, let alone not paralysed."
Sir Richard was bandaged up by his team before seeking medical treatment in Miami for a cracked cheek and torn ligaments.
Sir Richard Branson In Quotes

Show all 6
The entrepreneur noted that the date of his bike accident was five years to the day since the fire in Necker Island. In 2011, twenty guests, including Kate Winslet, escaped unhurt from a blazing guesthouse on the Caribbean island. The fire was thought to be caused by a tropical storm and lightning hitting the house which was "completely destroyed", according to Sir Richard.
The incident happened during training for the Virgin Strive challenge, a charitable fundraiser which involves cycling the length of Italy and running a half marathon to the peak of an active volcano.
Register for free to continue reading
Registration is a free and easy way to support our truly independent journalism
By registering, you will also enjoy limited access to Premium articles, exclusive newsletters, commenting, and virtual events with our leading journalists
Already have an account? sign in
Register for free to continue reading
Registration is a free and easy way to support our truly independent journalism
By registering, you will also enjoy limited access to Premium articles, exclusive newsletters, commenting, and virtual events with our leading journalists
Already have an account? sign in
Join our new commenting forum
Join thought-provoking conversations, follow other Independent readers and see their replies