Rihanna poster censored: Advert far less provocative than CFDA Awards dress deemed 'inappropriate for children'
The singer's Rogue advert has been deemed inappropriate for children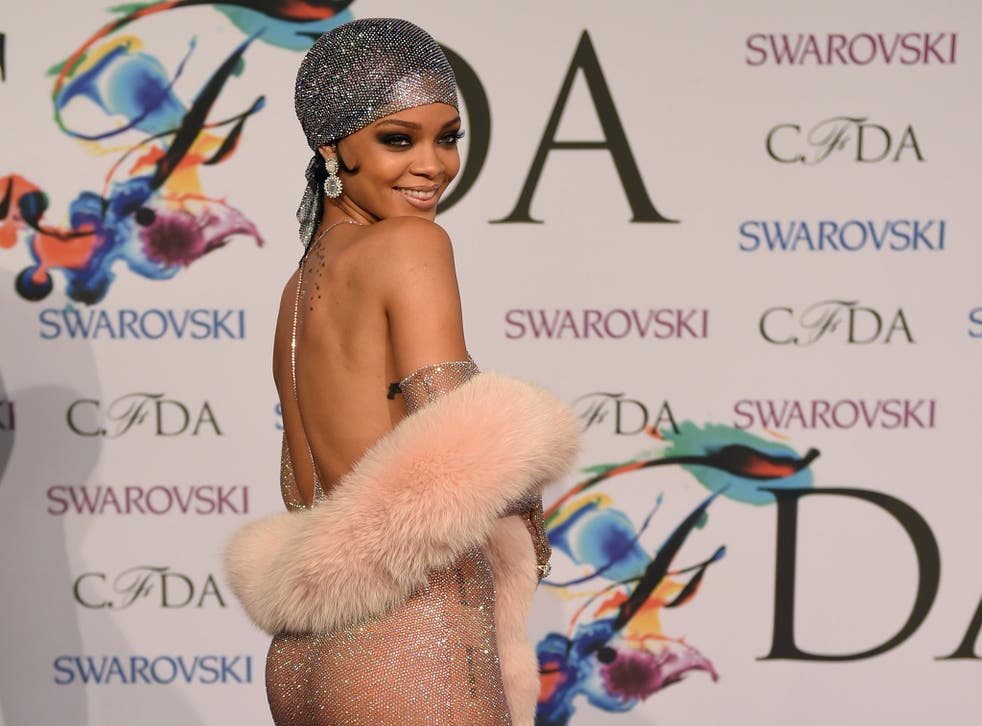 Rihanna is on the receiving end of censorship once again.
A poster advertising the singer's perfume has been a given "placement restriction", after the Advertising Standards Authority (ASA) said that the image was "sexually suggestive".
The shot – which promotes her perfume Rogue – features a topless Rihanna sitting on the floor with her legs raised against a large bottle of the fragrance. The picture was photographed by Mario Sorrenti.
The image received one complaint, in which a person said that the shot was demeaning to women, depicting a"sexualised and provocative" picture unsuitable for children.
Parlux Fragrances said that the nudity was not demeaning, but rather portrayed the singer as being in a position of power - as shown by the name Rogue, which suggested "one with the courage to challenge boundaries".
The ASA agreed that Rihanna's facial expression was "of defiance rather than vulnerability", but still deemed the advert "provocative".
"We considered that the overall impression of Rihanna created by the ad was one of confidence," a ruling on the ASA website said.
"We concluded that the ad was unlikely to be demeaning to women or to cause serious or widespread offence."
"While we did not consider the image to be overtly sexual, we considered that Rihanna's pose, with her legs raised in the air, was provocative," the ASA continued.
"Because of this, and the fact that Rihanna appeared to be naked except for high heels, we concluded that the ad was sexually suggestive and should have been given a placement restriction to reduce the possibility of it being seen by children."
However, the advert is much less revealing than the sheer sparkling dress that Rihanna wore to the CFDA Awards in New York on Monday 2 June, in which she defiantly appeared nearly naked – bar a nude-coloured thong.
The singer recently deleted herself from Instagram after the social media channel censored one of her more risqué pictures.
Last week, Scout Willis – the daughter of Demi Moore and Bruce Willis – staged a topless protest in New York as a reaction to the social network's strict no-nudity clauses.
Register for free to continue reading
Registration is a free and easy way to support our truly independent journalism
By registering, you will also enjoy limited access to Premium articles, exclusive newsletters, commenting, and virtual events with our leading journalists
Already have an account? sign in
Register for free to continue reading
Registration is a free and easy way to support our truly independent journalism
By registering, you will also enjoy limited access to Premium articles, exclusive newsletters, commenting, and virtual events with our leading journalists
Already have an account? sign in
Join our new commenting forum
Join thought-provoking conversations, follow other Independent readers and see their replies