Rik Mayall gets wonderfully stupid 'blue plaque' tribute in London
Sign pops up commemorating the most slapstick of Mayall moments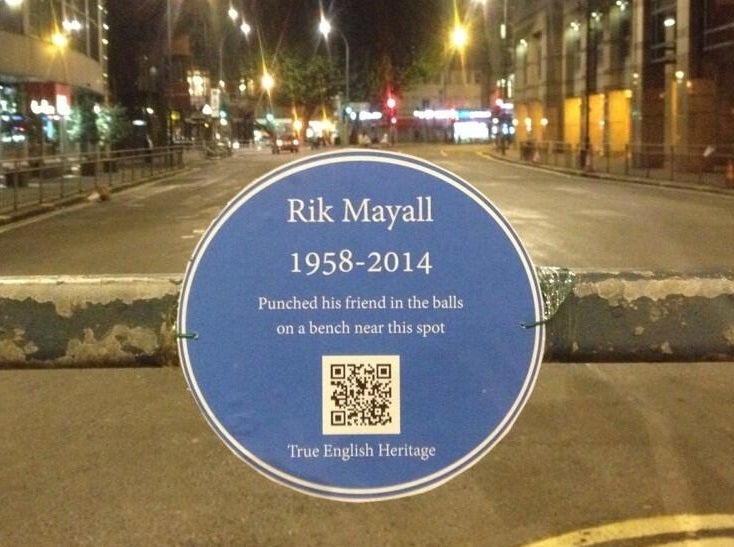 A Hammersmith Broadway resident has paid tribute to late comedic actor Rik Mayall with a makeshift blue plaque commemorating the time he 'punched his friend in the balls on a bench near this spot'.
The iconic signs are usually of the 'lived here', 'was inaugurated here' or 'convalesced here' variety, but Mayall's unofficial one focuses instead on a slapstick moment I'm sure he would be immensely proud of.
The actor was famous for his mock misanthropy, as shown in an infamous letter he once wrote in reply to a fan asking for his autograph.
He was similarly surly in his first and last tweet, which read: "Opening my very own Twitter to stop another bastard from doing it. So f**k off & don't expect to hear from me any time soon. Love Rik x".
Mayall died at the age of 56 yesterday morning, his agent confirmed, with the cause of death yet to be determined.
Rik Mayall's best characters
Show all 9
"We don't know yet what happened. He had a strong heart, so I don't think it was a heart attack," his wife said outside the couple's home yesterday. "But we just don't know until the coroner's report.
"Maybe he had a fit, maybe it was his heart. We just don't know."
Mayall was left seriously ill after a quad bike accident in 1998 which left him in a coma for several days, but was working until recently.
Join our commenting forum
Join thought-provoking conversations, follow other Independent readers and see their replies