Rio 2016: Olympic athlete Isadora Cerullo gets engaged to girlfriend on rugby field
'I wanted to show people that love wins': Rugby sevens player Isadora Cerullo was proposed to by her girlfriend Marjorie Enya after the finals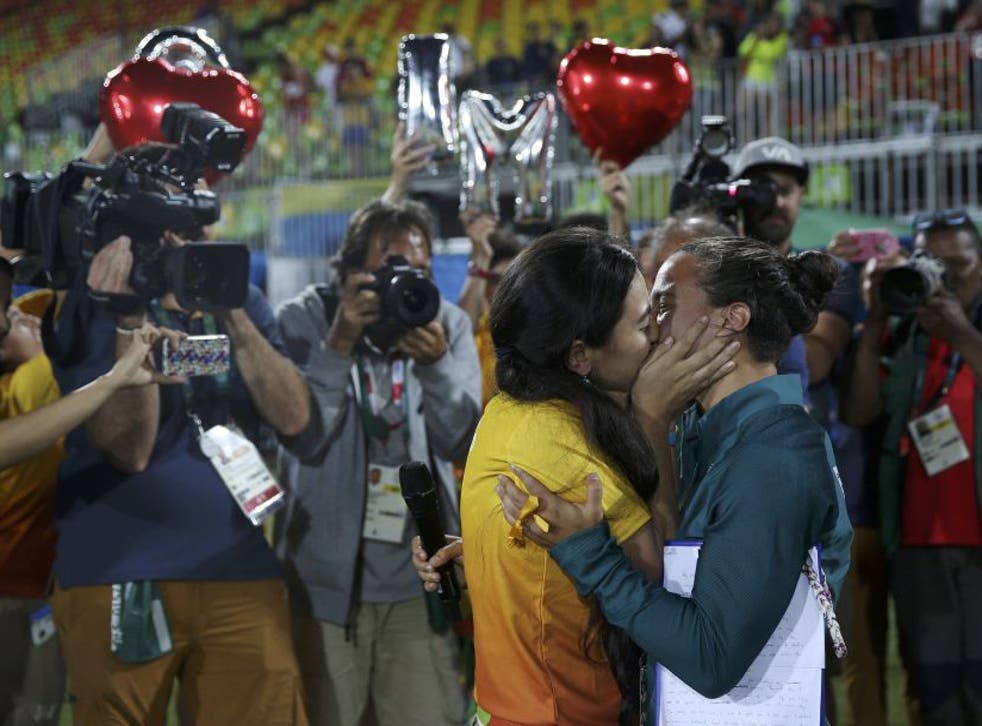 It was night of firsts at the Rio Olympics' Deodoro Stadium on Monday, as the winners of the first ever women's rugby sevens finals were announced and a Brazilian player became the first athlete to accept a marriage proposal at the Games.
Marjorie Enya, a 28-year-old volunteer manager at the stadium, proposed to her girlfriend, rugby player Isadora Cerullo, in a rousing speech on the pitch met with a round of applause, following the medal ceremony of the inaugural rugby competition.
Ms Cerullo, 25, is a member of the Brazil squad who finished ninth in the tournament after failing to beat Japan.
"The Olympic Games can look like closure for me but it's starting a new life with someone," Ms Enya told the BBC.
"As soon as I knew she was in the squad I thought I have to make this special," she said. "I know rugby people are amazing and they would embrace it."
Rio 2016: Yesterday's Highlights
"She is the love of my life.
"I wanted to show people that love wins."
Ms Cerullo, who has been in a relationship with her fiancé for two years, grew up in the US and holds dual Brazil-US citizenship.
She and Ms Enya moved to Sao Paulo in order for her to focus on making Brazil's squad for the Rio Games.
The women's rugby sevens was won by Australia, who beat New Zealand 24-17. Britain lost to Canada in the bronze match.
The Rio Olympics will also see the first same-sex married couple compete in the Games together.
British hockey players Kate Richardson-Walsh and Helen Richardson-Walsh will be competing in the Olympics for the fourth time this year after helping Great Britain win its first Olympic hockey medal in London in 2012.
Inspirational quotes about LGBT rights

Show all 29
The pair married in 2013 and will play together this year as members of Britain's women's hockey team.
A record number of publicly out LGBT athletes are competing at this year's Olympics. An estimate by Outsports magazine says 44 are taking part, almost double the number at London in 2012.
Same-sex marriage has been legal in Brazil since 16 May 2013. Same-sex unions had been legally recognised since 2004.
Join our new commenting forum
Join thought-provoking conversations, follow other Independent readers and see their replies