Rio 2016: 'Queues' form for selfies with Simone Biles during closing ceremony
People on Twitter noted the 'traffic jams' and 'conga lines' caused by Biles' fans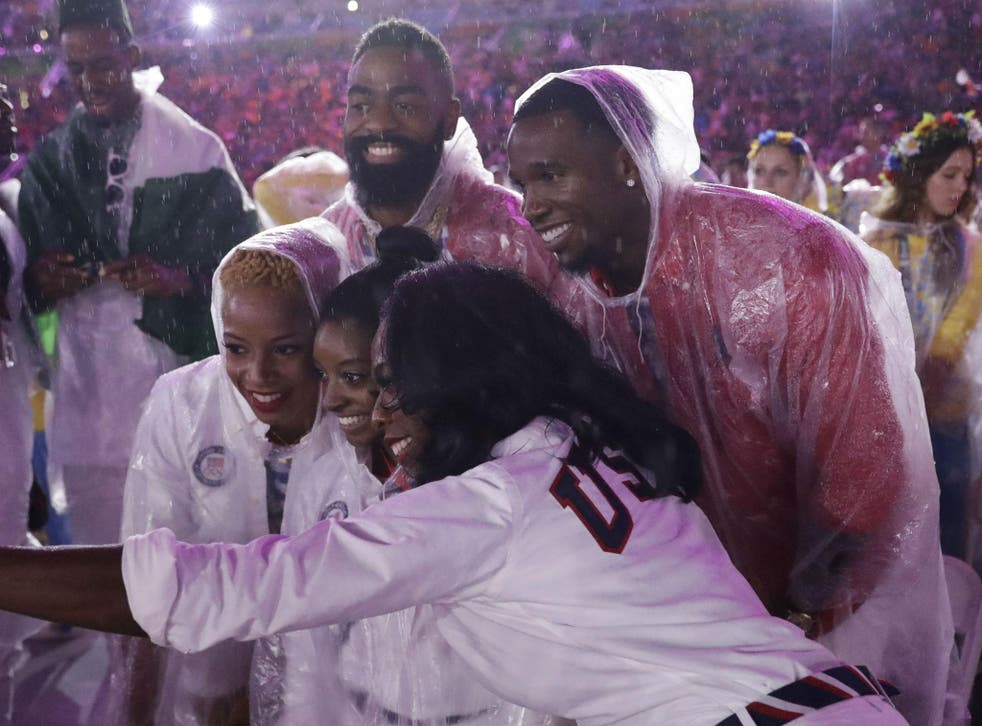 If Simone Biles was not aware of her newly found international celebrity status following her multi-medal winning performances in Rio, she will be after Sunday evening's Olympic closing ceremony.
At just 19-years-old, Biles won four golds and one bronze medal during the games. Her ability in the gymnastics field appeared unparalleled at times and one of the signature moves from her floor routine has already been nicknamed 'The Biles'.
Her remarkable achievements meant she was designated to carrying the American flag during the closing ceremony of the games on Sunday evening. However, her new found status became apparent when she found it difficult to manoeuvre her way through the crowd due to the persistent selfie requests.
A number of people on Twitter pointed out the 'conga line" of competitors eager for a snap with their hero. US Olympic broadcaster NBC also noted the queue for "Simone selfie central" while others remarked that it was momentarily holding up the procession of athletes entering the Macarana stadium.
When she wasn't practicing or competing during her time in Rio, Biles has been keeping her 2.8 million Instagram followers up to date documenting life in the Olympic village or having so much fun with her gymnastics "squad" their coach had to remind them to be more "serious".
Team GB's Rio 2016 gold medals

Show all 26
She also received a visit by her self-professed "crush" Bad Neighbours actor Zac Efron who jetted out to Rio to meet the US gymnastics team after hearing about how much of a fan Biles was.
Register for free to continue reading
Registration is a free and easy way to support our truly independent journalism
By registering, you will also enjoy limited access to Premium articles, exclusive newsletters, commenting, and virtual events with our leading journalists
Already have an account? sign in
Register for free to continue reading
Registration is a free and easy way to support our truly independent journalism
By registering, you will also enjoy limited access to Premium articles, exclusive newsletters, commenting, and virtual events with our leading journalists
Already have an account? sign in
Join our new commenting forum
Join thought-provoking conversations, follow other Independent readers and see their replies