The Independent's journalism is supported by our readers. When you purchase through links on our site, we may earn commission.
Rio 2016: Wearing a Hijab 'won't keep' Egyptian volleyball player Doaa Elghobashy 'away' from sport
'I have worn the hijab for 10 years. It doesn't keep me away from the things I love to do, and beach volleyball is one of them'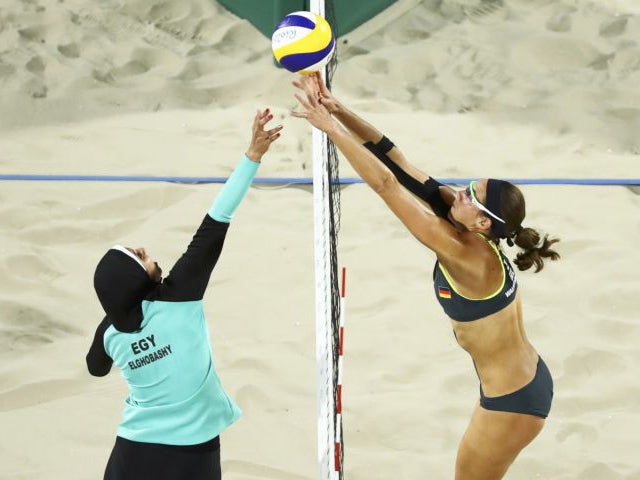 An Egyptian athlete who wore a hijab, long sleeves and trousers while facing Germany in an Olympic beach volleyball match has said wearing a head covering "won't keep [her] away" from the sport.
Doaa Elghobashy and her partner Nada Meawad made history as they played in the Copacabana beach court on Sunday, becoming Egypt's first ever Olympic team to compete in a beach volleyball tournament.
Elghobashy, who made a stark contrast to her German competitors wearing bikinis, spoke about wearing a hijab during the competition and her pride at representing her north African country in the Games, after losing 21-12, 21-15 to Germany.
"I have worn the hijab for 10 years," she told the Associated Press. "It doesn't keep me away from the things I love to do, and beach volleyball is one of them.
"I'm proud to be seen raising the Egyptian flag in a carnival with so many nations."
Elghobashy and Meawad qualified for the Rio Olympic Games through a regional competition designed to open the sport up to countries beyond the Brazilians, Americans and Europeans who dominate the international pro-tour.
The pair have benefited from the loosening of beach volleyball uniform regulations by the International Volleyball Federation, who relaxed the size of uniforms – bikinis for women and boardshorts for men - before the London Olympics to allow full sleeves and trousers.
FIVB spokesman Richard Baker said on Sunday that the move had been made to open up the game culturally.
It appears to have been a success with 169 different countries involved in the Continental Cup qualifying process for the Olympics, compared to 143 for the London Olympics in 2012, Mr Baker said.
This year's Games marks the first time Egypt has qualified for either a women's or men's beach volleyball tournament at the Olympics.
US sabre fencer Ibtihaj Muhammad has also made Olympic history, becoming the country's first athlete to take part in the Games wearing a hijab.
Muhammad, who beat Ukraine's Olena Kravatska in her first match but lost her second, has previously said: "I saw there was a lack of minorities in the sport.
Rio 2016 Olympics - in pictures
Show all 74
"I recognised that I had a skill set, so I started to pursue fencing full time. I felt that it was something the squad needed. There were barriers that needed to be broken in women's sabre."
Selfie between two Korean gymnasts becomes instant icon of unity
A simple selfie taken by two young Olympians has become another iconic moment in the Rio Games.
South Korea's Lee Eun Ju and North Korean gymnast Hong Un Jong were seen chatting and laughing together as they prepared to compete in the qualification for the artistic women's gymnastics and moments later posed for a picture together, in a gesture that belied the bitter feud between their home countries.
Join our commenting forum
Join thought-provoking conversations, follow other Independent readers and see their replies