Vogue Rio 2016 Paralympics photo campaign condemned for editing able-bodied models to look like amputees
'We still do not understand the reality of people with disabilities', says critic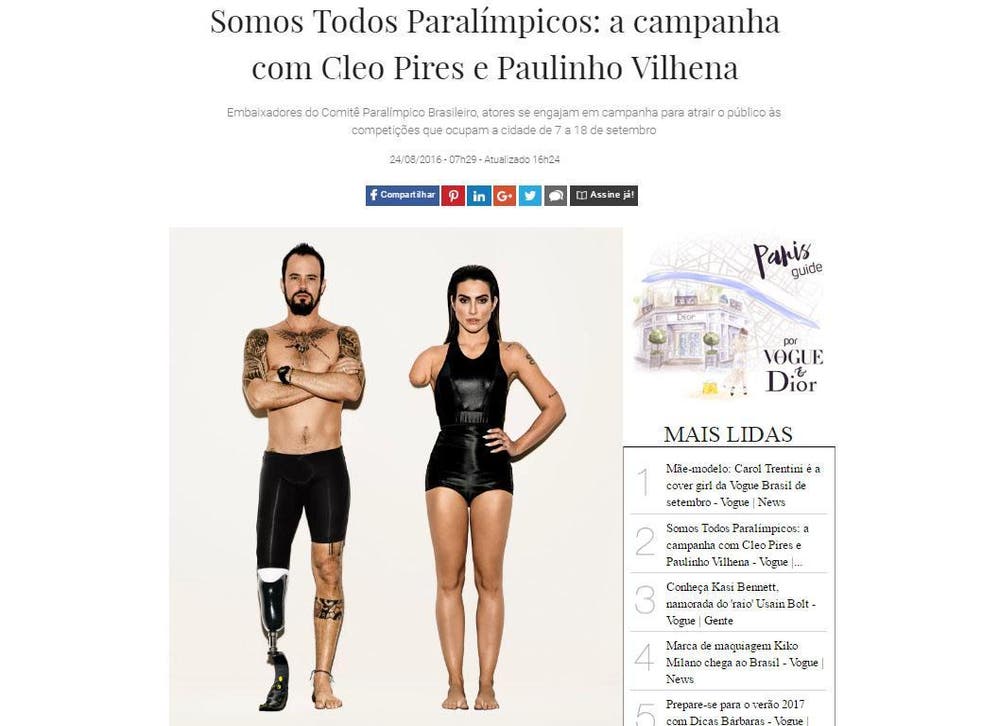 Vogue Brasil is facing criticism over a publicity campaign for the Rio 2016 Paralympics that airbrushed able-bodied models to look like amputees.
Images of Brazilian actors Cleo Pires and Paulo Vilhena were digitally altered to replicate the disabilities of Paralympic table tennis player Bruna Alexandre and sitting volleyball player Renato Leite.
Alexandre had her right arm amputated at the age of three months, while Leite has a prosthetic leg.
Pires and Vilhena, who are ambassadors for the Brazilian Paralympic Committee, appeared in Vogue Brasil under the headline "We are all Paralympians".
The campaign has come under fire from disability advocates, who criticised the magazine for failing to include actual Paralympians in the photoshoot.
"There's no shortage of disabled people to take the place of spokesperson in these adverts and show society that yes, they exist and they deserve as much space in the media as us," said Natália Belizario on the feminist website Lado M.
In pictures: 100 days to the Paralympics

Show all 19
"No, we are not all Paralympians. We still do not understand the reality of people with disabilities.
"We can all be supporters of the Paralympic movement, but it is always good to remember that the role, more than ever, is not ours."
Clayton Carneiro, Vogue Brasil's art director, defended the campaign: "We knew it would be a punch in the gut, but we were there for a good cause. After all, almost no one bought tickets to see the Paralympic games."
Since the Rio 2016 Olympics closing ceremony, only 20 per cent of the tickets for the Paralympics have been sold.
Alexandre defended the "We are all Paralympians" campaign in a post on Instagram: "Personally, I have been clear that I am so proud to be part of this campaign and that the magazine #Vogue has begun to publish the first pictures of this beautiful work.
"Our Ambassadors for the Paralympics, Cleo Pires and Paulo Vilhena, helped to strengthen and spread the campaign to increase interest in the Paralympic Movement and encourage the Brazilian fans to attend the Paralympic Games Rio 2016."
She also noted that both Paralympians concerned were in the studio when the photoshoot took place and even posed for personal photos with the models.
On Instagram, Ms Pires said she felt "honoured to represent Bruna in this campaign".
In a video, she provided a further response to the criticism: "We lent our image to generate visibility. And that's what we're doing. My God."
Join our new commenting forum
Join thought-provoking conversations, follow other Independent readers and see their replies