Rolf Harris: Vanessa Feltz and Linda Nolan claim entertainer groped them 'live on TV and backstage at concert'
Harris has been jailed for almost six years for attacks on young girls as young as seven or eight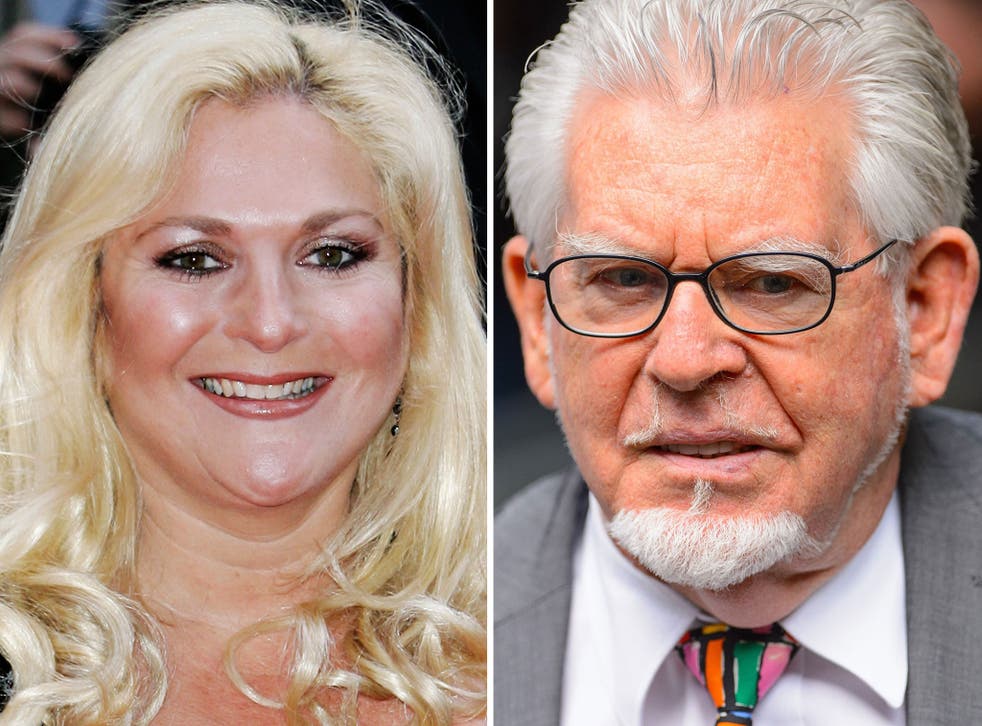 The TV presenter Vanessa Feltz and singer Linda Nolan have become the latest alleged victims of the convicted sex offender Rolf Harris to come forward with stories of abuse at the hands of the disgraced children's entertainer.
Now 52, Feltz, has described how Harris allegedly put his hand inside her knickers while she interviewed him live on TV during an episode of The Big Breakfast in 1996.
Nolan, 55, claimed she was just 15 and touring with her sisters when Harris pounced on her "out of nowhere", groping, kissing and licking her neck until she had to beg him to stop.
The two celebrities have come forward publicly for the first time after Harris, 84, was sentenced to five years and nine months in jail for a series of sex attacks on girls as young as seven or eight.
Feltz said she had told her story to the police once the first allegations against Harris started to emerge in 2012, and Scotland Yard reportedly obtained footage from The Big Breakfast to support her claims.
They had apparently hoped to introduce it as part of Harris's trial at Southwark Crown Court, but were too late to give adequate notice to defence lawyers.
Feltz told the Sunday Express Harris attacked her while they were filming the "On The Bed" section of the show in May 1996 – and that Harris's wife Alwen had been in the room at the time.
She said she felt Harris's hand creeping up her leg but that she "could not look down" because they were on live TV.
Rolf Harris: A life in pictures

Show all 20
"I have not a shadow of a doubt that he knew exactly what he was doing and he was getting excited about it, doing what he was doing while he was on live television," Feltz said.
As Harris's hand reached under the elastic of her knickers, Feltz stopped the interview to go to an advert break and then "jumped away from him". She said he acted "as if nothing had happened" when they came back from the break.
Meanwhile Miss Nolan claimed she was just 15 and on tour with her sisters when Harris groped her breasts in a corridor.
The star, 55, said she was in a dressing gown and was on her way to get ready for a performance when Harris pounced on her backstage at the concert in South Africa in 1975.
She told the Mirror: "He suddenly came out of nowhere and in seconds his hands were all over me.
"He came right up to me and got me in a huge bear hug. His arms were all over my back, right around me so his hands were touching the sides of my breasts.
"He rubbed up and down and started kissing and licking the back of my neck."
Miss Nolan said Harris eventually stopped, but she was left feeling "dumbstruck" and "humiliated" at the alleged attack.
Both women waived their legal right to anonymity to reveal the alleged abuse.
A Scotland Yard spokesman said police did not comment on the identity of alleged victims of sex assaults.
Register for free to continue reading
Registration is a free and easy way to support our truly independent journalism
By registering, you will also enjoy limited access to Premium articles, exclusive newsletters, commenting, and virtual events with our leading journalists
Already have an account? sign in
Register for free to continue reading
Registration is a free and easy way to support our truly independent journalism
By registering, you will also enjoy limited access to Premium articles, exclusive newsletters, commenting, and virtual events with our leading journalists
Already have an account? sign in