Russell Brand hailed by New Era estate protest that saved 93 families from eviction: 'I don't think we'd be here now without his support'
Tenants' association chief says 'everyone could see Russell was doing a good thing'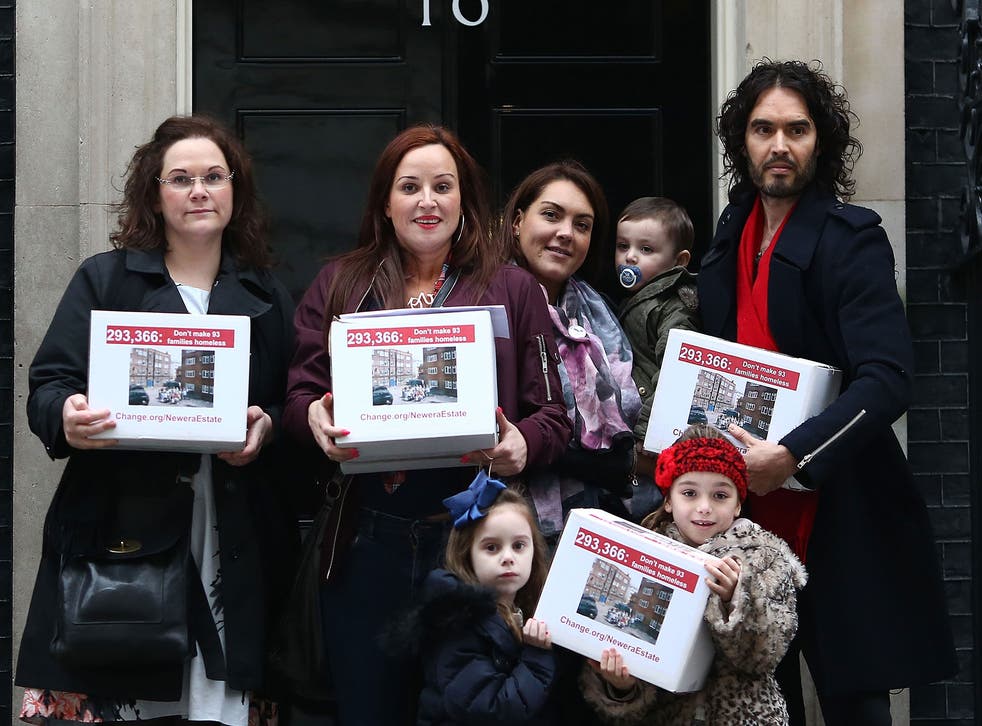 The woman who led the campaign to save an East London estate from US investors has said that none of it would have been possible without the support of the comedian Russell Brand.
On Friday it was confirmed that the New Era estate would be bought by an affordable housing provider, securing the futures of 93 families who faced eviction.
Described as the first victory for Brand's "revolution" campaign, it involved multiple street demonstrations and a petition to Downing Street.
The comedian made headlines – not all in his favour – when his rant at a Channel 4 News presenter outside Number 10 went viral.
And writing today in The Independent, one of the people who led the New Era Tenant's Association to victory over US firm Westbrook Partners said the controversial actor's backing was vital to their success.
Lindsey Garrett, the chair of the association, said: "I don't think we'd be here now without Russell Brand's support."
"We stopped him at the market in the middle of September, and met again a week after that," she wrote. "He was really interested and impressed with what we were doing, and told us he was going to help us save our homes."
Ms Garrett, a single mother, has lived on the estate her whole life and works as a care co-ordinator for the local NHS trust.
She said she was aware Brand had been criticised for joining their campaign – he was labelled "Hypocrite" on the front page of The Sun – but that "the amount of publicity that came with him really helped us succeed".
"By getting involved he gave us a bigger voice," she said. "I think the only people that the media harmed was themselves - it made them look a bit stupid, because everyone could see that what Russell was doing was a good thing."
Register for free to continue reading
Registration is a free and easy way to support our truly independent journalism
By registering, you will also enjoy limited access to Premium articles, exclusive newsletters, commenting, and virtual events with our leading journalists
Already have an account? sign in
Register for free to continue reading
Registration is a free and easy way to support our truly independent journalism
By registering, you will also enjoy limited access to Premium articles, exclusive newsletters, commenting, and virtual events with our leading journalists
Already have an account? sign in
Join our new commenting forum
Join thought-provoking conversations, follow other Independent readers and see their replies