Russell Brand says he would 'never, never, never endorse' 'derogatory' and 'insulting' techniques of pick-up artist Julien Blanc
The comedian said he was not aware who Blanc was when he posed for a picture with him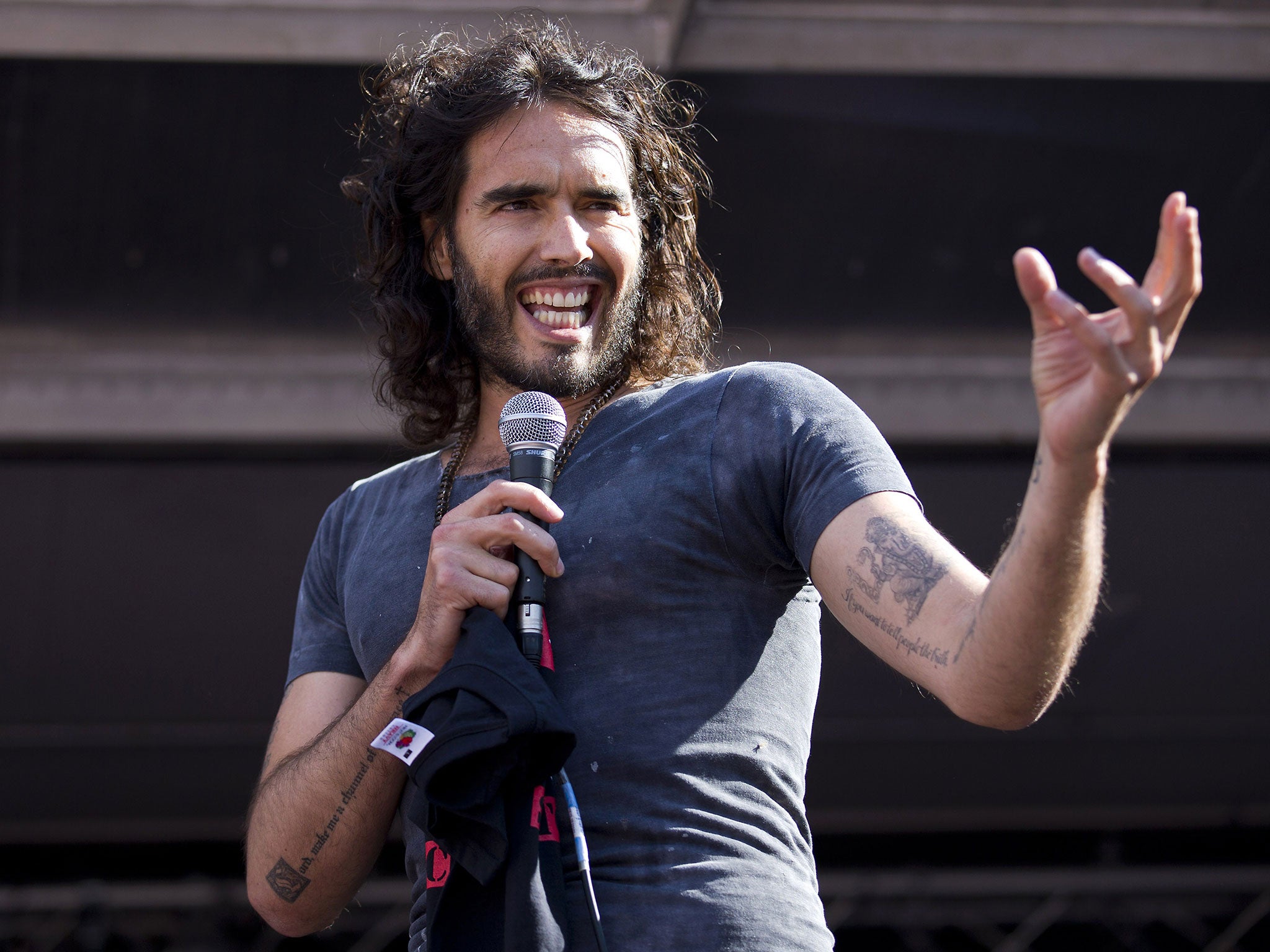 Russell Brand has said that he is "100 per cent, wholeheartedly against" the techniques used by Julien Blanc, after fans questioned why he posed for a photograph with the controversial "pick-up artist".
The comedian and self-styled revolutionary spoke out about Blanc, whose paid dating seminars teach abusive techniques to attract women, in an episode of his daily YouTube show The Trews ("true news").
Brand said a number of people had asked him what he thought of Blanc because of an image of the pair posted on Blanc's Instagram page 18 months ago.
"I never knew who that was," Brand said.
"So many people come up to me all the time."
He said he had since read that Blanc had been treating women in a "derogatory derisory and insulting and sort of not loving way" and wanted to emphasise that he did not condone those actions in any way.
He said: "Obviously I'm against that, I'm down on that. I'm against treating women in a disrespectful way."
"I'm also I suppose, that whole pick-up thing – you know, that seemed appealing to me when I was a kid."
Brand went on: "But any system for chatting up women is in itself questionable. But any that's sort of based on objectifying or undermining women I would never, never, never, never, never endorse.
"So just to be clear, if you've got any questions about my attitude towards Julien Blanc or anyone that treats women or anybody disrespectfully, I'm 100 per cent, wholeheartedly against it"
Russell Brand's Most Controversial Quips
Show all 19
Blanc had been scheduled to tour Australia until December but his visa was cancelled following protests over his "techniques", which suggest men harass and abuse women - including by choking them.
In the UK Home Secretary Teresa May is facing increasing pressure to prevent Blanc entering the country. A petition calling for him to be denied a visa has been signed by over 156,000 people.
This week Blanc apologised for his actions on CNN, saying he was "extremely sorry" and his "intentions were never bad".
He told host Chris Cuomo: "I'd like to apologise to anyone I've offended in any way. It was never my intention and I just want to put it out there. I'm extremely sorry for everything that happened."
Brand has become a voice for political and social reform after first setting out his terms for revolution in an online essay for the New Statesman, published in November 2013.
And last month saw the release of his book Revolution.
The Trews has over 760,000 subscribers and seeks to "unravel the matrix of modern media and reveal the gleaming reality beyond connecting us all to each other through pure consciousness".
Join our commenting forum
Join thought-provoking conversations, follow other Independent readers and see their replies