Sepp Blatter deserves a Nobel Prize for Fifa leadership (according to Vladimir Putin)
The Russian President said he 'doesn't believe a word' of verbal allegations of corruption against the Fifa President
Lizzie Dearden
Tuesday 28 July 2015 10:09 Comments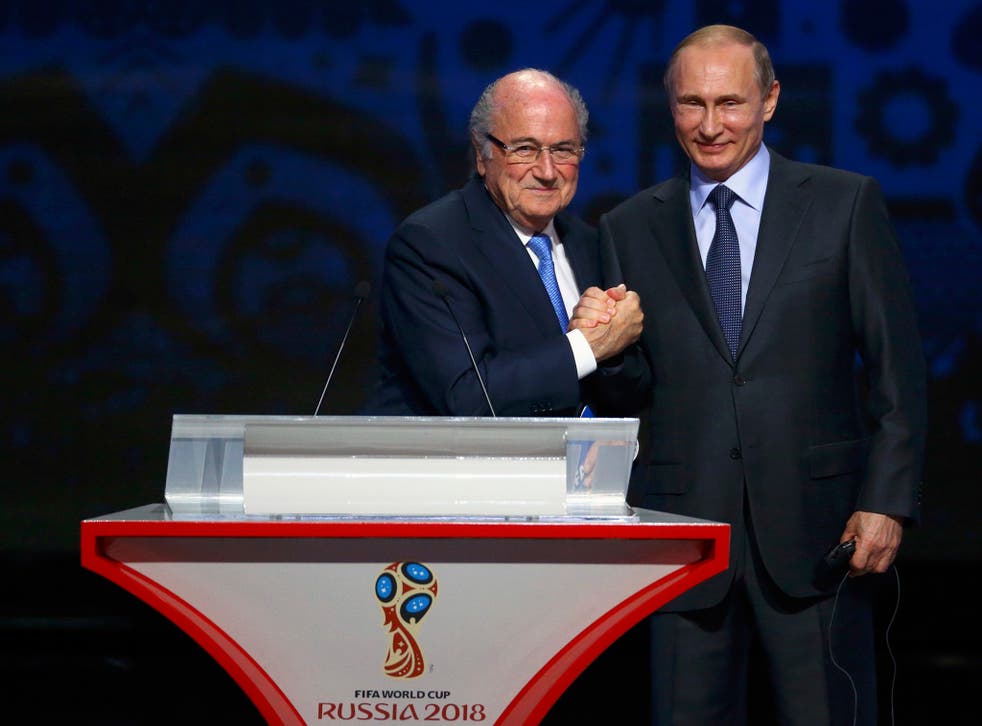 Sepp Blatter deserves a Nobel Prize for his leadership of Fifa, according to Vladimir Putin.
The embattled president of football's governing body has enjoyed few expressions of public support since a bribery scandal saw several high-profile officials arrested but the Russian President was not afraid to step forward.
The saga has turned fresh scrutiny on the award of the 2018 World Cup but in a meeting with Mr Putin in St Petersburg on Saturday, Blatter reportedly assured him that Fifa had passed a resolution supporting Russia.
"We all know the situation developing around Mr Blatter right now," the Russian President said in an interview with Swiss television.
"I don't want to go into details but I don't believe a word about him being involved in corruption personally.
"I think people like Mr Blatter or the heads of big international sporting federations, or the Olympic Games, deserve special recognition. If there is anyone who deserves the Nobel Prize, it's those people."
Blatter has denied any wrongdoing and insisted he has a "clear conscience" following the indictment of 14 people on corruption charges by the FBI, but announced he would stand down from his role when an election is held to replace him.
A separate criminal investigation by Swiss authorities into how the 2018 and 2022 World Cups were allocated, to Russia and Qatar respectively, is also underway.
When the scandal broke in May, Mr Putin criticised the US investigation into Fifa as meddling in matters that were outside its jurisdiction.
Contenders to replace Sepp Blatter as Fifa president

Show all 6
He rekindled that criticism in the interview broadcast on Monday, widening it to include Britain and noting that the two countries had bid to host the forthcoming World Cups.
"The way there is this fight against corruption makes me wonder if it isn't a continuation of the bids for 2018 and 2022," Mr Putin said.
He has also insisted that Russia's economic crisis will not affect its ability to host the championship.
Additional reporting by Reuters
Register for free to continue reading
Registration is a free and easy way to support our truly independent journalism
By registering, you will also enjoy limited access to Premium articles, exclusive newsletters, commenting, and virtual events with our leading journalists
Already have an account? sign in
Join our new commenting forum
Join thought-provoking conversations, follow other Independent readers and see their replies