Sir Ian McKellen: Roy Hodgson is not living in the real world. 500 footballers in this country and not one of them out?
Our greatest living Shakespearean actor is furious about the homophobia in sport, but believes attitudes can be changed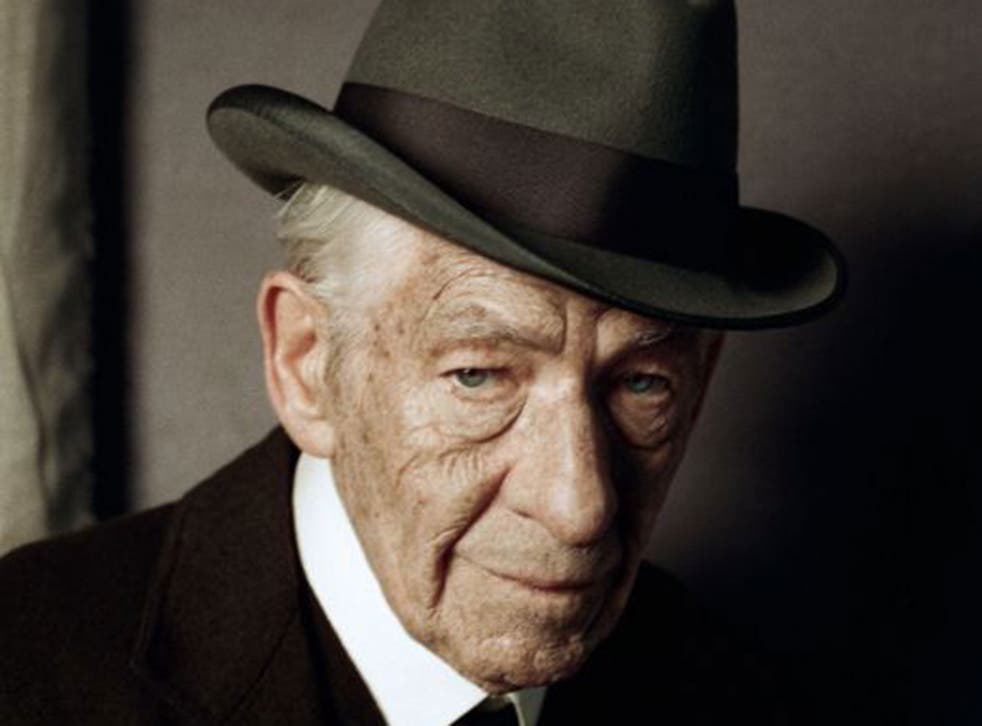 Britain's greatest living Shakespearean actor is being held aloft by a gaggle of half-naked, ultra-fit young men, muscles bursting through tight Lycra rowing slips. It is a sea of pecs and jaws and bulges. Sir Ian McKellen – Serena to his friends – does not look displeased. On his lined face, with its droopy, heavy-hooded eyes, the triangular brows – part Jack Nicholson, part John Hurt – dart up, delighted. Were it not for that pesky Elton John, the caption would rightfully read Queen of the World.
He is in the Mayfair Hotel, London, to host an evening for Warwick University's rowing club. Not the most obvious cause for a gay icon, for a heavy-hitting film star – or for Gandalf, as most will know him. But the Warwick Rowers, as they are called, have become rather popular among gay men thanks to their support, both financial and rhetorical, for combating homophobia in sport. And their willingness to be photographed naked. In black and white. Their calendars – playful shots of the lads larking about in the spirit of "Oops! we've just innocently flashed our buttocks" sell in almost vulgar quantities.
They have raised hundreds of thousands of pounds and set up Sports Allies, tackling anti-gay prejudice in a field not famed for its progressive ways. There is, perhaps, a discussion to be had about how helpful or dignified it is for young men to be objectified for the purpose of gay liberation, but this evening there is a more pressing matter to discuss. Football.
A few days before our interview, the England manager, Roy Hodgson, said in a speech at the Cambridge University Union and in an accompanying interview in the student newspaper that he did not know what "LGBT" meant. He also admitted to being "naive on the subject" as it is "not my world".
He further claimed never to have met a gay player, but maintained that football had made "great strides" against homophobic discrimination.
"That man is not living in the real world," says McKellen, now sitting upstairs in a private room, with only public relations people lurking ominously. "He's too absorbed in his own world, and clearly it's a world in which to be gay is not an easy thing. Five hundred professional soccer players in this country and not one of them out?" McKellen spits the words, a throat-grabbing soliloquy only just beginning.
"What is going to make the FA face up to the responsibilities of the people it's looking after? Premiership clubs: what is their problem? They're living in the past. They're so old-fashioned. They come out on the fields as if they are somehow champions of the world. They're not. They are way back in the 19th century." Gay players, he says, should be getting "help from their managers". But how likely is this if such officials have not even heard of the abbreviation for lesbian, gay, bisexual and transgender people?
McKellen's venom is informed as much by psychological as by political reasons. Festering in the closet, as many a married man (and, indeed, certain Liberal Democrat MPs) will testify, is not simply imprisonment, but a form of solitary confinement. In the darkness and the isolation, mental health deteriorates.
"That's why you should always be concerned – not for the state of sport in this country but for the health and sanity of the individual gay person." He cites Gareth Thomas, the former captain of the Welsh rugby team, who came out in 2009, and who revealed how close he had repeatedly come to suicide before he made his announcement.
"I saw him just after he came out. 'Best thing I've ever done in my life,' he said. 'Better than 53 caps for Wales?' I asked. 'Oh yes.' But he came out after he'd retired because all that time he'd been frightened." McKellen pauses (dramatic timing is never far away), raises his voice and elongates the words in indignant disbelief: "Gareth Thomas. Frightened." Tom Daley, who came out last year, is, he says, a huge cause for optimism, as the diver is "still working, still a professional".
McKellen, 75, knows himself how revealing one's orientation can transform one's inner world. He came out publicly in 1988 in response to the Thatcher government's near comically villainous Section 28, gagging teachers from discussing homosexuality. Is it the best thing he's done?
"Best thing any gay person ever did. I never heard anybody regret it [coming out]. Have you?" he asks. Before I am able to respond, he sums it up: "You join the human race." More than that, he continues, it's a social weapon against bigotry.
"I don't think people who are homophobic are likely to be persuaded by a government edict, but they might be persuaded by these rowers, or a teacher, or someone's appearance on television." McKellen does his bit by visiting schools, where he gives talks to teachers and pupils. He has been to 50 so far.
"It makes you weep with happiness – kids supported by their teachers, teachers who are out, kids who are out; that's the world of the future. They listen with open mouths when I tell them what it was like growing up when it was illegal to be gay and you didn't talk about it."
When I mention how many gay pupils (55 per cent) are still bullied, 99 per cent of whom hear the word gay used as a pejorative, he seems quick to focus on the positives. For a man who spent two-thirds of his life masking his sexuality in public, this need to believe we've come further than we have is understandable. He talks with the enthusiasm of those energised by the young.
"They can't understand why religious leaders have a problem [with gay people] and they are absolutely baffled as to the situation in sports," he says. The day we meet, Nicky Morgan, theEqualities minister who voted against same-sex marriage, pledged £2m for anti-gay bullying initiatives. This works out at about £80 per school, but for McKellen it is the message that is most potent.
"It is astonishing that all that work is going on in schools, supported by the Government, and then kids go home, watch television and see no evidence of it in sport."
The coalition's policies on LGBT issues have annoyed almost as many as they have pleased. Same-sex marriage alienated most Tory MPs and many Lib Dems, while allowing both parties to vie for the pink vote. But behind the headlines, austerity cuts have disproportionately affected LGBT organisations. And coalition promises to overhaul the asylum process for gay applicants and reduce homophobic persecution abroad have failed to materialise.
"It is a great pity," says McKellen. "There are no gay rights in this country that were established because politicians decided to do it. Stonewall was made up of 10 lesbians and 10 gay men who said, 'We're going to do it.' We made the arguments and politicians had to agree."
McKellen was one of the founders of Stonewall, set up in 1989, also in reaction to Section 28. And even though it has helped achieve legal parity for LGBT people, McKellen is loath to bask in any glory.
"We did the easy part, which is we got the laws changed." It is the culture that is "much harder" to tackle, he says, while pointing out how gay weddings will help. "We can be as cynical as we like but every same-sex marriage that happens has 100 people there, who cry their eyes out and go and tell their friends. The pebble is dropped in."
As our time draws to an end, McKellen has one last target: our self-appointed spiritual guardians. "Every anti-gay remark from the Church gives the thug a licence to be cruel," he says. Nationally, there were more than 4,000 anti-gay hate crimes in 2012-13. "There's homophobic violence in the streets, verbal violence wherever you go." But he has no desire to go banging on the Archbishop of Canterbury's door.
"How many people in the Church are ashamed of [its] leadership? A lot. That's their problem – let them get on with it. If the Pope came out tomorrow and said, 'I'm gay', yes, that would have an impact, but we can't wait for that. We've got to get on with it." And with that, he grabs a handful of salty snacks, stands up as if for a curtain call and strides downstairs to host an evening with the rowers.
Curriculum vitae
1939 Born in Burnley, Lancashire. Family move to Wigan in same year.
1957 Wins scholarship to study English literature at St Catharine's College, Cambridge.
1961 Makes professional debut as Roper in A Man for All Seasons at the Belgrade Theatre, Coventry.
1964 Begins relationship with Brian Taylor, a history teacher.
1976 Breakthrough appearances in Richard II lead to major roles in Othello, Macbeth and King Lear.
1978 Meets his second partner, writer and director Sean Mathias.
1988 Comes out publicly as gay during BBC Radio 3 interview.
1989 Co-founds Stonewall.
1991 Knighted for services to theatre.
2001 Stars as Gandalf in film adaptation of JRR Tolkien's The Lord of the Rings trilogy.
2006 Diagnosed with prostate cancer but goes without treatment.
2013 Officiates at wedding of Patrick Stewart to Sunny Ozell.
2014 Awarded honorary degree by Cambridge University. Made Freeman of the City of London.