Sir Nicholas Winton: Humanitarian known as 'Britain's Schindler', whose efforts saved hundreds of Jewish children from the Holocaust
Winton arranged trains to carry children from Nazi-occupied Prague to Britain, battling bureaucracy at both ends and saving them from almost certain death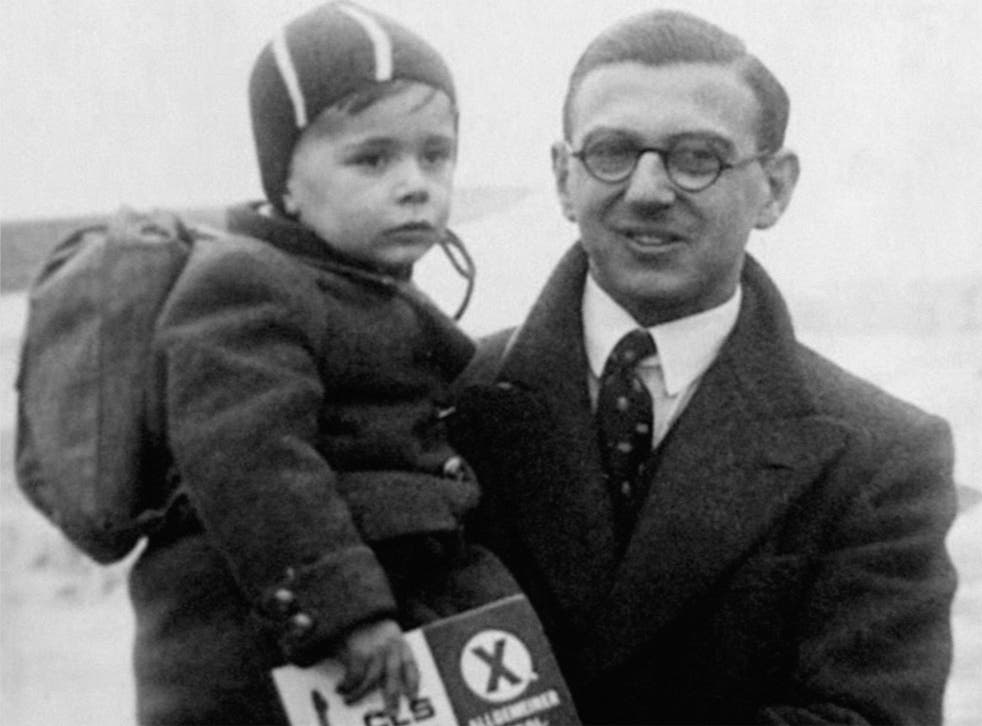 Nicholas Winton almost single-handedly saved more than 650 Jewish children from the Holocaust, earning the label of "Britain's Schindler". He arranged trains to carry children from Nazi-occupied Prague to Britain, battling bureaucracy at both ends and saving them from almost certain death – and then kept quiet about his exploits for half a century.
Born in London in 1909 to parents of German-Jewish descent, Winton was raised as a Christian. He was a 29-year-old clerk at the Stock Exchange when a friend contacted him and told him to cancel the skiing holiday they had planned in late 1938 and travel instead to Czechoslovakia.
Alarmed by the influx of refugees from the Sudetenland, which had recently annexed by Germany, Winton and his friend feared, correctly, that Czechoslovakia would soon be invaded by the Nazis and that Jewish residents from there would be sent to concentration camps. While supporters in Britain were working to get Jewish intellectuals and communists out of Czechoslovakia, no one was trying to save the children, so Winton took the task upon himself.
Returning to Britain, he persuaded officials to accept children, as long as foster homes were found and a £50 guarantee was paid for each one to ensure they had enough money to return home later. Their stays were only expected to be temporary.
Setting himself up as the one-man children's section of the British Committee for Refugees from Czechoslovakia, Winton set about finding homes and guarantors, drawing up lists of about 6,000 children, publishing pictures to encourage British families to take them.
The first 20 arrived by plane, but once the German army reached Prague in March 1939, they could only be brought out by train. In the months before the outbreak of war, eight trains carried children to Britain. In all, Winton brought out 669 children. The largest evacuation was scheduled for 3 September 1939, the day Britain declared war on Germany. That train never left, and almost none of the 250 children trying to flee on it survived the war.
The children were among some 10,000 mostly Jewish children who made it to Britain on the Kindertransports. Few would see their parents again. Although many more children were saved from Berlin and Vienna, those operations were better organised and better financed. Winton's operation was unique because he worked almost alone.
"Maybe a lot more could have been done. But much more time would have been needed, much more help would have been needed from other countries, much more money would have been needed, much more organisation," Winton later said. He also acknowledged that not all the children were well-treated, some foster parents using them as cheap servants. "I wouldn't claim that it was 100 per cent successful. But I would claim that everybody who came over was alive at the end of the war," he said.
Winton served in the RAF during the war and continued to support refugee organisations. After the war, he became involved in many other charitable organisations, especially in his home town of Maidenhead.
He was president of the Maidenhead branch of the learning disability charity Mencap for more than 40 years and also worked with the Abbeyfields organisation to set up homes for the town's elderly. Two of those homes are named Nicholas House and Winton House. A keen fencer who lost his chance to compete at the Olympics because of the war, Winton worked with his younger brother Bobby to found the Winton Cup, still a major team fencing competition in Britain.
But for almost 50 years, Winton said nothing about what he had done. It only emerged in 1988 when his wife Grete found documents in their attic. In February 1988 his family took them to Esther Rantzen's That's Life. He was invited along to the studio for the broadcast, ostensibly to check it for accuracy. Unbeknownst to them both he had been sat in the audience next to Vera Gissing, one of the women his Kindertransport had brought to safety and their tearful onscreen reunion was the first of many.
He was reunited with hundreds of the children, including Labour peer Lord Dubbs and film director Karel Reisz, in an emotional gathering for 5,000 descendants of the "Winton children". The film Nicholas Winton – The Power of Good won an International Emmy in 2002 and Tony Blair praised him as "Britain's Schindler".
Made an MBE in 1983 for his work with Mencap, Winton was knighted in 2003 for services to humanity and also honoured in the Czech Republic. A statue of him stands at Prague's central station, while another commemorating the Kindertransport children is a popular sight at Liverpool Street. He continued to attend Kindertransport events in Britain and the Czech Republic beyond his 100th birthday.
Winton rejected the description of himself as a hero, insisting that unlike Schindler, his life had never been in danger. He was always modest about his achievements. "Everybody said, 'Isn't it wonderful what you've done for the Jews? You saved all these Jewish people,'" he said. "When it was first said to me, it came almost as a revelation because I didn't do it particularly for that reason. I was there to save children."
NAOMI KOPPEL
Nicholas George Winton, finance worker and humanitarian: born 19 May 1909; MBE 1983, Kt 2003; married 1948 Grete Gjelstrup (died 1999; one daughter, one son, and one daughter deceased); died 1 July 2015.
Register for free to continue reading
Registration is a free and easy way to support our truly independent journalism
By registering, you will also enjoy limited access to Premium articles, exclusive newsletters, commenting, and virtual events with our leading journalists
Already have an account? sign in
Register for free to continue reading
Registration is a free and easy way to support our truly independent journalism
By registering, you will also enjoy limited access to Premium articles, exclusive newsletters, commenting, and virtual events with our leading journalists
Already have an account? sign in
Join our new commenting forum
Join thought-provoking conversations, follow other Independent readers and see their replies